First Team
David Moyes: Improvement, Aaron Cresswell and our supporters

West Ham United manager David Moyes is hoping his side maintain the standards they have set out when they host Aston Villa at London Stadium on Monday evening.
The Hammers go into the game with back-to-back wins and clean sheets to their credit, having lost only one of their last seven Premier League matches, and will be seeking further improvement as the equally high-flying Villans take to the pitch in east London. 
Speaking at his pre-match press conference, Moyes discussed the improvement of both sides from their last meeting; paid tribute to the late, great Diego Maradona; and recognised the significance of the announcement that supporters could return to stadia in the near future... 
Both teams have taken great strides from last season
The last game of last season, Aston Villa came to London Stadium needing something to stay up. We'd just secured that in the game before, so I think this game shows the improvement from both sides.
From our side, I've been really pleased with the way the players have gone about it. We've picked up where we left off from last season, and if anything I think we've shown much more quality and we're playing better.
We've had a lot of confidence really from the start. We've felt as if we've played well and we've been improving, which is what I want us to do. 
I see the daily improvement in training. I see the standards improving and, with that, our victories have come and we've got some big points from what has been a really difficult opening period of fixtures.
 
Aston Villa have moved forwards as well
Villa have improved greatly. I think they were top of the league for a spell this season, so it just shows you how quickly things can change in football.
I watched them against Arsenal and they were really, really good. It shows you how far they've come on as a club. 
I think their recruitment's been excellent over the summer and it's given them a great chance of improving from where they were last year.
 
We're defending well and sharing the goals around
I'm hoping that we can continue our good form. 
We've been creating a lot of chances, but but have only got a couple of goals in our last two games. One of our targets was to try and improve defensively and keep clean sheets, and thankfully we're showing that side of our game as well.
The goals we've scored against Wolves and Leicester at different times this season, and even to go to Tottenham and score three goals, has shown that we've the capability to do so as well.
I'll tell you, being a manager and winning 1-0 is always a good result – you always enjoy it! 
I didn't actually know that West Ham's last eight goals have come from eight different players, but it does show that we're trying to get different people forward into the box.
We'd like our centre-forwards to come up with the big numbers because that's what you need come the end of the season, but I have to say I'll take the goals wherever they come. I'm pleased that everyone's getting the chance to get a few goals.
 
Aaron Cresswell is playing very well
Aaron Cresswell has been excellent for us. On both occasions I've been here he's played very well. He's getting to the age of maturity where he's understanding the game better and his reading of it, and he's playing very well.
Because he can play a couple of roles and he's left-sided, it wouldn't be a surprise to me if Gareth Southgate called him up for England in the future. If he keeps up the form he's in, and continues playing as well as he does, he'll certainly be getting watched – I have no doubt about that.
 
I was fortunate enough to meet the late, great Diego Maradona
I was trying to think of my first memories of Diego Maradona. 
I watched him when he was playing for Argentina in the Youth World Cup at the time, and I was a young player in Scotland trying to come through with the Scottish schoolboys. People were showing me pictures of this new, young player from Argentina. He was fantastic.
I was really fortunate that, when I was in Dubai with Manchester United, Maradona came to watch training and meet the players. I've got to say it was one of the first times I've really thought "I'd really like to get a picture with this guy" because he was really important to me.
Meeting the staff, we were thrilled to see him, and I was really pleased to greet him. It was a good experience.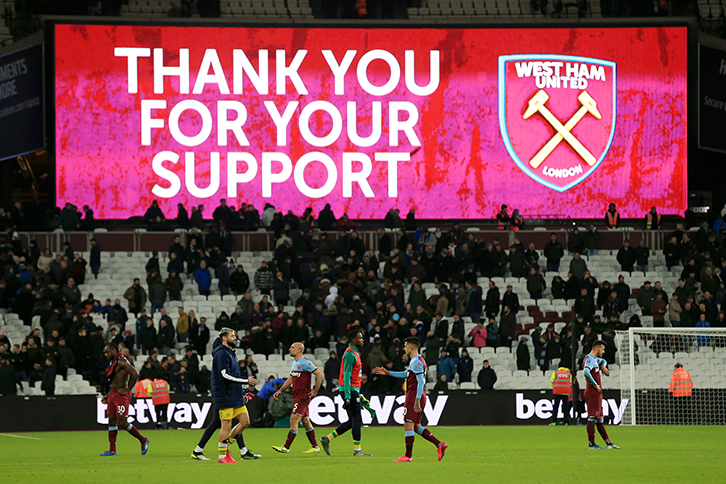 On the return of supporters to stadia
It's great news for anyone who loves football to get supporters back.
At West Ham, we are really looking forward to getting supporters back into the stadium. I'd like to say it would be a lot more, but really, at this moment in time, we're thrilled that it's a start.
I've got no doubt that fans will play their part in following the rules because I'm sure the Club will have everything set up and everything will be prepared carefully, as I'm sure every club in the Premier League do.
I'm really looking forward to seeing supporters come back and seeing a hungry, positive, energetic team who have been picking up some good results. We still need to keep doing a bit more, but we're working hard to get better.
The good news for me is that lower league clubs are getting supporters back as well, which is really important for football clubs around the country. Hopefully that will help those which need the revenue.
Hopefully, we will see that football clubs can manage it and we can start to get back to bigger numbers, quicker. Certainly, our stadium will seem extremely empty with only 2,000 supporters in it with the size of stadium we've got, so hopefully the quicker we can get to bigger numbers, the better.
This is a start and hopefully it works well.