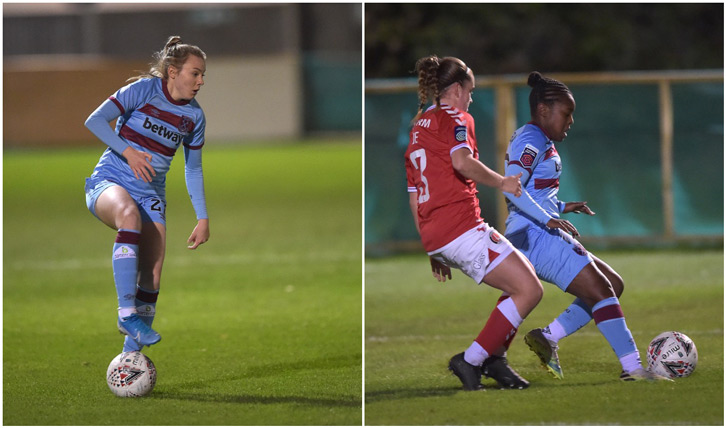 There was only going to be one thing that could make stepping onto the pitch for the first time as a West Ham United player even more special for Angie Dunbar and Maisy Barker. 
Doing it together. 
The duo has been joined at the hip since they were both just eleven-years-old and, having both made the move to the Hammers Academy in the summer, it was only right that the pair would get their respective senior debuts in Claret and Blue on the same evening. 
The two 18-year-olds replaced Leanne Kiernan and Cecilie Redisch on 73 minutes on Wednesday night against Charlton Athletic in the FA Women's Continental League Cup, with each giving a more than satisfactory account of themselves during their brief, but certainly memorable, first West Ham appearances.
"It's a very proud day for me because all the hard work has paid off," Barker told whufc.com. "I'm forever grateful for the staff for trusting me to come on and make my debut."
The sentiments were echoed by Dunbar: "It feels amazing. I just want to say thank you to the staff and the coaches for trusting us to make our debuts. Hopefully, there are many more appearances to come."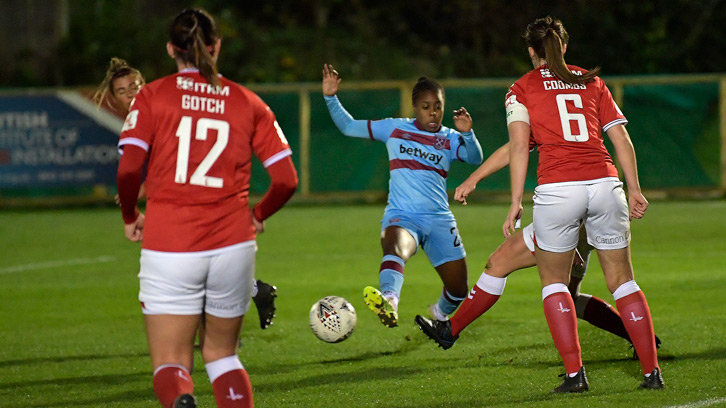 Such is their friendship, that both Dunbar and Barker preferred to talk about their pride in the other for making their West Ham debut, rather than focusing on the huge occasion it was for themselves personally.
Dunbar, who wore No28, said: "I've always believed Maisy can make it. She's gone through ups and downs, injuries and everything, but the way she has pushed through has been inspiring to see, and it pushes me to be even better."
Barker, the Hammers' No27, added: "Angie and I have known each other since we were eleven and we've played alongside each other for pretty much our whole footballing careers. It's been great to see Angie develop, and she's obviously helped me get better too. 
"To do it together, to come into West Ham and play in this game together, it's been really nice. I'm proud of Angie. She's come a long way and it's amazing to see. I've believed in her and she's believed in me."
With an outing under their respective belts, and more opportunities almost certainly on the horizon, both winger Dunbar and defender Barker are looking ahead to showing more of what they can do in the rest of the 2020/21 campaign.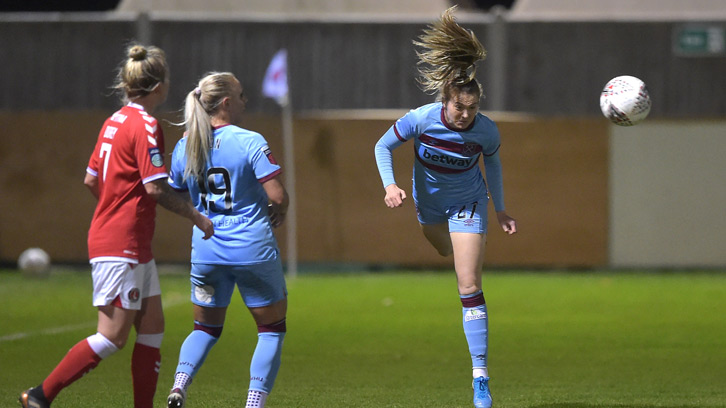 "This season, for me, is all about development," Barker explained. "To know that this club trusts me to make my debut in a big Cup game like this one, it motivates me to keep working hard and keep pushing forward so I can get even better. 
"We're training with world-class players, so I want to keep blending in with this great team and I can already feel that I'm getting better every day. We're both just so grateful for the opportunity."
"I just want to keep playing now and make many more appearances for West Ham," Dunbar followed up. "We need to trust in ourselves to deliver on the pitch, as young players, and keep improving."
Whatever happens, no matter how many more West Ham appearances there are to come, the duo will go through it together.