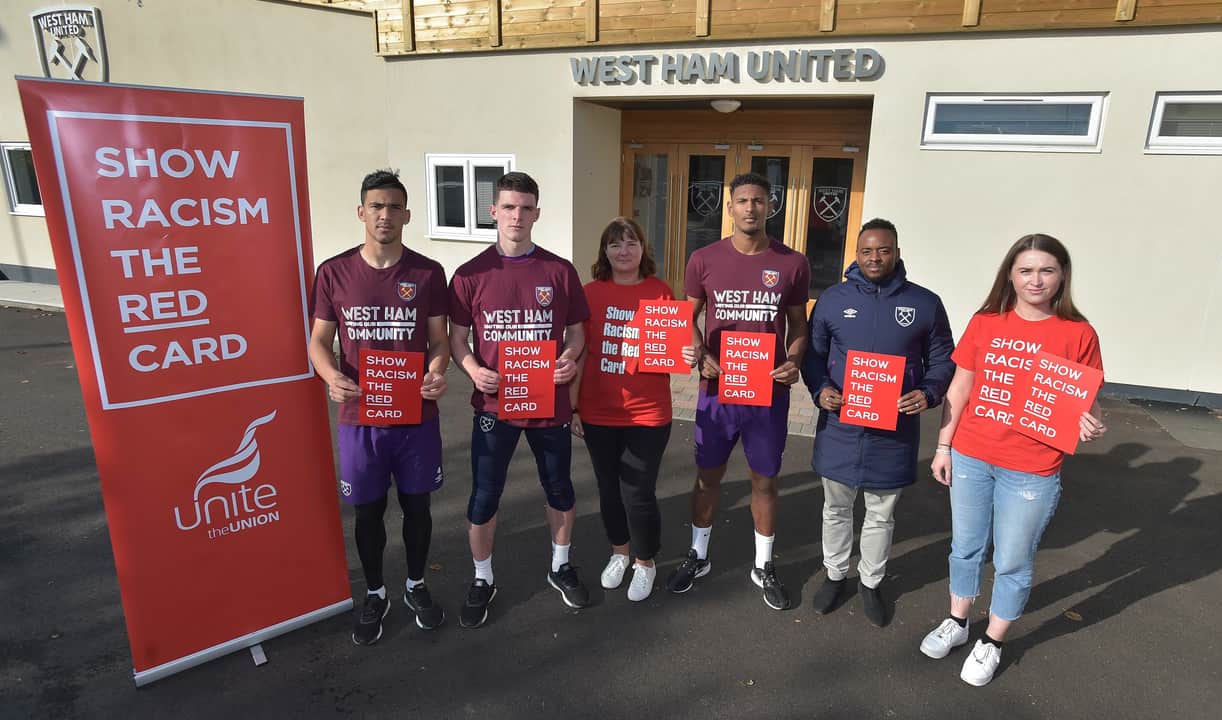 West Ham United is proud to drive inclusivity, diversity, and equality in everything it does, particularly in the community, and has a long-standing commitment and unwavering stance, as well as a zero-tolerance approach to discrimination of any form.
With the recent announcement of the national terrorist threat level raised to severe following attacks in France and Austria, the West Ham United Foundation's Senior Education Officer, Cormac Hanrahan, is sharing details of how the Stop the Hate programme is tackling extremism across our community…
West Ham United's values of equality are embedded across everything we do. 
Supported by Show Racism the Red Card and funded by the Shared Endeavour Fund, the Stop the Hate programme, led by the Foundation, aims to educate and empower young people around the issues of racism, discrimination, prejudice and hate crime, by providing interactive workshops to primary schools, secondary schools, and youth centres in east London this academic year.

We're asking young people to lead the change they want to see in the world and so we encourage them to actively create and promote values that they can emulate and implement in their local communities. 
A significant part of our Stop the Hate programme is centred around educating young people about extremism, and how it manifests itself in the world today; delivering age specific workshops about it. 
Many young people might not have heard of extremism before or understand what it is, so we start by defining what extremism is and provide examples of extremist groups and ideas that exist in the world today. We analyse why these extremist ideas are unacceptable, and how they can be harmful to individuals or large groups because of racism and prejudice. To counter this, we talk about tolerance and how this is the opposite of extremist ideas. We utilise various activities like scrutinising case studies of extremist groups that have been active in London recently, and a New Neighbours exercise where participants select who they would like to live next to out of several options. This exercise helps young people understand that we might have to live next to people who are different to us, which helps us to convey how important it is to be tolerant of everybody in society and support social cohesion.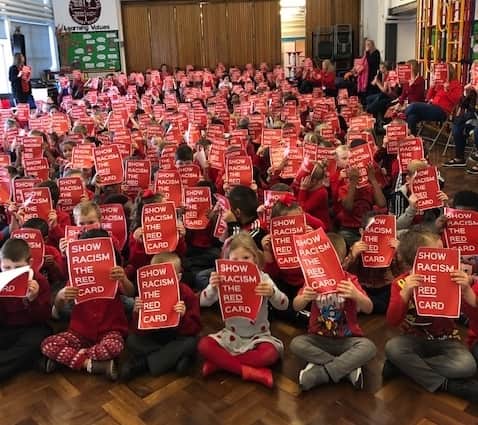 It is crucial that we help young people understand what makes someone vulnerable to being targeted for recruitment by extremist groups, and what recruitment strategies these groups will use to try and groom them. Young people are shown posters and quotes from extremist groups and they discuss what ideas they promote, and what harm they can cause in society. Additionally, we inform the young people how certain language can be offensive, and even incite violence and lead to hate crimes being committed. Pupils then design their own posters showing more positive values and illustrate why extremism and racism are bad for everyone in society. 
Furthermore, with social media being one of the most powerful tools in the world, we have open and honest discussions about the dangers that exist, and how everyone needs to be vigilant and careful on these sites. We always tell the young people to 'consider the five W's' (who, what, when, where, why) when seeing information on social media.

The most important part of the workshops is when the young people evaluate and think critically about the hateful ideas extremist groups promote, and create their own set of positive values they can enact and promote in their classrooms, schools, homes, and local communities. 
Imperative to our programme is our partnership work. Police forces across the country have specially trained Prevent officers who work alongside other organisations through a Home Office programme called Prevent to help people vulnerable to radicalisation move away from violent extremism. We have an extremely close relationship with the Prevent Coordinators from our five targeted London Boroughs (Barking and Dagenham, Havering, Newham, Redbridge and Tower Hamlets). This is critical to help to ensure that we are up to date with the key local extremist issues which need to be positively challenged and tackled in our communities. In addition, West Ham United Foundation staff have benefitted from access to numerous CPD opportunities organised by the Prevent Coordinators around the rise of hate crime and extremism in London and our country. These training opportunities educate our staff about the most recent data on these issues, and impress upon us the importance of tackling them, as well as reinforcing how to safeguard young people if they are exposed to extremist groups. 
Crucially, the Prevent Coordinators discuss the new strategies extremist groups are using to spread their propaganda and recruit young people to join their cause. We are then able to incorporate this information into our workshops, helping young people understand what they need to be aware of. 
We also work with representatives from the Met Police and local councils in order to have a larger impact and recently, as part of National Hate Crime Awareness Week and linked with the work we do in the Stop the Hate programme, I participated in a couple of online public events with the partners; one with the Metropolitan Police led by the East Area's Hate Crime Coordinator, PC Suzanne Stanbrook, and the other hosted by the London Borough of Redbridge and the Naz Legacy Foundation. For the latter, Yusuf Patel MBE, who focuses on countering extremism, hosted the session and I was on a panel including Stop the Hate co-deliverer and WHU Foundation Ambassador, former West Ham United player, and Vice-President of Show Racism the Red Card, Leroy Rosenior, and, the Leader of Redbridge, Councillor Jas Athwel. These were very powerful and well received virtual activities which emphasised the significance of this awareness week in enhancing the focus on all issues related to hate crime and driving awareness and understanding of the responsibility that everybody holds in achieving substantial and meaningful change.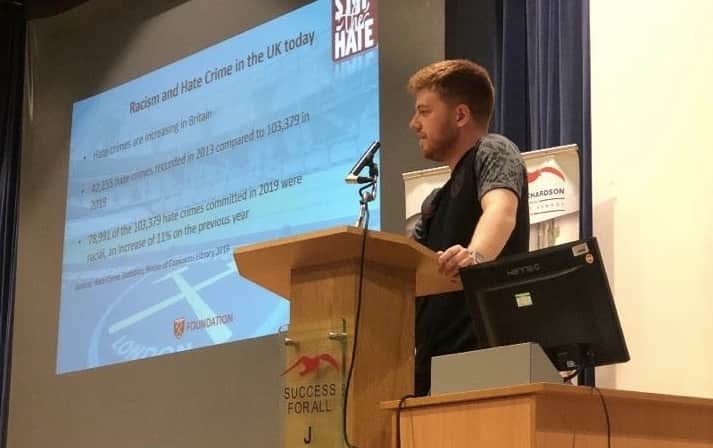 The increase to the national threat level last week just highlighted the ongoing and increasing importance of local initiatives and partnership work which aims to tackle this issue head on, like our Stop the Hate scheme. 
Over the last few years the world we live in has become progressively more polarised and divided, with misinformation, fake news, and hate crime on the rise. Extremist groups have more resources than ever before to recruit young people and spread their ideas. 
We must equip our young people with the knowledge and the skills to safely challenge and report these ideas, and to be able to think independently and critically about information and ideas they are exposed to. 
Together we can make the change for a safer, closer and better community.
To find out more about of Stop the Hate programme and how your school, youth club or community group can access our provision, please contact our Senior Education Officer, Cormac Hanrahan: [email protected] 
If you're worried that someone you know is being radicalised, visit the Counter Terrorism Policing's new website actearly.uk for more information. If something doesn't feel right, call the national Police Prevent Advice Line on 0800 011 3764, in confidence, and their specially trained Prevent officers will listen carefully to your concerns. You won't be wasting their time and you won't ruin lives, but you might save them.