First Team
David Moyes: Declan Rice, Sheffield United and Michail Antonio
West Ham United manager David Moyes is looking forward to seeing his side return to Premier League action following the international break, as the Hammers prepare to travel to Sheffield United on Sunday.
The Hammers go into the game with three wins - and only one defeat - from their last six top-flight matches, and will be looking to maintain the momentum they have gathered in the early stages of the season. 
Speaking at his pre-match press conference, Moyes discussed the importance of the fixture, one standout performer during the international break, and a wide range of other topics...
 
Declan Rice is taking more and more responsibility
The big thing with Declan is his improvement with the team here has been great. He's learning an awful lot from the people he's playing around. 
His performance for England the other night was exceptional. There was a lot of talk about the other young English talent, but I thought on the night, Declan Rice was as good as anybody on the pitch; his performance was so good.
He's maturing. He's picking up from good people, like Mark Noble and obviously Harry Kane within England's set-up. I think from Declan's point of view it's about continuing to learn: seeing what good practice looks like, and seeing what the good leaders look like. 
To be captain of West Ham at such a young age, at the moment, is helping him as well. We're trying to get him to take on more responsibility, more leadership, and he's certainly doing that.
I couldn't tell you what other football fans think, but the managers of West Ham United and England think he's terrific. You've got to remember Declan's a young player as well – it just happens he's now got 13 caps for England. He's doing very well, and long may that continue.
 
Sunday's match with Sheffield United can help us move forwards
Sunday is really important. We want to keep moving forwards. We want to keep positive and try to add to the points we've got already, so we want to keep our form up and keep playing the way we have been. We've been putting up good results and creating a lot of chances, so we want to keep that going.
Sheffield United have had a very similar run of games as we have had at the start of the season. They've also had a couple of injuries to key players. I'm guessing all that has been a factor in their form.
They've got a really good manager and a good group of players who have been around together for a long time, and that will make them strong because they'll be able to use that as the season goes on.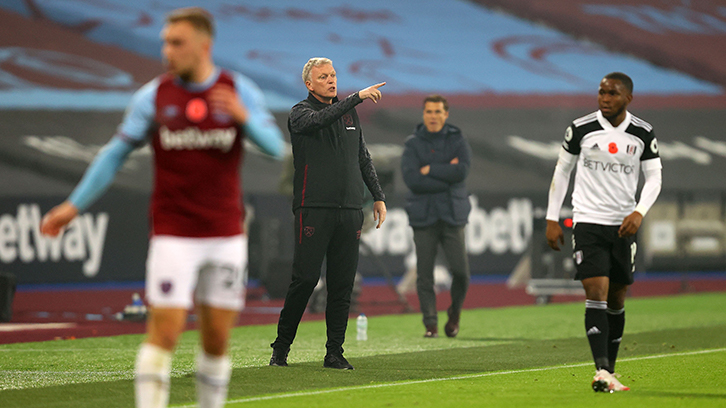 A training ball could be the way forward
We're saddened to hear about the generation that heading's shown it could be affecting. 
My generation's been through a lot of heading the ball, head knocks, over the years. I don't think football's quite that way at the moment, but I'm concerned because I want to make sure that, going forward, things are going to be okay. 
I've said this a couple of times before: I'm amazed that we haven't come up with a heading or training ball. 
We don't want a balloon – we need to have a ball which has the same flight – but it would be something which we could still practise heading with, and we could still do some crossing and finishing with. We'd be hoping one of the companies could come up with a ball which we could use. 
I don't know if anybody's looked at the average number of times a player heads the ball in a game, but I can imagine that some players don't head it at all and some players only head the ball twice or three times a game. There might be some centre-halves or centre-forwards who head it seven or eight times. I'm not too sure that it's the game time heading the ball that's the problem. 
I think it's probably more to do with training, and that's why I'm advocating that we get a training ball which could be used for heading practice. I don't think we necessarily want to take heading out of the game if we can help it.
 
I wouldn't be against returning to five substitutions
It's a conversation which we've heard a lot about recently. 
My opinion at West Ham, originally, was that we should just have three substitutes [per match] because I felt five would help the bigger sides, with the bigger squads and the bigger budgets, because of the quality of players they had on the bench, but what I didn't foresee was the amount of injuries which are coming into it.
The truth is we've not had a great deal of injuries, and many clubs like us have not had a great deal of injuries. The clubs who have been suffering greater have been the teams who've had Europa League football and Champions League football. Obviously a lot of those clubs have had players in internationals too.
I think for the fairness of the game, for this season only, I wouldn't be against changing and allowing five substitutions, if that were the way it were to go. At the start, it wasn't my first thought, but now I've seen the way football's going and the way a lot of injuries have cropped up.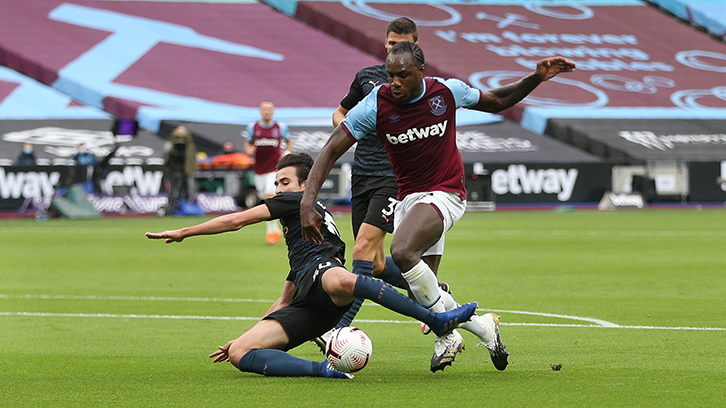 Michail Antonio gives us a different outlet
In the last few months, and even before that after lockdown… Michail's form's been so good. 
He gives us a different outlet. He can run in behind and he can hold the ball up. He's a physical presence. He's really important. His all-round play as a centre-forward's improved greatly, so if we can get him back, it'll be great. 
He's a really important player to the team and how we play. If we can get him back, good, but I don't want to say if we can because at the moment we're not quite sure if he's ready yet.
 
A vaccine boosts our hopes of supporters returning
I think it's something we're really hopeful of. I heard the news and thought 'great, it sounds as if we're going in the right direction.' 
The best Christmas present we could get is [news that] West Ham supporters could get back into the ground. I think that would be the best news we could get. 
That's what we're hoping for and I think all football supporters will be thinking the same as well. If we can get them back to football, it would be the start of some form of normality towards the way lots of people live their lives.