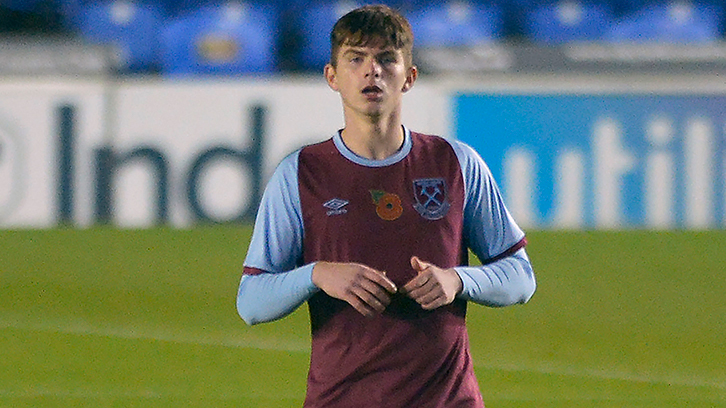 Every promising Academy footballer has a constant balancing act to maintain.
On the one side, there's the mentality that keeps you grounded: your gratitude for, and your appreciation of, the chance to pull on the Claret and Blue shirt of West Ham United.
On the other, there's the need to stamp your authority on matches and prove exactly why it is that you are in the position to have earned such an opportunity.
When young defender Michael Forbes came off the bench at Fratton Park last week, helping West Ham United Under-21s to see out the closing ten minutes of a 1-0 win over Portsmouth in the Papa John's Trophy, it was a momentous feat.
While a fantastic result the U21s – the first team in some 1,037 days to defeat Pompey in the competition within 90 minutes – it was also the latest milestone in a journey which has led to 16-year-old Forbes trading life in rural Northern Ireland for the bustling surroundings of east London.
Six foot two, and well built for his age, the former Cookstown Youth and Dungannon Swifts youngster has attracted attention from the local press in recent years for not only the calibre of his performances, but also the distinctive glasses he used to wear on the pitch.
Now sporting contacts lenses, Forbes has set his sights clearly on an exciting prospective career in football, having celebrated his debut at development squad level merely months after crossing the Irish Sea and putting pen-to-paper on a two-year scholarship deal.
"It was an unbelievable feeling coming onto the pitch for West Ham United," Forbes beamed afterwards. "It was surreal. I got on the pitch and the rest of the game just went like that. 
"It was unbelievable coming onto the pitch and being able to share it with the likes of Ben Johnson, who plays for the West Ham first team. It was an unbelievable feeling and a great achievement for myself.
"To date my time at West Ham has been fantastic. It's been an amazing change in lifestyle for me since I moved over. Obviously, it's a bit different for me back home, not being from the city, so moving to London was a big move, but since I've got here I've just felt like I've been at home.
"All the staff and players at West Ham have just welcomed me in with open hearts. It's just been fantastic – I can't put it into words to be honest."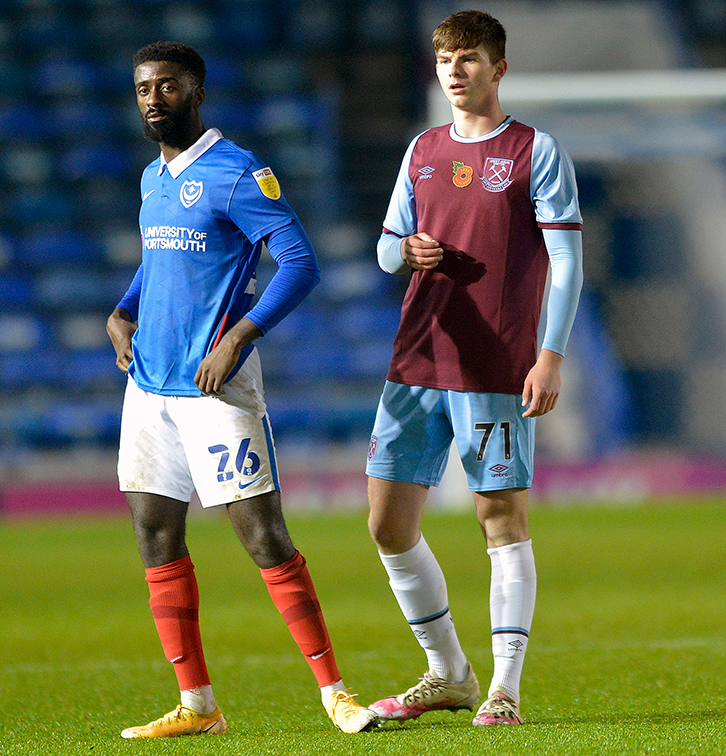 Forbes' debut appearance at development squad level was an apt reward for a consistent and mature start to life at the Academy of Football.
Having signed his scholarship in the summer, Forbes has so far made five appearances in U18 Premier League South this season, missing only one game for Kevin Keen's U18s side.
In that time, Forbes has not only made his mark defensively, but also found the back of the net – heading home Kai Corbett's corner in emphatic fashion – in the opening-day defeat to Tottenham.
Now benefitting from the regular tutelage of the likes of Keen and U23s coaches Dmitri Halajko and Steve Potts, Forbes is relishing the developmental opportunities he has enjoyed during his brief stint in the English capital.
He admitted: "Where I come from, I don't meet too many superstars, so just to be working under those names is mind-blowing – and for them to have faith in me to be on the pitch… 
"Kevin Keen has started me for the U18s most weeks, and for Steve Potts and Dmitri to bring me on is just a surreal feeling.
"Walking onto the pitch – at Fratton Park, no less – I just couldn't believe my eyes. The surroundings and everything… fans being there would have just topped it off, but obviously it was still a great feeling to be out on the pitch and being in those surroundings with all the pros."

As he has done so far, Forbes was determined not to show any fear on his U21s debut – and instead embrace the chance which lay before him.
 
Coming on in the latter stages, I was just ready for whatever was going to come at me – I was ready to face it

Michael Forbes

"I just got the shout," he recalled. "Dmitri called me up and I didn't know if I was going to get minutes or not, but going into the game, I had myself ready and prepared just in case I was going to get on. 
"Coming on in the latter stages, I was just ready for whatever was going to come at me – I was ready to face it. Even just getting into the squad… 
"With Portsmouth being a League One team and a very physical side, and me still being only 16, I was just happy to get the minutes! It was great to be on the pitch."
Looking forwards, it is a feeling Forbes wants to enjoy more and more in the months ahead.
He said: "For the rest of the season, I just want to keep pushing as much as I can. 
"I want to try and get into the U23s team whenever I can, get called up in training when I can, and get called up into games like this when I can; this is where you want to be playing, against first teams in the Papa John's Trophy!
"I also want to get my name on the scoresheet for the U18s! I scored in our first game of the season against Spurs and it was a great feeling. I just want more of that, and hopefully more appearances for the U23s too, to top the year off."