Interviews
Declan Rice and Gareth Southgate - England's mutual appreciation society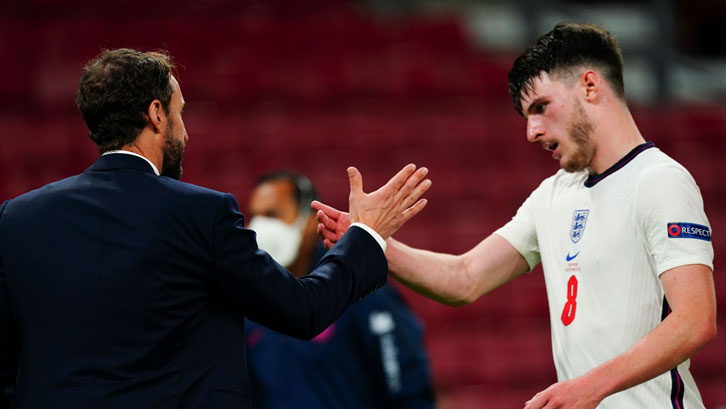 There are many similarities between the careers of Declan Rice and his England manager Gareth Southgate.
Both men came through the Academies at London-based clubs, playing in a variety of defensive and midfield positions before being handed the captain's armband at a young age and being capped by England.
For Southgate, that career path saw him kick-off as a full-back, central midfielder and captain at Crystal Palace before moving to Aston Villa, where he was converted into a centre-back and called-up by England, before going on to earn 57 caps and appear at four major finals.
Two-plus decades on, Rice kicked-off as a centre-back at Chelsea and West Ham, before being converted into a deep-lying midfielder, appointed captain in the absence of Mark Noble and called-up by England, and he now has eleven caps to his name.
Speaking last month, Southgate spoke glowingly of the 21-year-old's development, professionalism, work ethic and how he has the respect of his manager, coaches and fellow England squad members.
The respect, Rice told West Ham TV ahead of the November international triple-header with Republic of Ireland, Belgium and Iceland, is mutual.
Gareth, probably watching me play, with some of his lovely words, it makes him happy seeing a youngster full of confidence and having a mentality that I want to succeed and I want to drive on

Declan Rice
"Gareth is top," he confirmed. "I probably couldn't speak highly enough of him, to be honest with you. In terms of the way he manages and his man-management, you can go to him at any time and just have a chat and he'll give you feedback and I think as a player you need that, to know where you stand.
"Whether I went there and didn't have any minutes or was involved in all three games, you have always got a chat with him and you can just tell from his experience and his backroom staff and how they work, it's a really special group to be part of.
"Now, with our group and some of the experiences we've got, hopefully we can really push on and make the nation happy."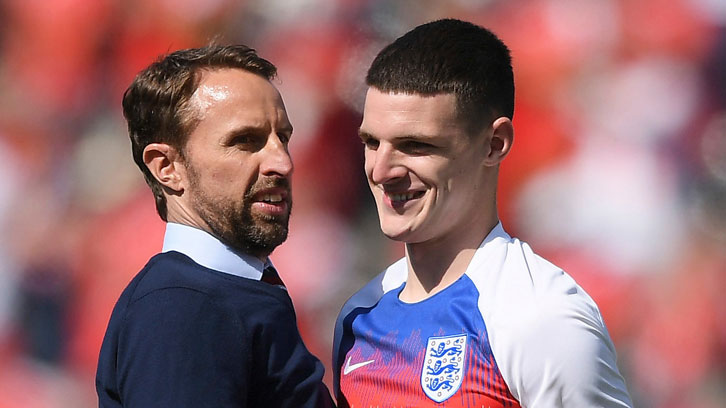 With so many shared reference points, it is only natural that Southgate appears to see a lot of himself in Rice, who even shares his England manager's willingness to speak honestly and thoughtfully in his dealings with the media.
The 21-year-old can see why comparisons would be made.
"Obviously we're different players, but we obviously played in the same positions, with him starting in defence then moving into midfield and then back to centre-half and leading his team from a young age, so I suppose there are similarities between us," he observed. 
"I think he, probably watching me play, with some of his lovely words, it makes him happy seeing a youngster full of confidence and having a mentality that I want to succeed and I want to drive on."
England kick-off their final international window of the year with the visit of Republic of Ireland to Wembley on Thursday evening, followed by UEFA Nations League A2 ties with Belgium in Leuven on Sunday 15 November and Iceland at Wembley on Wednesday 18 November.
England's two UEFA Nations League ties will be screened live in the UK by Sky Sports Main Event, while the Ireland friendly will be broadcast by ITV.
Three wins would not only end 2020 on a high, but also potentially see Southgate's squad reach the four-nation finals for the second time.
"It's a massive friendly against the Republic of Ireland and then obviously Belgium which is not in Brussels as it's been changed, and then Iceland at home," Rice confirmed.
"We were obviously disappointed to lose to Denmark in the last game, but I think we've got a good enough group, we've got a couple of players who were injured who will hopefully come back in, so hopefully we're going to do well.
"If we have a positive international break, everything should be good."