West Ham Tv
Declan Rice: I want to drive my team forward like Scott Parker, Patrick Vieira or Yaya Toure
Leads by example; tough tackling; hard-working; reads the game superbly; drives his team forward; comfortable with the ball at his feet; an accurate and underrated passer; capable of scoring spectacular goals from long range; an England international; a West Ham United captain; a Hammer of the Year.
The above words accurately describe two players who have, a decade apart, worn the captain's armband for West Ham United and thrilled supporters with their all-action playing styles and relentless commitment to the Claret and Blue cause.
The first was Scott Parker, who shone bright during the dark days of the 2010/11 season, winning the PFA Footballer of the Year award and a third straight Hammer of the Year trophy as the Irons slipped out of the Premier League.
The second was a player who watched Parker play for the team he supported as a boy, Chelsea, the team he currently captains, West Ham, and the country he represents, England – Declan Rice.
If you look at the top players who drove their teams forward, your Patrick Vieiras, your Yaya Toures, I feel powerful and I feel strong enough to make those surging runs forward

Declan Rice
On Saturday, Rice will lead the Hammers into battle against a Fulham team managed by Parker and, speaking to West Ham TV ahead of what promises to be an exciting London derby, the 21-year-old revealed his admiration for the man who ran the Irons midfield ten years ago.
"If you look at Scott Parker and his career, I think he was so under-appreciated and he wasn't spoken about enough, because he was actually such a top, top, top player," the No41 observed. 
"In terms of the way he played, he would rat around people, his passing ability was unbelievable and the way he used to lead the team showed he was a top player, so if I could have a career like Scott's I'd be delighted.
"He was a fantastic player and a great person as well."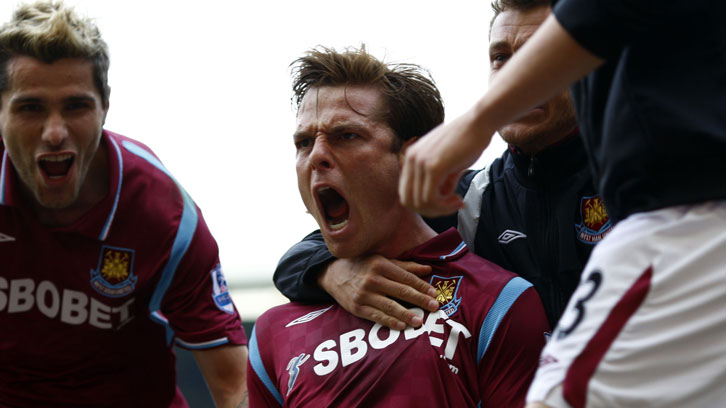 While Parker emerged as a midfielder at Charlton Athletic after graduating from the FA's School of Excellence, Rice came through the ranks, first at Chelsea and latterly at West Ham, as a centre-back, before moving up the pitch at the age of 18.
Even then, Rice played as a centre-back for the latter half of the 2017/18 season before settling into his current role as a deep-lying midfielder two years ago.
The youngster is growing into his position with every game he plays, noticeably bringing the ball forward at his feet more and more often. It is not happening by accident.
"I think, if you look at the top players who drove their teams forward, your Patrick Vieiras, your Yaya Toures, I feel powerful and I feel strong enough to make those surging runs forward," he confirmed. "I have definitely got it in my legs to do it, but it's just about my timing and moments. 
"It catches people's eyes because there are not many players who can carry the ball forward, so it's just recognising when I can and when I can't, but it's definitely something I'm trying to improve on."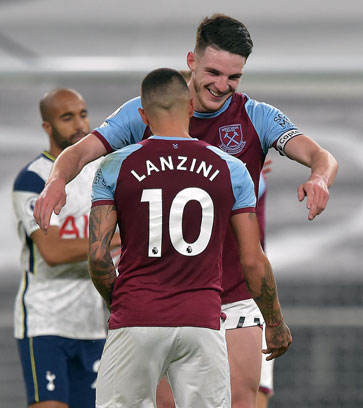 Rice's next opportunity to put his plans into action will come at London Stadium on Saturday evening, when West Ham seek to build on an encouraging start to the 2020/21 season by defeating last season's Championship Play-Off winners.
The Irons have come through a daunting fixture list that included six of last season's top eight with eight points and in 14th place, but the man who has captained the team in all six of those fixtures is still not totally satisfied, and knows the Hammers need to be winning games like Saturday's if they are to enjoy a successful campaign.
"I think we can look at these first seven games as a positive," he observed. "Going into the season, looking at the fixture list that we had, especially in the Premier League, a lot of people were saying we wouldn't be picking up a point until November, so to come out of the games the way we have is a real positive.
"The games after the last international break, going to Spurs and then being at home to City and going to Liverpool, and I think even when we played Arsenal [in September], we've played excellent against the top clubs and there are a lot of positives we can take from the start of the season.
"Arsenal, we should definitely have walked away with three points. We played fantastically that night and were so unlucky not to get anything. Liverpool, if Pablo maybe squares the ball to Jarrod when it's one-all, maybe it's a different game and we go two-one up, but that's football, quick decisions get made and we ended up losing the game against Liverpool. Now our focus turns to Fulham and rising up the table."
Two seasons ago, West Ham beat Fulham home and away, but have historically failed to consistently beat the teams below them in the table.
Comprehensive victories over Norwich City and Watford at the end of last season suggested the Irons are shaking that habit under David Moyes, but Rice knows they cannot afford to let their standards slip against a Whites team who registered their first win of the campaign over West Bromwich Albion on Monday evening.
"We cannot take them lightly at all," he confirmed. "If you look at Fulham's fixtures, they've played really well recently, but just not really had the results other than their last game, so it's not one to be overlooking them because they've got some great quality players.
"A lot of people wrote us off and said we wouldn't get a point until November but we've got eight, and this is a great chance to get to eleven and then go into the international break.
"Last time out it was Leicester and we beat then so hopefully we can do it to Fulham and go into the international break with another positive mindset."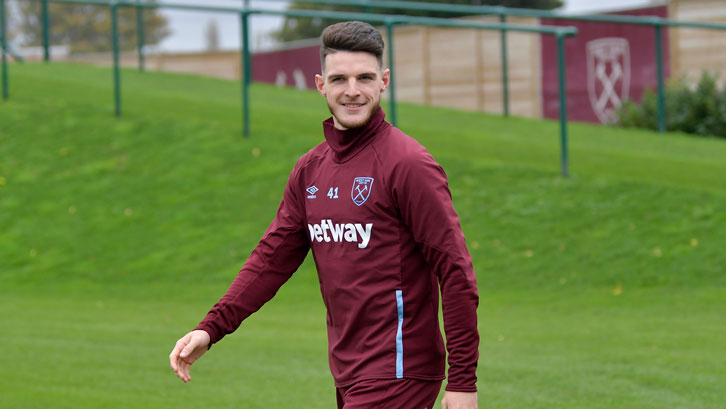 Talking of positivity, Rice's infectious enthusiasm has made him a popular figure wherever he has been – the Academy of Football, Rush Green training ground and at London Stadium – and he is determined to spread more cheer as the country embarks on a four-week lockdown to combat the COVID-19 pandemic.
"I think we're really luck that we're still able to play," he admitted. "Obviously last time football was closed off but luckily enough this time we're able to play. We're going into a four-week lockdown and there is a lot of football coming up, so the majority of people in the world who love football can catch up and watch our games. It will be great to play in front of as many of them as possible on TV.
"The West Ham fans are fantastic. I've said loads about my relationship with them. They treat me like one of their own and I feel like that. I feel special. When I play, with or without the fans, the support has been great and that's not just me, I think the team feels that there has been a really positive energy since the start of the season from the fans towards the players, so we want to carry on and make them happy."