Interviews
Tomáš Souček on building on a good start, scoring goals, Declan Rice, Vladimír Coufal and Old MacDonald's Farm!
Tomáš Souček's contribution to West Ham United since his arrival at London Stadium in January has been immense.
The towering Czech Republic midfielder has not only brought his considerable physical presence to David Moyes' side, but also all-round ability befitting a player who has shone in the UEFA Champions League and on the international stage and who is his country's reigning Footballer of the Year.
Souček's goals helped keep the Hammers in the Premier League last season, while his developing partnership with Declan Rice in the Irons' engine room has played a major role in the team's encouraging start to the 2020/21 campaign.
Meanwhile, his role in helping his compatriot, friend and long-time teammate Vladimír Coufal settle into life in Claret and Blue should not be understated.
But, in an exclusive interview with West Ham TV, the 25-year-old is demanding more, from both himself and his teammates, as David Moyes' side embark on a run of fixtures that he believes should yield a solid return of points, starting with Saturday's visit of Fulham to London Stadium…
After ten games, how do you think we've started the season? 
"I think it's been good. I think we did a very good job during our pre-season and only the first game was bad for us, our game against Newcastle. We lost our first two games but after these games, we improved and I am happy we are playing. Our schedule was hard but we've got good results. The next games, we want to be better."
How do you feel your personal level has been?
"I feel I have been good as well. I like to play each game, the whole 90 minutes, because when I am playing Sunday, Wednesday, Sunday, it's the best way for me. I feel better on the pitch when I am playing matches. My feeling is nice on the field and hopefully I will show more of what I can do."
You have had 16 goal attempts, second only to Michail Antonio's 18, but you are still waiting for your first goal of the season?
"I scored the goal against Wolves, but they took the goal back! It was an own-goal. I should protest. Everyone agrees with me. But it was an own-goal, say the Premier League, but I was happy we won 4-0. It was nice, but yes, I'm still waiting for the goal. Hopefully it will be in the next few matches."
Hopefully it will come against Fulham on Saturday…
"Yes! This would be the best way, immediately on Saturday."
Can you talk about how your partnership with Declan Rice is developing in the midfield?
"I've been playing with him for six or seven months and I think our game is getting better and better. He's a very good player. He's a youngster but his ability and qualities are very good. It's the best way for us that someone can go into the box and the other one can cover the pitch behind him. We can both go and play left or right, or we can both stay and each other goes together."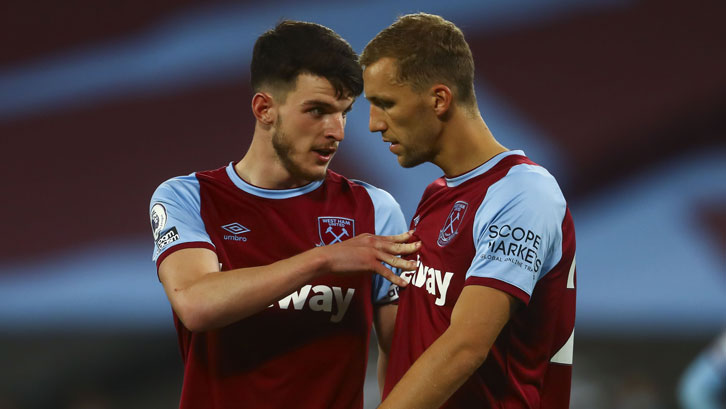 As you play together more, it becomes more natural…
"Yes, it does, because we know more and more about each other and we know, when we get the ball, what the other one is going to do. It is very good, like I say, and hopefully in the next two or three games, when we're keeping more of the ball, we want to show our relationship more." 
You must be pleased with how Vladimír Coufal is settling in?
"I am very happy that he's settled into this team, in this squad, with us at the training ground and at the stadium. His family too, because it is hard - it is his first transfer to a foreign country. I know how hard it is. I am very happy with how he's played these four or five matches, because he's had some hard opponents. Now, again, he can show more offensively. He's going up and down on the pitch and I believe he will show us more and more."
He looks like a total professional…
"I used to play with him at three teams. I used to play with him at Slavia for two years, I used to play with him at Liberec on loan for six months, and in the national team as well. I know how professional he is. It is good and he is typical for England. When I heard about him coming to West Ham, I knew immediately that the people would love him."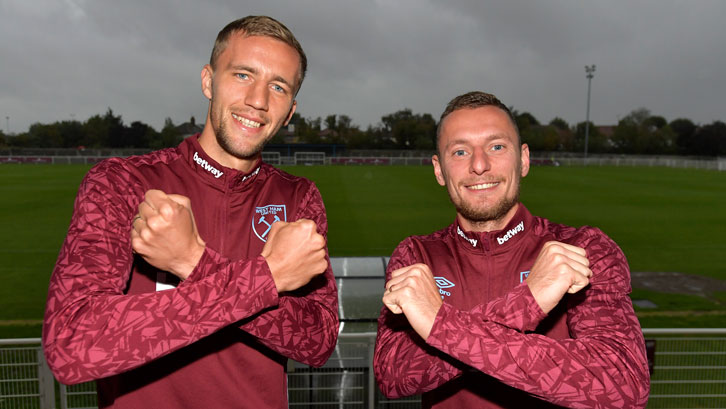 You are good friends with him, so can you tell us about how your relationship has developed?
"It is growing. I know, when I was in Slavia, we met with our families together. I remember we went to the celebration of his son's third birthday. It's nice. We were close in Czech Republic, our families too, and we are together here, so it may be better for our wives and kids. It is nice. When we are together at the training ground, they can meet and be together too. It is good for settling in for both."
It's been a difficult year with COVID-19, so it's important to have someone you can have fun with?
"Now it's really important. When I came in January, it was nice for one-and-a-half months. But maybe my family, and my wife's family, they came to London once or twice and they wanted to come once or twice a month. It could have been nice but now it's all closed, so now I am going to training with the national camp for two weeks and my family will stay here alone. It is hard time for them. But they will be here together, and it is a better way." 
We now face Fulham, then Sheffield United and Aston Villa, so we have a chance to pick up some points?
"We have to be focused because we know we played well against the teams from the big six, but these games will be hard too. Other teams want points too, so it will be hard for us, but we want to play a little differently from the last four games. We want to keep the ball, create many chances, and if I were to compare, we want to play something like we did against Wolves when we created many chances, and we won a nice game. If it is like this, we will be happy." 
Lastly, we saw on your Instagram that you took your family to Old MacDonald's Farm & Fun Park in Brentwood before lockdown! 
"It is a nice farm. It was the first time we went there and my daughter enjoyed it. She loves animals, and we want to wait for when lockdown is hopefully over soon, and we want to visit the farm again. Our daughter loved all the animals and there are many playgrounds outside for them. We want to enjoy the time when I'm not at the training ground, and I want to enjoy our family time while in England. They deserve it."