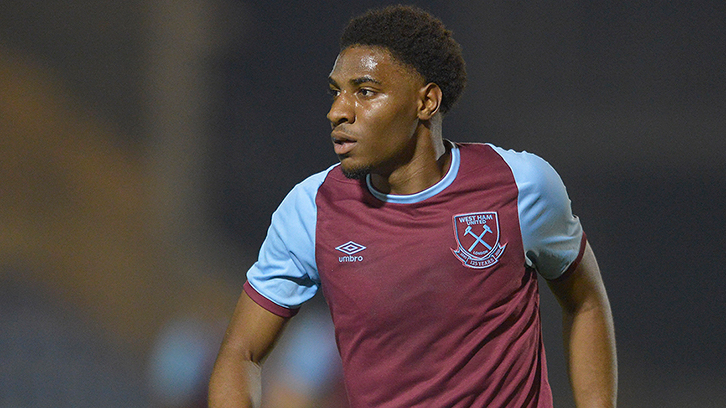 West Ham United Under-23s must find a response from within themselves following their 3-2 loss to Derby County on Monday night, according to forward Oladapo Afolayan.
The striker scored on his return to Loughborough University Stadium, where he represented the local Midlands League side while studying, but it was not enough to prevent a hard-fought defeat to the Rams in Premier League 2.
Derby went into half-time with a two-goal lead thanks to a brace from Jack Stretton, who went on to complete his hat-trick midway through the second period from the penalty spot.
Despite a much-improved performance from West Ham throughout the latter half, it was only then that the Irons were able to find the back of the net, scoring twice through Conor Coventry and Afolayan to reduce the arrears late on.
In the end, however, the damage had already been done, and Afolayan and his teammates were left rueful, given the nature of the defeat.
"Personally, I think we didn't give the account of ourselves that we should have tonight," the forward admitted.
"There were a lot of disappointed people in that dressing room, and I think as a collective we've got to find a way to change it, because we're a much better team than we showed. 
"I don't think we've played any team this season who have dominated us or been a much better team than us. We've given goals away and when you do that, you're never going to pick up points at this level. 
"There's too much quality in this group to be in the position where we are. We need to keep learning as a collective and just make sure we don't put ourselves in the position where we're on the backfoot. It has to come from within ourselves, really."
 
One result can change a lot of things, so we'll go into Friday [against Liverpool U23s] with a tough, winning mentality

Oladapo Afolayan

The 23-year-old was pleased to find the back of the net on his return to the non-league ground, having received a warm welcome from the stadium announcer in the build-up to kick-off.
"It's nice to be at Loughborough again," Afolayan said. "I played some good football here and met some good people. 
"Obviously it wasn't the result that I wanted, and not the performance we wanted as a team, but it's nice to be here, in and around the stadium, and it was good to score here again."
As for the U23s, who are still seeking their first Premier League 2 win of the season, opportunity is set to knock once again later this week when they welcome Liverpool U23s to Rush Green Stadium on Friday 6 November.
Afolayan reflected: "That's the good thing about football – games come thick and fast. 
"We've got to go into the game on Friday with an absolute will and determination to win the game – simple as. I'm going to bring that – I hate losing. 
"We're going to give it our all and try to win the game because football's crazy and it only takes one result. One result can change a lot of things, so we'll go into Friday with a tough, winning mentality, and then we can build from that."