Following the suspension of English football due to the coronavirus (COVID-19) outbreak, it was announced earlier this month that the 2019/20 Academy Games Programme would be curtailed.
The announcement means that West Ham United U18s have concluded their U18 Premier League South season just three points behind leaders Fulham and a point ahead of third-placed Chelsea – albeit with the Blues having a game in hand – after averaging three goals every league game. 
We caught up with U18s Lead Coach Kevin Keen and Assistant Mark Phillips to discuss a prosperous, entertaining and seminal 2019/20 season for the young Irons.
Kevin, from an Under-18 player's perspective, there have been plenty of chances to push yourself this season. How do you assess those development opportunities?
Kevin Keen: "I think one of the biggest successes for Mark and I is that we're really proud and happy when [U23s Lead Coach] Dmitri [Halajko] takes our players to go and play with the Under-23s. 
"Academy football is about development, especially at U18 level, and I don't think there'll be too many U23 teams throughout the country who've had 15 and 16-year-olds playing in their team. Jamal Baptiste has played regularly, Amadou Diallo has played regularly, and I think that's what West Ham's Academy is all about: challenging them to play at the top level. 
"That will stand them in good stead going forward, hopefully for when they eventually play in the Premier League. I think that's a real achievement on Mark and I's part, to keep producing and pushing those players – we've had a lot of our U18s play in the U23s this season – and that's fantastic for our Academy."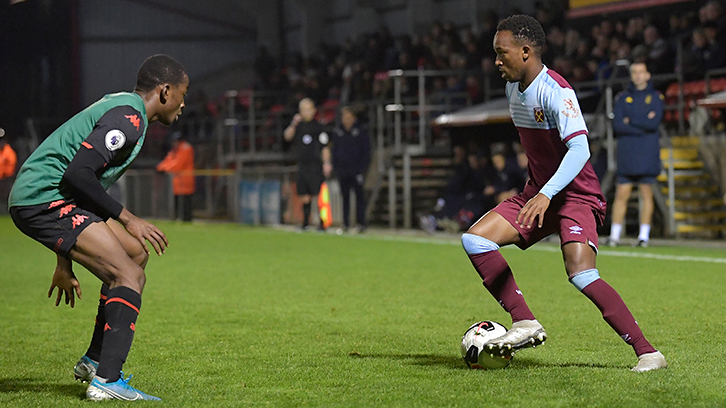 After just 17 games in U18 Premier League South, your side have scored 51 times and conceded 28 – they've been an entertaining watch! Where has that stemmed from?
Keen: "We looked at the start of the season, and we've got a very attacking squad of players, especially in full-back areas – we haven't got someone who's just going to sit there and defend – so there was always going to be a lot of goals! 
"We've scored a hell of a lot of goals this season. Unfortunately, we've conceded a few too many, but overall the team spirit and the work ethic of the squad is its strength, and they've been really good.
"To go through the season and achieve what we've achieved, and to win the games – sometimes right at the end – shows the team spirit and the work ethic of the group."
Mark, you've been involved with the U18 set-up for a number of seasons now – how has 2019/20 compared to what you've seen before?
Mark Phillips: "As Kevin alluded to, we've got a great team spirit amongst the U18s and U23s, and I want to congratulate Dmitri and Steve [Potts]. It's a fantastic achievement going undefeated throughout the season at any level you play at, so I want to congratulate them - with help from players from the U18s as well. 
"From our point of view, it's a different goal when you're an U18s coach. It's not just about winning football matches – obviously you're trying to win a game on a Saturday, but it's about developing players and asking 'are they ready to play in the U23s? Are they ready to go and play in the first team?' 
"You have to win football matches if you can within those parameters, so if you look at the amount of U18s and U16s who have gone and played for Dmitri and Steve, I think that's testament to how we're doing our job. That's our way forward."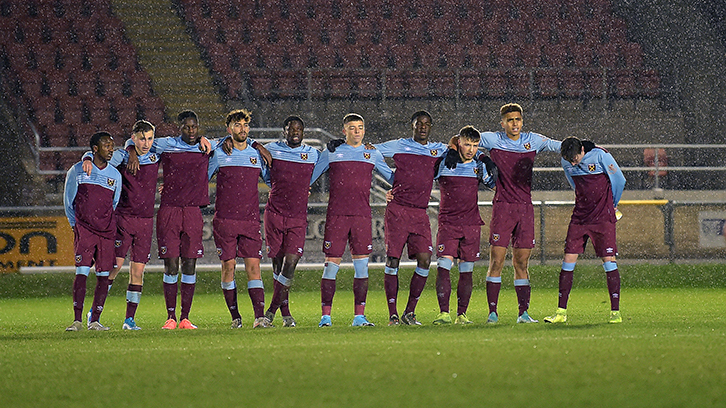 With plenty to choose from, what's been the standout result for your side this season?
Phillips: "I think we've played Tottenham three times and, although it's not a personal thing against Tottenham, we've beat them every time! 
"The first of those [in September] was a real nip and tuck game. We could have gone under, stayed in it, did well, and managed to come away with a positive result. I think the first game against Spurs away [a 3-2 win] would be the pick of the games for me."
Kevin, particularly since the turn of the year, we've built real momentum as an U18s side with four wins from five games – how much are you looking forward to bringing that into the next campaign?
Keen: "We're really excited. With the U16s group coming in, quite a few have already played and been challenged in our youth team. It's a really, really exciting group, and what I like about it is that next year, they've got the challenge of trying to reproduce what's been achieved this year. 
"For the Club to sit in second position in the U18 Premier League South is a fantastic achievement by this year's group, so straight away as the new group comes in, they've got that as a target: finishing minimum second! 
"Also, the fact that we went through the season in the league unbeaten at home at Little Heath is really impressive, and a fantastic achievement from the squad and coaches."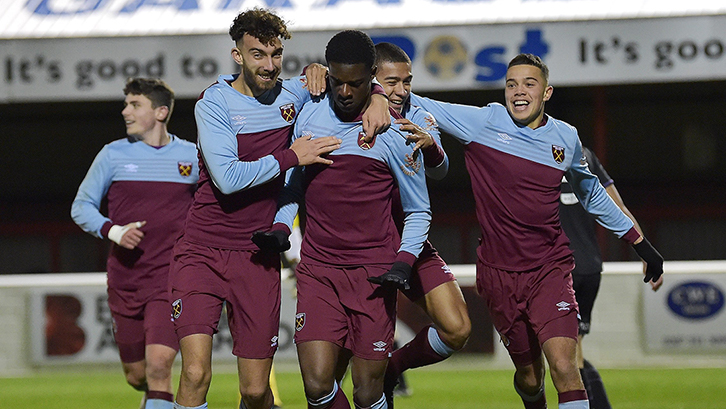 Having returned to the Club last summer Kevin, how receptive have you found the U18s group been to honouring the Club's values?
Keen: "Incredibly receptive. They've been an absolutely fantastic group to work with – no big egos, no big superstars, just everyone wanting to join in and be part of a team. 
"The U18s typify that West Ham value of trying to play good football, but also being aggressive, really playing for the badge, blocking shots, making tackles. 
"West Ham are known for playing good football, but also that real determination to win games, and the U18s have epitomised that from day one for me. With their hard work in pre-season, and certainly within the games, there was a real never-say-die attitude throughout the whole season which really did West Ham proud."
Finally, in a strong campaign, what aspects would you both consider to have been the most successful for the U18s this season?
Phillips: "It's not about league tables, but it's nice to finish as the highest Premier League team in London as an U18s group – we've ended up above Chelsea, Arsenal and Tottenham.
"For so many years, Chelsea have totally dominated youth football, and everyone has been looking to compete with them. We've definitely competed with them this year. Unfortunately one of our only losses was away at Chelsea, but we bounced back and beat them at home, so that's been a successful aspect of the season.
"Another success has been the players from the U18s scholarship group who have gone on to earn themselves professional contracts and who will be with Steve and Dmitri next year. It's up to them to go on and prove their worth and go on and hopefully be in the first team one day. 
"In terms of objectives then, we've done well, competed with every top Academy in our area, and we've pushed players onto the U23s, so I see that as quite the successful season."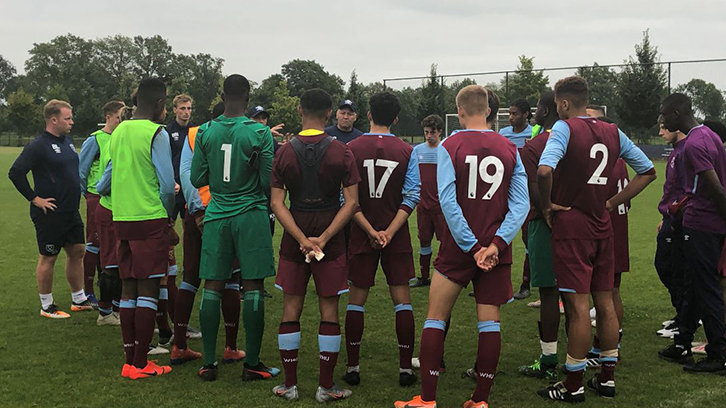 Keen: "From a different angle, as someone who's worked in senior football for many years, I've come back to Academy football at West Ham this season and I feel like the environment [Academy Manager] Ricky [Martin] has created is really, really special. 
"We've got coaches who share ideas, there are no big egos, and everyone's pulling in the same direction. Over time, over these next few years, it's really going to pay dividends.
"That's the successful thing: it's been built around good people and good coaches. From Dmitri and Steve down to Mark and I,  and with Gerard Prenderville and Harry Watling doing fantastic work with the U16s and U15s, that core group of coaches that we've got together, managed in the right way, is going to produce some really good players over the next few years for West Ham. 
"That's going to produce success in getting more of our young players developing into the first team, and that's what the Academy of Football's and West Ham United's history is all about."