Interviews
Pablo Fornals: Returning to Rush Green and learning English from The Simpsons
"For me it was like a saviour because I was alone and I came here to London to play football, so staying here and not being able to play football was very tough for me. Just the thing to go to Rush Green for a run or to touch the ball was nice!"
After two months living alone in lockdown, Pablo Fornals welcomed the opportunity to return to West Ham United's first-team training ground and spend time – at a safe distance – working alongside his teammates, manager and coaches.
There, he has been tested three times for coronavirus, had his temperature checked on arrival and trained in his own kit on pitches and with equipment disinfected before every session.
Now, with Premier League clubs set to move to Stage Two of the Return to Training protocol, with group work and contact allowed, the prospect of competitive football returning is ever more positive.
For all the Premier League and all the leagues, the most important thing now is to keep pushing and keep going together and be ready for when the league starts

Pablo Fornals
"It's been a lot of time without football," Fornals reflected. "We are in a new normality. It's all strange and different for everyone, so we to do the things that the government say and to be good citizens.
"Of course [I feel safe at Rush Green]. It's a strange situation for all of us, but if the government and the league decide that we play, I think it's obvious that the players need safety and security for us and for our families because, first of all, we are humans.
"The Club and the Premier League are doing good things and after this a decision will be made if we play or not this season.
"For all the Premier League and all the leagues, the most important thing now is to keep pushing and keep going together and be ready for when the league starts, because we had two months running in the park and doing exercise at home, so to play games in a shorter period of time will be tough for us and for our bodies, so we need to be good and this is like a pre-season."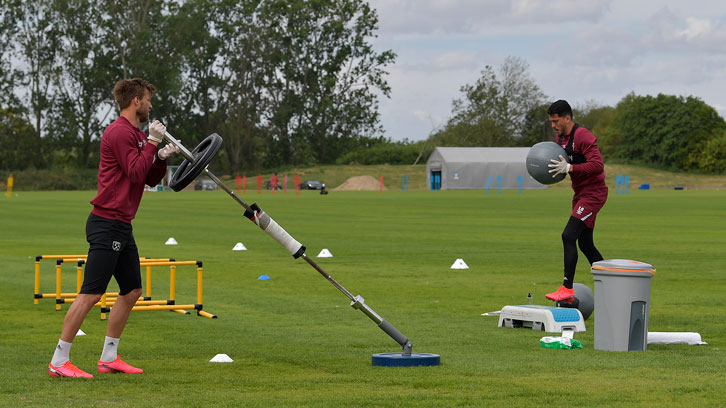 Prior to the lifting of lockdown restrictions earlier this month, the Spanish midfielder has followed government guidelines strictly during the coronavirus pandemic, only leaving his apartment once a day for daily exercise for eight weeks, and only speaking to his loved ones via regular video calls.
It has been a testing period for the 24-year-old, whose girlfriend and sister returned to Spain in early March, and were unable to return during the strict lockdown in his homeland.
But he has used his time alone productively, keeping fit, reading and even improving his English by watching The Simpsons!
"My girlfriend and my sister and some cousins returned to Spain after our last victory against Southampton [on 29 February] and after this the new situation, the lockdown, started in Spain, here and around the world," he confirmed.
"I am living this lockdown alone, but I am good. I try to do my workouts, my exercises and speak to my family and friends at lot of time every day and try to be good because it's not easy. I don't decide this situation for anybody.
"I have spent a lot of time on video calls! Usually, after my [afternoon] nap, I start to call my Mum, my sister, my girlfriend and my friends. I don't have a PlayStation, so I just read books, watch shows and films but I prefer to speak to my loved ones, so it's better because I can feel they are close to me.
"Some weeks before [the lockdown], I started to speak with my sister because she has studied English language at university, so we started to speak sometimes. It's not easy because it's my sister and we wanted to speak about what we think, so it's difficult, but I'm trying to watch some shows in English. I watch The Simpsons at lunchtime in English so I am trying to improve my English as well."
Now, with training restrictions being loosened, Fornals will have the opportunity use the words he has learned from Homer, Marge and Bart with David, Mark and Declan at Rush Green!