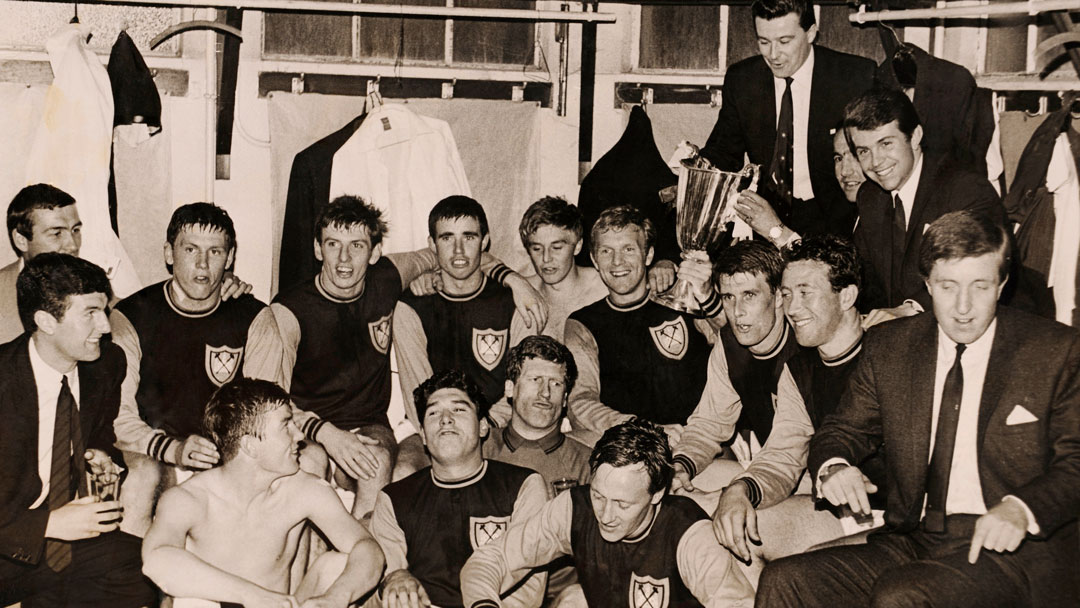 West Ham United legend Brian Dear celebrated the 55th anniversary of the Club's famous European Cup Winners' Cup triumph on Tuesday by making some surprise telephone calls to Hammers fans old enough to recall the momentous occasion.
Wednesday 19 May 1965 is a date never to be forgotten for anyone lucky enough to recall it – the night Ron Greenwood's team, containing no fewer than nine homegrown players from the Academy of Football and led by the imperious Bobby Moore, followed up their FA Cup success at Wembley 12 months earlier by beating German side TSV Munich 1860 2-0 under the Twin Towers, thanks to a second half brace from Alan Sealey.
For Greenwood, it was the pinnacle of all he had strived to achieve since arriving at Upton Park four years earlier to take over from previous boss Ted Fenton and, more than half a century on, the victory is still regarded by many as one of the finest footballing spectacles witnessed at the home of English football.
Striker Dear had broken into the side only two months earlier at the age of just 21 and kept his place ahead of the injured Johnny Byrne thanks to a staggering haul of 14 goals in just 14 games before the Wembley final – including strikes in both the ECWC quarter-finals and semi-finals against Lausanne and Real Zaragoza, and a record-breaking five goals in the space of 20 minutes against West Brom in April – still an English league record to this day.
Dear, now 76 but still as sharp and bright as ever, spent the morning of his most savoured anniversary phoning a group of long-standing Hammers supporters from his home near Southend, Essex, to check in on their well-being during the current Covid-19 pandemic and share memories of that unforgettable evening back in 1965.
"I really enjoyed it," said Brian. "I spoke to quite a few of our older fans – I say older, but a couple were younger than me, so perhaps 'experienced' is a better word!
"It was lovely to share our memories of 1965, but it was just as lovely to have a general conversation, to find out a bit more about them, their lives and their support for West Ham. At the moment, with the situation we are all living in, it's just nice to be able to pick up the phone, chat to someone, ask them how they are and have a few laughs together.
The fans I spoke to on the phone all felt the same. It was their victory as much as ours, and those who remember it still feel that same pride

Brian Dear
"Some of them were on their own, which obviously isn't easy at a time like this, but it's amazing how things can brighten up when you spend some time talking, and the conversation turns to football and West Ham.
"One of the gentlemen I chatted to, Phillip, is 89 now but what a great character. He is still playing golf, and it was fantastic to discuss our shared love of that and how wonderful it is that we are now allowed to play nine holes at our local courses.
"I also spoke to a lovely couple, Richard and Pam, who now live down in Dorset but still attend home matches, and we discovered that Richard actually grew up in the same street in Stratford as my wife Jan!
"We had a great laugh talking about all the places we knew and remembered, and like anyone who grew up in the East End around that time, you have such fond memories of the community spirit we all shared. The area is very different now, of course, but its West Ham United that keeps that community spirit alive among us and it's a bond that will always be there."
For Dear, reflecting on that magical May evening just over a half a century ago still stirs feelings of unbridled joy and pride. Born and bred in East Ham, living just a five-minute walk from the Boleyn Ground, he stood on the North Bank as a boy cheering on the Academy greats of the early 1950s, before going on to join the Groundstaff and eventually play a key part in the ultimate victory of the glorious mid-60s.
"It was just a pleasure and a privilege to be a part of it," said Dear, affectionately nicknamed 'Stag' by his old Hammers team-mates. "You've got to remember we were virtually all local lads, West Ham fans ourselves who grew up in the area and came through the ranks together.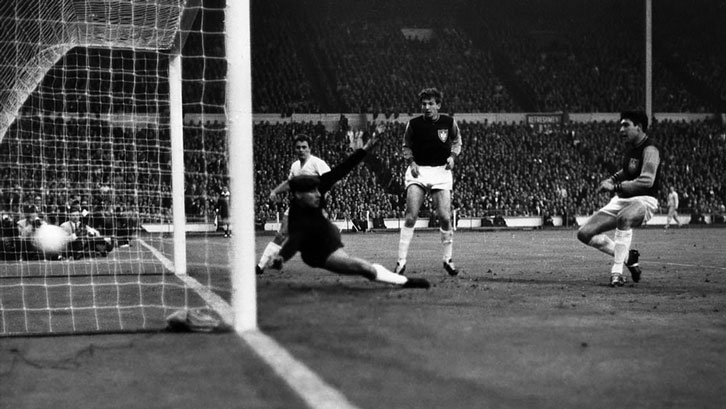 "In that team, you had Bobby, from Barking, Ken Brown, from Dagenham, Martin (Peters) also from Dagenham, myself and Boycey from East Ham, Geoff (Hurst) was only out in Chelmsford, Alan Sealey was a Canning Town boy, Jack Burkett was North London and Johnny Sissons was West London. We were just a great bunch of lads.
"Ron made us the team we were but, in all fairness, he was very fortunate to come to the Club when all of those lads were coming through, thanks to the system that was in place in the 50s, with the likes of Malcolm Allison and Noel Cantwell changing our style and Ted Fenton and Wally St Pier recruiting the best young talent in the area."
The memories of 1965 still shine brightly in the Dear household. On his kitchen wall, Brian has a framed print of the two teams walking out on to the Wembley turf – an image he features in prominently thanks to the wit and foresight of his captain and great friend Moore.
"In the dressing-room before the game, Bobby was walking round and said to me: 'Stag, you'll be alright tonight won't you?' And I said: 'Lovely Bob, I'm not nervous'.
"He said: 'Well, walk out behind me in the line-up then.' And I said: 'Why?
"So he replied: 'If you come out walking behind me, you'll definitely get your photo taken!'
"That was just typical Bobby, always thinking ahead. It was an honour to walk out behind him – we all had absolute trust and belief in Bobby, Wembley was his second home, and that gave us an advantage.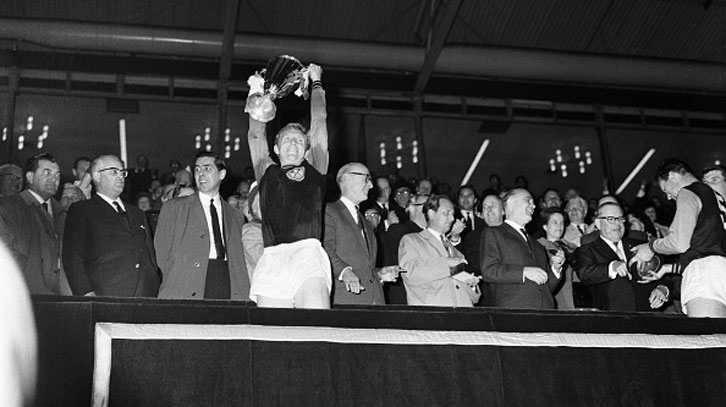 "It was a tight first half," Dear recalled. "I scored and I keep seeing it back, and it still looks a perfectly good goal to me, but it was deemed to be offside. I forced a good save before half-time. We didn't have it all our own way but there were good performances from everybody. 
"Of course, we got the goal in the second half. It was great to get that and then the second one came very quick. I came bursting through and the goalkeeper came flying off his line, which today would have been a red card. He smacked me onto the floor and then we got up and shook hands! It was amazing! 
"I would like to claim an assist for our second goal, although Bobby got the perfect cross and Alan smacked it into the net. Someone had to score, although I would have loved to have scored. 
"Most of us grew up together and there wasn't a lot between our ages. Of course, the result was fantastic. It was a wonderful day, a wonderful evening, and it's lovely to still be talking about it 55 years later.
"The fans I spoke to on the phone all felt the same. It was their victory as much as ours, and those who remember it still feel that same pride."