Interviews
David Martin: Talk to someone if you have concerns about your mental health
Through a career spanning more than 400 matches and nine clubs, David Martin has faced many different challenges.
The West Ham United goalkeeper changed position as a teenager, was with Wimbledon when the club moved to Milton Keynes, was loaned to five different clubs during a character-building spell with Liverpool, won a League One title with Leicester City, was promoted and relegated with MK Dons, made a high-profile FA Cup blunder while with Millwall, and enjoyed an emotional match-winning debut for his boyhood Hammers.
Thankfully for Martin, whenever he felt his mental health was being affected, he was able to call on his family for support and, as the world marks Mental Health Awareness Week, the 34-year-old has urged others to talk to those around them.
How does football affect your mental health?
"Going into the game, you don't know what's going to happen, so I think it's quite instinctive. I've found that my relief is actually playing the games and being into the games. I think leading up to the games is where I find my mental state of mind is tested."
How do you maintain positive mental health?
"I try to visualize positive scenarios. Even in the warm-up, I'll take a pretend cross and actually see the cross come all the way into my arms. It's all positive images in my mind that I will go into the game with.
"Away from football, it would be talking with my wife, my dad or my goalkeeping coach. As I've got older, I've learned how to deal with things better by talking to people."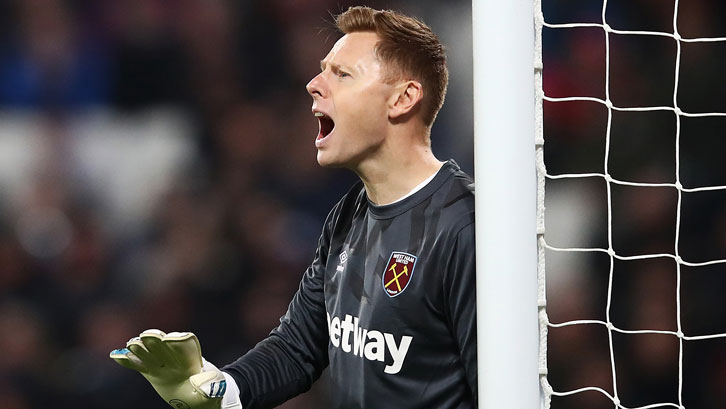 Are there different pressures for goalkeepers?
"It can be a lonely place because there is nowhere to hide. If things aren't going well up to the game, and you've had a few moments where you thought 'I could have done better', then you can feel the pressure actually build.
"You've got to understand that no-one else sees that – it's just you and your perception of how you see that situation. I've found out during my career that you only put pressure on yourself, but you still have that outlet to speak to people."
How important is it to speak to somebody if you are struggling?
"In my career, I've had some really tough times and really low times and it was that first step that was tough for me, to actually reach out, even to my wife, but it really opened doors for me.
"The other times I was really low, something was really worrying me or I was feeling anxious about something, it was a lot easier after I'd made that first step.
"If you can do it that first time and be brave enough to do it that first time, it will hold you in good stead for the rest of your life."
What helps you to keep a positive state of mind?
"For me, the most important thing is sleep and keeping yourself hydrated. With sleep, if you can get to the stage where you are having a good seven or eight hours every night, it does give you that will and drive the next day and that feeling in the morning to go and achieve what you want to achieve."
*Hosted by the Mental Health Foundation, Mental Health Awareness Week takes place from 18-24 May 2020. The theme is kindness. Click here for more information.