West Ham United Foundation Community Sport Manager Austin Hughes is a regular at home games, often seen ensuring that the matchday timetable and protocols are running as smoothly as possible. 
 
With this week marking Mental Health Awareness Week, Austin, who is bipolar, has shared his personal story of battling through difficult times in order to help supporters and his colleagues at West Ham United through the COVID-19 (coronavirus) pandemic. 
 
You can read Austin's story below or watch the video in the video player above…
 
 
Hello everyone, I'm Austin, and some of you may have seen me scurrying around the pitch on matchdays, or through the Foundation.
 
I was aware of all the positives we're putting out for fans and the people we're working with – and I think we've done some amazing work for the people we work with in the Club – but I thought it was important to share something for everyone involved with the Club. 
 
The last couple of weeks have been really difficult and hard, and we're now going into a phase that I think will be equally challenging. How are games going to continue? How will the Club manage its way around the situation? These things can become quite stressful and they can worry us.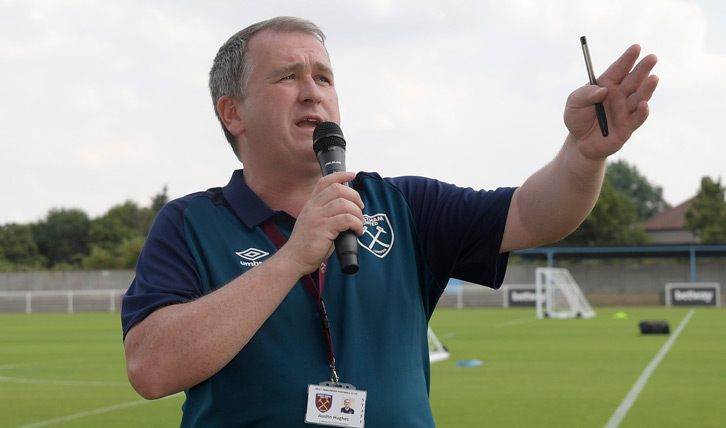 I just wanted to take a moment to give a piece of personal insight from something that happened in my life which, in some ways, is similar to this situation.   
I had a serious head injury many years ago and I was very seriously ill in hospital. It was possible I wasn't going to live. I had to stay in hospital for quite a while and, when I moved home, I had to be cared for by mother and father. I was 30, and I was having to be parented again.   
This progressed over a couple of years through walking and talking and learning to do things independently again. It was a strange situation. Within that time, inside me, I was still me. I was still Austin deep inside. I was struggling with when it would end.   
Actually, the truth is, I did find my way out of that situation. I reached the point where I came through it. Okay, some things are a bit challenging and it's left me with some disabilities, but I've got a great life. I work for West Ham United and I get to be there on matchdays, which is amazing. Working with the Foundation and the community makes me go 'wow' because I can't actually believe the difference that we're making.   
The point of this is to say to everyone: hang in there and stay positive, because we're going to come through this. I found my legs again one day and everyone watching or reading this now is going to do the same. You're going to find your way during these times. Together, as a Club, as a Foundation, we're going to come through this. It might not be straightaway, and it might take a while, but we will get there.   
Poetry used to help me too, so I hope you won't mind indulging me a few lines of Alfred Lord Tennyson's poem, Ulysses, that used to bring me through hard times:  
Though much is taken, much abides; and though
We are not now that strength which in old days
Moved earth and heaven, that which we are, we are,
One equal temper of heroic hearts,
Made weak by time and fate, but strong in will
To strive, to seek, to find, and not to yield.
We will come through this and everything will come good. I promise that.   
Take care, everyone.
Hosted by the Mental Health Foundation, Mental Health Awareness Week takes place from 18-24 May 2020. The theme is kindness. Click here for more information.