While most professional footballers across the globe are looking to maintain their own fitness with home work-outs, West Ham United attacker Martha Thomas has willingly added a fair few extra kilometres onto her own exercise during May. 
Three hundred and sixty-five of them, to be exact. 
The striker, along with her partner, are in the middle of completing the 365km in May challenge, in support of captain Gilly Flaherty's Cryo-lounge. 
"My girlfriend, Ellie, and I decided to do the 365km Challenge, to help try and raise money for Gilly Flaherty's Cryo-lounge business," Thomas told whufc.com. "That's been a fair bit of additional exercise for us! But it's kept me busy.
"Ellie and I were originally going to try and do it just between us two, but we looked and it and realised we had kind of bitten off more than we could chew. We enlisted Kate [Longhurst] which has helped to split it all up a bit more too.
"It's a nice distraction and helps to pass the time. It's not too bad when you've got the bike and you can go out. You'll be biking for an hour and you'll have racked up 15 kilometres there, so it's not too bad. We've been enjoying mixing it up too. We'll do running and walking as well as biking on different days of the week."
Haven't updated lately, but over the past couple of weeks we've raised £450 for @thecryolounge and ran, walked, or biked over 189km!
After a long bike ride today @Ellieleek95 and I added another 73km to the total ? As always thank you for the donations! https://t.co/0qFMpBDJI8 pic.twitter.com/zpy1ccbGQi

— Martha (@mart__thomas) May 17, 2020
Exercising and working out is making up the bulk of Thomas' time during lockdown and self-isolation, and the gruelling schedule is not made any easier when the competition begins between her and girlfriend Ellie. 
Ellie also plays football, representing FA Women's Championship side Lewes, and Thomas says the daily battle between the pair helps to keep each of them motivated and at the highest possible fitness level.
"Ellie and I have had a few one versus one football battles out in the back garden, and a few elbows do get thrown around! It's a good bit of competition and it makes working out a bit more fun too. When you're doing it with someone who is just as motivated as you are, it definitely helps. 
"We moved back to the family home in Wales just before the lockdown happened, so we've been here for about eight weeks now. It's much nicer than being in a flat in the middle of London. We've got a nice, big back garden and there's a dog here too. There's some beautiful places and gorgeous nature around here that we can walk through and around as well, so although things are obviously difficult, we've been doing alright."
Thomas made the move to the Hammers last summer from French side Le Hare and has managed five goals in all competitions so far this campaign. The 23-year-old made an immediate mark on the Barclays FA Women's Super League, scoring on her debut away to reigning champions Arsenal.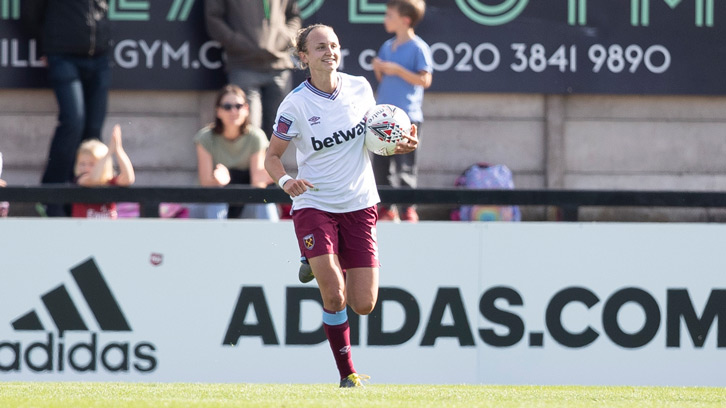 Since then, the goals have kept coming for Thomas, with two in her most recent outing in Claret and Blue; a 4-2 win over Liverpool in February. 
"I feel like I set my own bar pretty high when I scored against Arsenal on the first day of the season, but it gave me a bit of reassurance that I belonged in this division and I could go on and do well in the league," she reflected. "It was a huge confidence booster at the time, and I've enjoyed it ever since. 
"I've enjoyed every moment of being here so far and I wouldn't want to be anywhere else. I wish I could have stayed a bit healthier. I kind of feel like every time I found a bit of form, I picked up another little niggle that seemed to linger. 
"That was a tad frustrating for me but, at the same time, if I was to tell myself a year ago that I was going to have the impact I did in the last few months in one of the top leagues in world football, I'd be chuffed with that. I just want to hopefully continue that when all this comes to an end."
With Thomas showing a natural eye for goal through the season, it may surprise some supporters to read that the attacker did not consider herself a natural striker at the start of the season. 
It was through conversations with head coach Matt Beard that Thomas was convinced of her ability to lead the line; a role she has relished ever since. 
I feel like I set my own bar pretty high when I scored against Arsenal on the first day of the season, but it gave me a bit of reassurance that I belonged in this division and I could go on and do well.

Martha Thomas
"I think it would have been a bit easier if I had a bit more consistency under my belt, in terms of staying healthy," she considered. "But what I have been able to do in the games I've played in has helped me to believe I do fit in well as that No9, that out-and-out striker. 
"I don't try to put too much pressure on myself to be the one that scores the goals, just because I have the No9 shirt. As long as I can stay healthy and keep contributing to the team winning games then I'll be happy, Matt [Beard] will be happy and the team will be happy."
Netting goals is always a sure-fire way to become a popular member of any team, but Thomas' approachable personality and kindness have also made the attacker a fan-favourite at West Ham United. 
The forward adores her regular interactions with the supporters and is looking forward to seeing them again in the near future.
Thomas continued: "The fans are great. We see the familiar faces week-in and week-out at our home games, and to be fair, there are fans that travel to our away games as well. We really enjoy going over to the sidelines at the end of the game to clap them, take pictures and sign autographs. 
"A lot of times, it's just about having conversations too, with fans who are really keen just to get to know you as people as well. I think that's the great thing about women's football; fans can have a bit more of a personal relationship with players after the games. That's a huge benefit for the women's game."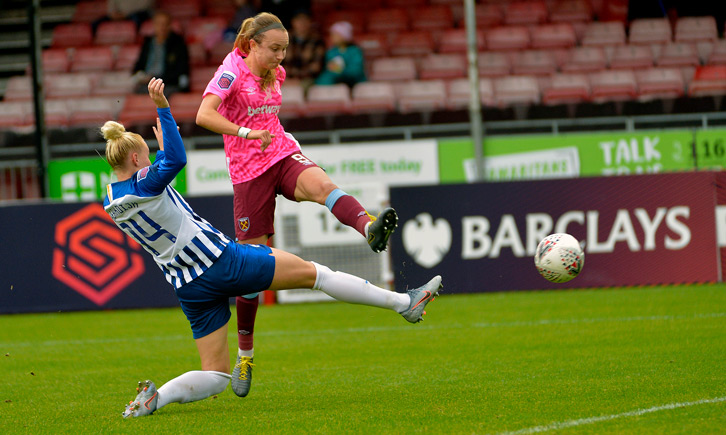 Although no final decision on if and when the 2019/20 Barclays FA Women's Super League season will resume has been made, Thomas is looking forward to returning to the pitch as soon as it is safe for her and her teammates to do so. 
The Dorset-born Scottish international has been impressed by the comradery and team-spirit shown by the nation during these difficult times, and also hailed the fantastic work undertaken by the NHS and key workers during the coronavirus [COVID-19] pandemic.
"We have an incredible NHS with doctors and nurses on the front-line that are putting their lives at risk to save ours," Thomas added. "I'm extremely impressed with how everyone in the country has come together to battle this. 
"We've protected our health system and our vulnerable people, and when it's safe to do so I'm sure a lot of people – just like us – are looking forward to sport and football coming back. I can't wait to be able to help bring some joy again to the people that love watching football."