Chances are you have enjoyed Arfa Griffiths' work if you are a West Ham United supporter.
Since September 1996, Griffiths has been on the touchline for virtually every match the Hammers have played, initially for the Barking & Dagenham Post and, for the past 16 years, as the Club's official photographer.
For nearly two-and-a-half decades, Griffiths has been snapping the action, capturing iconic moments in Claret and Blue history, initially on traditional photographic film and more recently on his state-of-the-art digital cameras.
From Play-Off, FA Cup and UEFA Intertoto finals, through European adventures, to emotional nights at the Boleyn Ground and historic events at London Stadium, Griffiths' images have told the story of West Ham United's recent history.
Here, speaking from his studio at his London home, he shares the story behind them…
My first West Ham match was in September 1996, away at Sunderland, and came about by chance!
We used to do printing in our studio back then and one of the guys from the local paper, the Barking & Dagenham Post, came in on a Friday afternoon and asked 'What are you doing tomorrow?' and I said I was going to Sunderland to shoot a wedding. He said 'that's a fair old schlep', but I said it wasn't too bad as West Ham were playing Sunderland on the Sunday, so I'm going to go over and watch!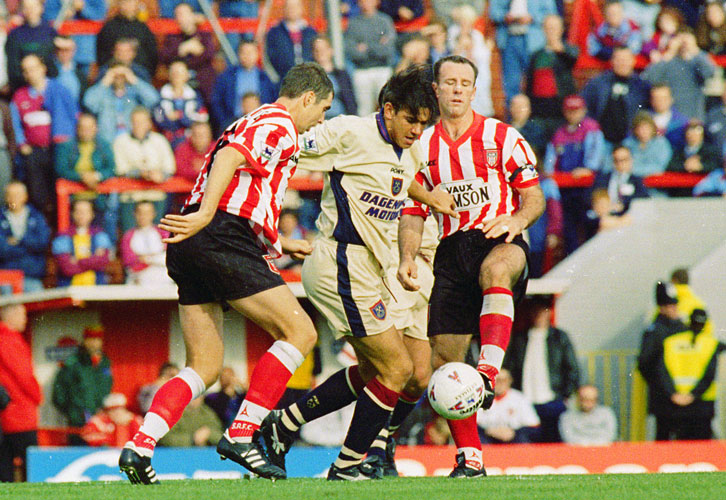 He said 'hold on', went out to his car and came back with a massive long lens and said 'here you are, take that and go and do it for the paper', so I went and did the match for the paper and I liked it!
It was at Roker Park in 1996/97 and it ended in a nil-nil draw!
I started doing away games for the paper because they were covered at home by the other boys, and I just did more and more and more and more and ended up here!
The legendary Steve Bacon had been photographing West Ham for 25 years, but he got ill a couple of times and we began covering for him.
Steve was finding it more difficult to travel to away games, so we would give him a lift, but going to a place like Blackburn away on a Tuesday night was not the easiest trip and eventually he chose to retire.
We also started doing more work for Hammers News Magazine, and it grew from there. It just became the case that I was there more than anyone else, so I just did it!
We started covering all the games for the Club in about 2004, but we'd already been going home and away anyway for the Post
The job of being a photographer has changed since my career started, in so many ways!
Nowadays, I take three cameras, a flash gun, wide angle lens, a couple of lenses to shoot the game, waterproof gear and clothing and my bobble hat to every game – it's my home in a bag!
You always want the best, as well, so you can't go out with the gear you shot a football match with 20 years ago, so you try to keep on top of things and have the gear and all the new technology that's coming through.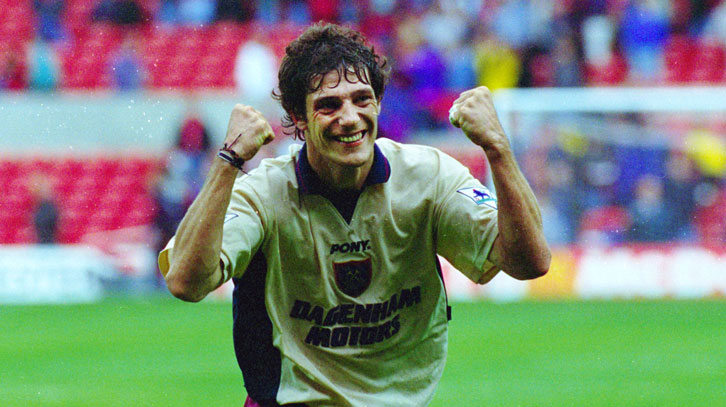 We send pictures directly from our cameras by email in seconds now, and yet people still want them quicker!
In the old days, you'd have to wait until Sunday for us to process the negatives and you'd get photos for a Monday morning, but now it's changed so much, it's instant, and photos go at the click of your fingers.
You'd have a 36-shot film and a motor drive, but they would run out really quickly, so you'd have to be a lot more selective about the shots you took.
Picking your spot on the touchline is very important. You need to think about the sort of shots you want to get, and which position will give you the best opportunity of getting them with a clear view.
In a big game, I try to go tunnel side at the end West Ham are attacking, both halves and hopefully they come your way when they score! They might choose to run to the bench, so you're there for that eventuality too, and you just hope you get something.
You always go to the end your team is attacking as it's not like you're going to get a call from a newspaper asking for a picture of a defender too often!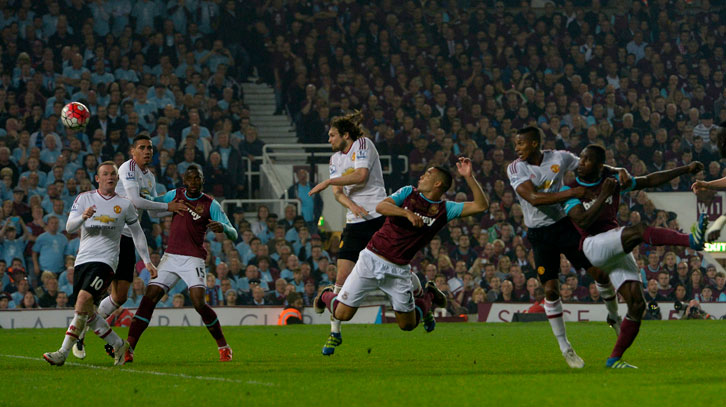 At away grounds or Wembley, it's a first-come first-served situation, so if there is a particular spot you want then you have to get to the stadium early. It's no use rocking up half-an-hour before kick-off and expecting to get that spot closest to the goal because every other photographer will be there!
We also do freelance work and the earliest I've ever got to a game was the UEFA Champions League final between Bayern Munich and Borussia Dortmund at Wembley in 2013, when I got there at 8.30am for a 7.45pm kick-off!
The players themselves can also help you take a great photograph by seeking you out to celebrate after they score a goal!
Andy Carroll was good to me. He'd always come and look for me after he'd scored a goal.
The players know where you sit. At London Stadium, I sit right by the corner flag and I could reach out and touch Robert Snodgrass before he takes a corner, so he knows I'm there and he touches me on the head some days.
Nine times out of ten, even in the midst after scoring a goal, they'll remember me. Sometimes they run around the back of the goal, then have a double take in their head and come barreling back the other way towards me!
I do feel part of the team and they know I'm not going to mess them about.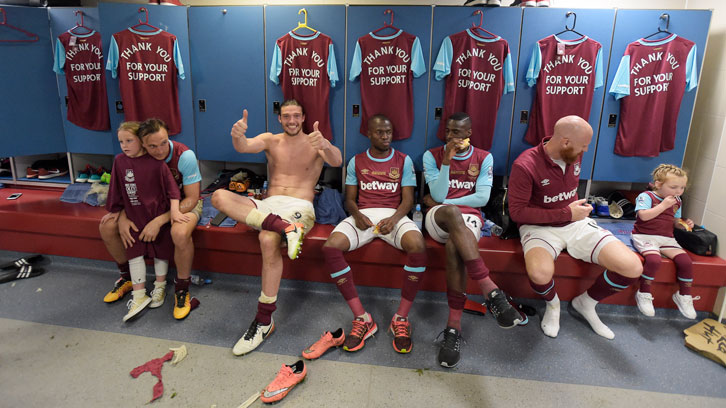 The 2012 Championship Play-Off final was an unforgettable day, and I'm very pleased with the photographs we managed to get that day.
For Carlton Cole's celebration after he scored the opening goal, he ran off down the touchline towards the West Ham fans at the other end and from where I was sitting, so the best shot I got was of him and all the fans at him, otherwise it would have just been all the players' backs and rubbish!
At least I got the goal itself, so job done!
Then, for Ricardo Vaz Te's goal, I got the goal and he did the 'shirt off' celebration. When you're taking the photos of that, all you're thinking is 'I hope this is sharp!'.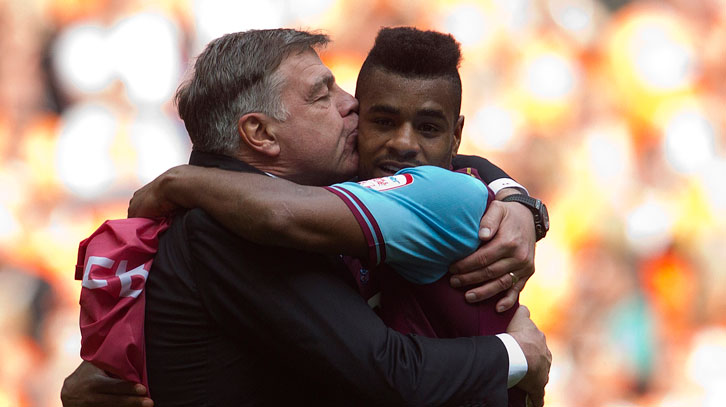 It does happen so quick and he'll turn and be gone and you just think 'that was quick and I hope there is something decent there', and there was!
That was a really late goal, but I didn't realise it was so late and thought we had about another ten minutes to go!
We were fortunate. We were just in the right place at the right time.
You've also got the photo of the players at the end when they all dived on each other, and the shot of the Chairman David Gold there with the players and the cup and it obviously meant a lot to everyone. It was a happy day!
There is a final whistle shot of Vaz Te celebrating and two Blackpool players with their heads in their hands. That's your shot as he's the goalscorer and they're in despair.
I just stayed on him and he want to Sam, who was relieved we'd gone up, and he gave him a bit smacker.
In the dressing room all sorts was going on, players jumping around, in their own little groups, the big group shot with the Champagne flowing, and you can also see a little Jack Sullivan at the front!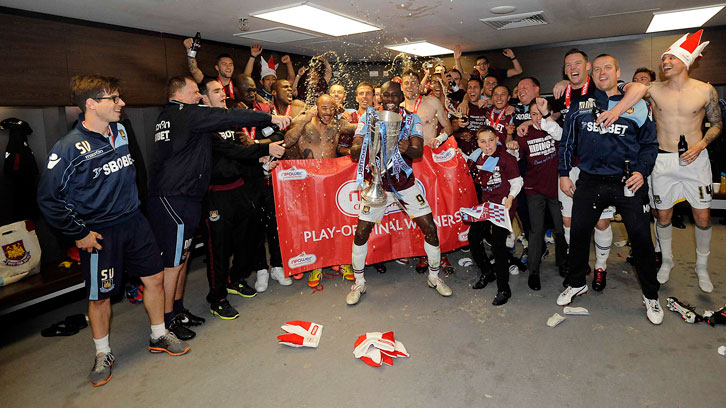 History is happening every day, but often we don't realise the significance of the moment at the time.
For example, the game we shot at Arsenal in March is now significant because it's the last game we shot before the coronavirus lockdown.
Stuff happens that will have a context in five years' time, like that, or when players make their debuts and then go on to do great things.
There is a lot of history and our archive is never-ending. I love going back and looking at shots from games like the Play-Off final that I've not used before.
Like I said, it's been an honour to be part of so many big moments in West Ham history – Play-Off finals, an FA Cup final, the Intertoto Cup final in Metz in 1999, the final game at the Boleyn Ground and the first games at London Stadium in 2016.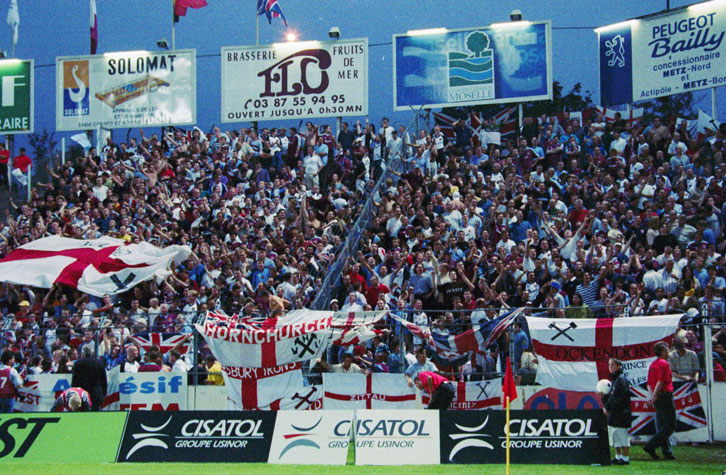 The final game at Upton Park was nerve-racking because there was a lot of pressure as there was a lot of stuff we had to get as it was our last game there. It was like three Play-Off finals in one day!
At London Stadium, I captured the first goal, which was fantastic. I also remember taking Mark Noble down there on the Tube from Canning Town about 18 months before we moved in there and he became the first player to kick a ball in the stadium, which was another nice moment.
They're all nice details and I'll never forget them.
We've won the Intertoto, but all that I'm missing is a photo of a West Ham captain lifting a major trophy!