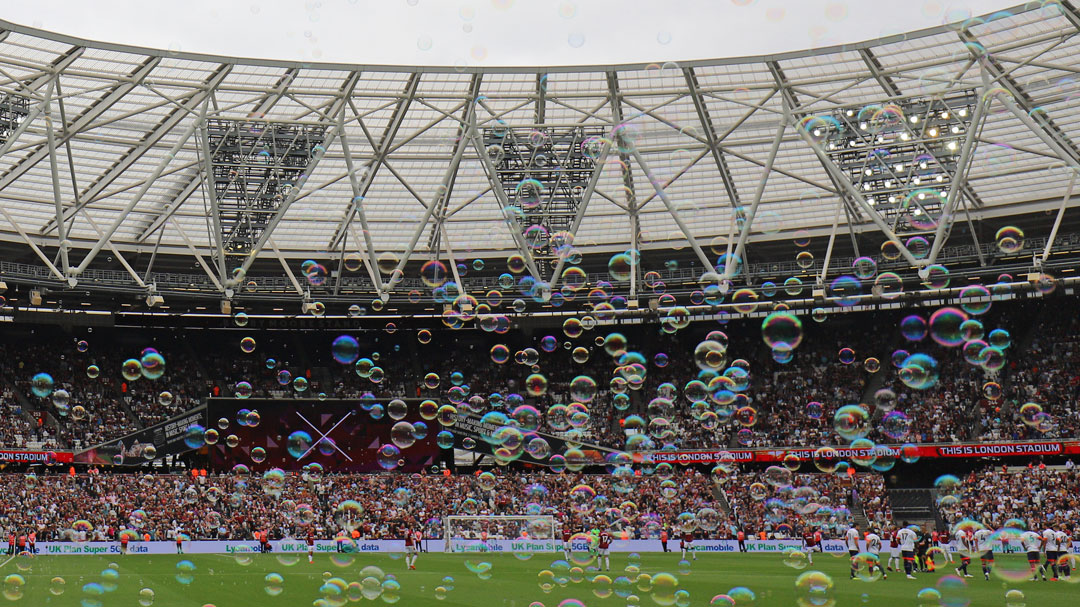 West Ham United have today contacted all Season Ticket Holders, Club London Members and those who have purchased match tickets, given that it is now widely accepted that the remaining fixtures in the 2019/20 Premier League season will be played without supporters in attendance.
West Ham United supporters are the lifeblood of our Club. We share the disappointment now that it looks likely they will not be able to give their loyal and passionate backing to the team in person at London Stadium but we know they will be with us every step of the way supporting the Hammers from home.
We would like to reassure our supporters they will be firmly at the heart of our thinking and we will do everything possible to ensure they remain central to the action and our players still feel their passionate support when games resume.
Season Ticket Holders, Club London Members and those who have purchased match tickets have all been personally contacted by email today with an update as to options which will be available to them.
Each of our supporters will have different circumstances and factors to consider and the Club is committed to ensure that their personal situation and requirements are treated with the utmost care and attention.
We will work with each and every supporter individually to find a solution for them to continue following the Club in the way they wish.
SEASON TICKETS 2019/20
With the wide acknowledgement that our final five home fixtures of the 2019/20 campaign will be most likely played without supporters present, the Club can confirm that our valued Season Ticket Holders and Club London Members will be credited the pro-rata value of the remaining five home matches, which can be used to reduce the cost of their 2020/21 Season Ticket, or receive a refund. The same will apply for Women's Super League Season Ticket Holders.
Opting to take a credit will be an easy and convenient way for Season Ticket Holders and Club London members to guarantee their seat for next season and in doing so also lock in a price freeze for their 2020/21 Season Ticket*, as well as, of course, helping to support the Club through these testing times.
Additionally, Club Cash balances will be extended to 31 July 2021, so supporters can credit this against their 2020/21 renewal safe in the knowledge that funds will be held securely and will be used only upon their confirmation when the 2020/21 renewal process is opened.
SEASON TICKETS 2020/21
Please also be assured that the Club will work with our fans in these times to support any Season Ticket Holders and Club London Members who wish to retain their seats in the event of a change of circumstances. The Club will contact supporters directly at the appropriate time with further information.
MATCH TICKETS
West Ham United can confirm that a credit will be issued to the value of each General Admission and Club London match ticket purchased for any outstanding Premier League home fixture in the 2019/20 campaign, with the option to use that credit for any future match including the equivalent seat for the most sought after fixtures or the corresponding fixture in the 2020/21 season if played in front of fans, or a refund.
The same will apply for any away tickets purchased for Premier League fixtures or any remaining home Women's Super League fixtures.
FURTHER UPDATES
As soon as it is confirmed by the Premier League that the remaining fixtures are to be played without supporters present, the Club will again personally contact fans by email regarding the process for credits and refunds to be administered when our Ticket Office and Club London account team will be on hand to personally answer any questions supporters may have following the receipt of their communications. 
If you have not already been contacted for whatever reason, please email Supporter Services via [email protected]. 
West Ham United would like to thank our loyal supporters for their patience and understanding during these times.
We would also like to reiterate our sincere thanks to the selfless NHS staff for their tireless devotion and key workers around the country who have provided vital services during this time.
The thoughts of everyone at the Club continue to be with those affected by the COVID-19 virus, particularly the older and more vulnerable members of our community. Please continue to look after yourselves and each other.
*Season Ticket price freeze is based on the Club retaining its Premier League status for the 2020-21 campaign with Season Tickets prices based on the pro-rata number of fixtures included.