The Boleyn Ground. Wednesday 24 August 2011. 8.50pm. Carling Cup first round. West Ham United versus Aldershot Town.
A 19-year-old Hammers debutant takes a heavy touch of the ball, loses possession and brings down Aldershot Town striker Danny Hylton just outside the West Ham United penalty area. 
Referee Graham Scott arrives on the scene, pulls the red card from his pocket and sends the teenager off.
Still on his knees, the stunned youngster stares into space, before rising to his feet and walking slowly to the touchline before disappearing down the tunnel.
In a few short seconds, a young footballer's dream has turned into a nightmare.
As the world marks Mental Health Awareness Week, Callum McNaughton speaks publicly about that fateful night for the first time, about the crippling anxiety and serious knee injury that left him in the depths of despair, about rebuilding his life, moving to the United States, getting married, rediscovering his love for the game and becoming a sports psychologist.
Now 28, this is McNaughton's story in his own words.
I had always played football as a child. I had a goal in my garden since I can remember, playing with my best mate, crossing balls in and finishing. I just loved the game, really.
In primary school, in year five or year six, I started noticing I was really good, better than all my mates, and was the star of the school team.
My PE teacher was Trevor Bumstead, who worked for West Ham. He obviously saw I was good and he got me a trial. He said: 'Come down to West Ham on a Tuesday and Thusday and see how you get on'.
So, that was the beginning. I was 14.
I remember the first night I went on trial at West Ham really clearly, as we were driving down from where we lived in Bishop's Stortford and it was the first time I really got flooded with nerves and overwhelmed with emotion.
The training went really well, though. It was a Tuesday night and I met all the boys and got on with them, trained really well, and it's the best thing that happened to me in my life, really.
I'm so grateful to West Ham. Their professionalism is like nothing I've ever witnessed in my life. It's a different world in terms of how well it's run, how professional it is, and it's such a healthy environment.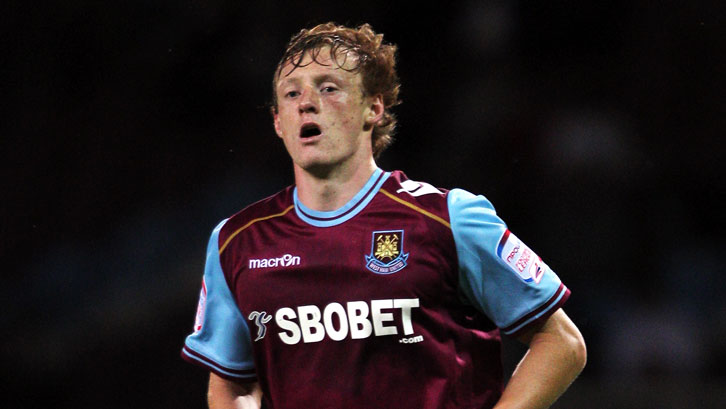 I worked my way up through the age groups, signed my first professional contract and, at the age of 19, I was handed my first-team debut by Sam Allardyce in a League Cup tie with Aldershot Town at the Boleyn Ground.
It's probably the best I've ever felt, walking out onto that pitch, but at the same time I was having debilitating anxiety and panic attacks.
I'll be really honest. We went to a hotel before the game and I went upstairs to my room to try and get a bit of a rest and prepare properly, but for the whole time, for three hours, I was just having a panic attack.
That's the struggle I've had my whole life with nerves and being confused with knowing how to cope.
Now, I'm on the right track and I've been going strong mentally for a while now, but I think I matured quite late and wasn't able to get a grasp of my emotions early enough, which is what it takes to play at the highest level.
I never questioned my ability. I could ping balls, play one and two touch, I was big, I was strong and had the physique, but what I lacked was the mentality. It was my panic attacks and anxiety. I didn't know how to cope healthily with life and strike a balance.
At the end of the day, I know for sure that's what stopped my progress.
It was a real mixture. At one moment I was really high and buzzing, then the next moment I was panicking. It's a constant battle with my emotions.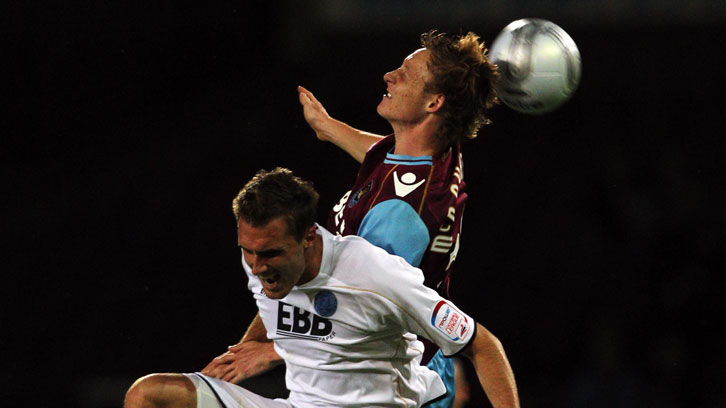 When I walked into the dressing room and saw my name on my shirt, I was overwhelmed with joy. It was like a dream. It was what I was working for and all I ever wanted, really.
I remember the crowd just being black and the pitch was lit up, almost like a movie.
I had a really good first half and remember walking off at half-time and Mark Noble came over to me and said 'Cal, it's really good', and there was a lot of honesty in his voice.
I remember doing some good things in the game. I won some good headers and we were 1-0 up at the time, so I did cope with it.
Obviously, what happened three minutes into the second half, if I remember correctly a ball was pinged back to me and I took a heavy touch. The ball went straight to the striker and we were going back.
I was obviously the last man and it was a bit of naivety as I could have stayed on my feet and forced him wide, but I saw the ball, I lunged I and took him out.
It was a straight red.
The next thing I remember was quite surreal. I saw a red card flashed in my face and I thought 'Oh my goodness!'.
Despite what happened, it was an amazing experience – one of the best experiences of my life. I'll forever be grateful for that.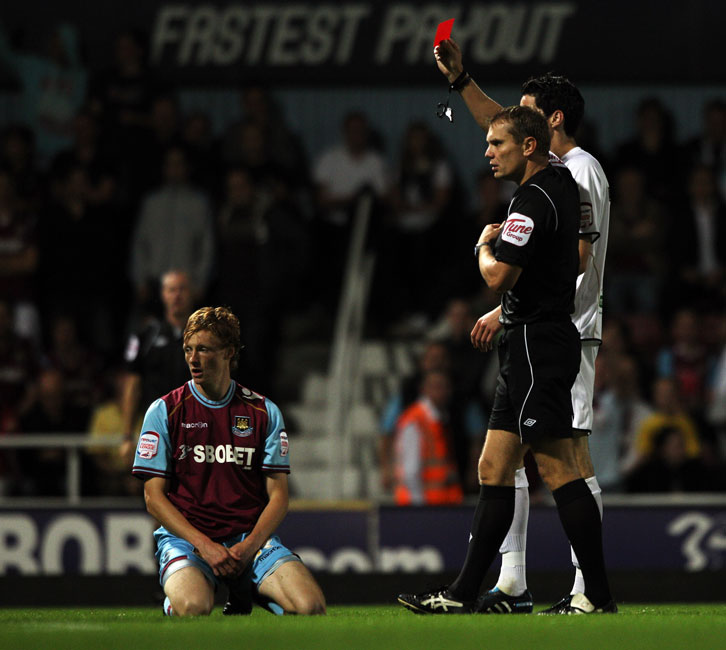 I went on loan to AFC Wimbledon a few weeks after I was sent-off. I played about 20 games and did really well, winning Man of the Match awards, but then I suffered a knee injury in March 2012.
It was an ACL. I was 20 and I was out for eight months. I got back to playing the following season, but I only played one more Football League game in my career.
I dropped into non-league with Kingstonian, then Bishop's Stortford, where I played 40-odd games in Conference South during the 2013/14 season.
I reached a turning point at about the age of 22 when I started to get a grasp and a hold on my panic attacks and learned how to control my whole life, rather than just think about football all the time.
I had dreams of making it back to the top again, back to West Ham, because I knew it was just a case of if I could get my mind right and stay fit, I always believed in my ability.
I always kept that belief that I could make it back to the top again.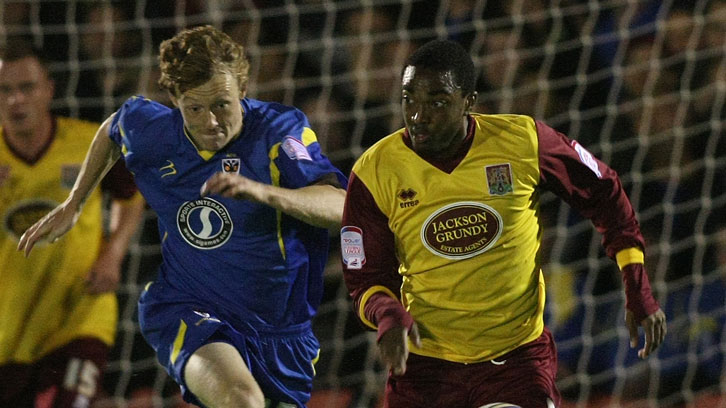 I made an honest decision to quit football when I was 26.
I had continued my career with Bromley, Dartford and finally Tooting & Mitcham, but then I reached a point where I was trying to manage my injuries every day and no matter how much work I put in, it just wasn't going to change.
I thought 'What am I going to do now?' and 'What do I need to work on in myself?'.
My growth had been stunted really, so I needed to work on my mind. I started reading self-help books and seeking the truth, sorting relationships out in my own family, and just really doing anything that was going to lift me.
That's where I got the bug for psychology. The feeling it gave me was unbelievable. Knowledge is power, so it was empowering to me.
It's just a snowball, really. It built and built and built.
I was working in the hospitality industry at a place called Pembroke Lodge in Richmond when I met this amazing American girl who shook my world.
Alyssa is so mentally capable and competent and her family are so loving and educated. As the son of divorced parents, they're a family I never had.
We moved to the United States a few years ago and now we're married and living happily in Boston, Massachusetts.
I want a life of learning. I'll continue to stay positive for the rest of my life, concentrate on self-growth and living my truth.
I'm studying to become a sports psychologist at Northeastern University. That's where my passion is leading me now.
I want to help the next generation to cope, using my story to help boys struggling to cope or to get back from injury.
I want to live a selfless life, as I think that's where true fulfilment comes. It takes strength to attach to your emotional self and be who you are. That's where your power comes from.
It's hard. It's not easy to have courage but being open and honest is the strongest you can possibly be.
Whatever you've gone through in your life, if you can not bottle it up, you can draw strength from that.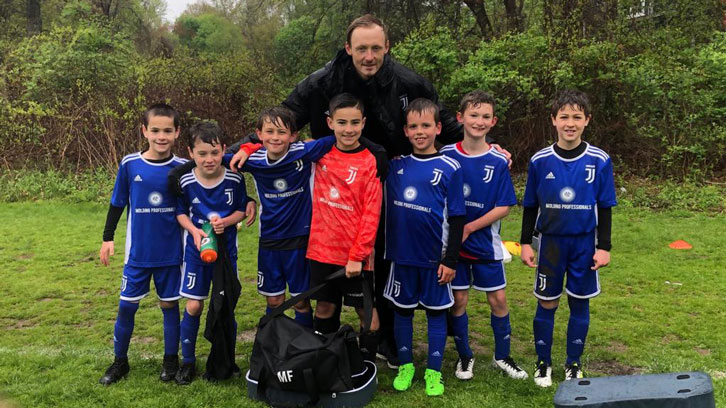 I'm also still involved in football as a coach for Juventus Academy Boston and it's been really healing for me.
I've coached age-groups from the age of two up to 20, so a vast age range.
In particular, I've got a special group of ten-year-olds who are a really talented, strong-willed and expressive bunch of boys.
I've got a really strong bond with them and their parents and they've been really healing for me, because children bring you into the present moment, because they are so honest.
It's healed a lot of childhood trauma for me and helped me see things I might have missed growing up, and given me a different perspective.
It's not been like a job for me. I think it's like a calling for me, to help boys and young men cope.
My playing career would have gone on if it was meant to be, at the end of the day, but this is where I'm going to do the most good in the world.
*Hosted by the Mental Health Foundation, Mental Health Awareness Week takes place from 18-24 May 2020. The theme is kindness. Click here for more information.