Midfielder Jack Collison graduated through the West Ham United Academy after joining the Hammers as a youngster in 2015. 
The Wales international would play 121 times for the Irons before his departure in 2014, with the biggest game of them all coming on May 19 2012; the Championship Play-Off Final against Blackpool. 
Now retired and working as an Academy coach with Major League Soccer side Atlanta United, Collison speaks to whufc.com about his memories of the 2011/12 season and that incredible day at Wembley Stadium…

I had missed almost the entire 2010/11 season due to injury. My first game back, we played Wigan Athletic away and actually got relegated. It was mixed emotions for me personally and the relegation probably took a bit longer for me to sink in, because I'd been working so hard to get back to playing football. It took a couple of weeks for me to think we weren't turning up for pre-season, gearing up for the Premier League. It's the Championship. A lot of my teammates with Wales at the time had experienced time in the Championship and they spoke of how tough it really is. The hectic schedule, there are no easy games, and if you're one of the bigger teams then there are going to be teams turning up and looking to put in their best performances against you.
I can remember my first meeting with Sam Allardyce. James Tomkins and I were supposed to meet him, and the day before, we had managed to get a couple of tickets for Wimbledon. With our meeting with 'Big Sam' quite earlier the next day, we thought we'd take it easy, but it was Wimbledon, so we had quite a few drinks! I remember turning up the next day thinking: "I hope he doesn't think we've been out the night before", but I think we got off on the right foot. He spoke really well to both of us and, from that moment on, we were really keen to be a part of it. For me in particular, having missed all the season where we'd been relegated, I was just desperate to get out there and show what I could do, show I was over the injury and make up for lost time.
 
The big thing for us that summer was signing Kevin Nolan. Kev was a great signing. Straight away, he was on the phone to me, trying to borrow a pair of Puma boots for his photo shoot. With that and, obviously, also getting someone in with the stature of Big Sam. What a signing that was for the Club. I think that gave everyone a boost. Nobby's role was vital that year. He really brought us together, put on a couple of good nights out for the team. It brought a team spirit and everyone who came in, he made them feel part of it. Even little things, like when Big Sam was coming at us as a group in the changing room, or there was a bit of friction possibly between the coaching staff and the players, you know Nobby would stand up for the boys and that brought us really close together. I think it really mattered in the really telling moments.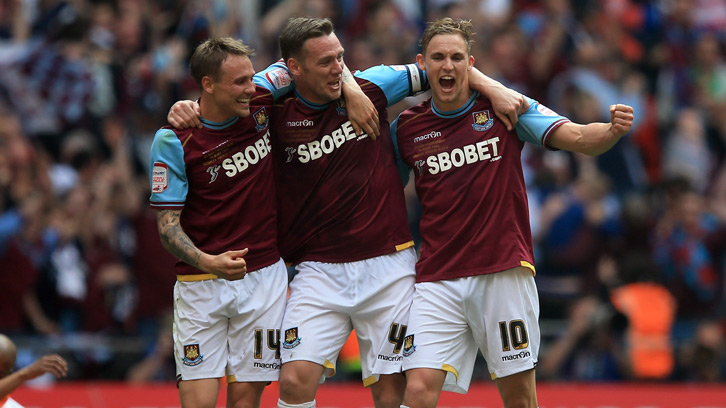 We had a tricky period around Christmas time when we kept drawing at home. We couldn't put any teams away – they'd come and sit in and we couldn't break them down. I think Ricardo Vaz Te was probably one of the best signings West Ham have made over the last decade, just because of the goals he brought with him. He just gave us that completely different dimension. 
For me, that 2011/12 season was a battle towards the end. I think I had 34 appearances that year and I struggled to play Saturday, Tuesday, Saturday due to the knee. Having to manage myself was quite frustrating, especially when you felt you'd got on a bit of a good run and found a bit of form. Towards the end, it was really a case of train one or two days, play the game, and then just try and recover and get the knee back to some normality – sit on the ice machine, sit on the bike, and just try and get through the games. 
The funniest thing was actually popping my shoulder in the second leg of the semi-final. We were cruising – four or five-nil up on aggregate – and I ended up going over on my shoulder. There was a real worry, it was a bit touch and go, as to whether I'd actually make the Final. Typical me, I ended up getting jabbed up. I had to train one day with a jab to see if it would work, and then obviously in the FinaI I was strapped up, jabbed up, and my knee was hanging off. It's quite funny now watching back, as we're walking out, I can hardly walk! I think it was really good to get through the 90 minutes and enjoy the Final for what it was.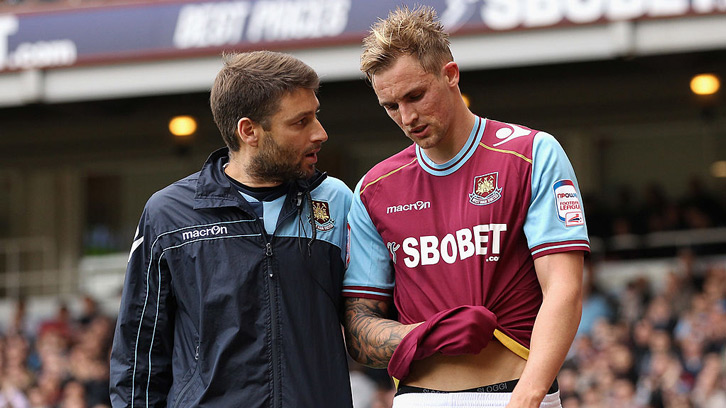 Thank God that final chance fell to Vaz Te. If it didn't fall to Vaz, I think it was falling to me, and I probably would have shanked it! If you remember the game, we were pretty awful in terms of the way we performed. We started great and Coley scored a fantastic goal, but after that we didn't really perform, but we just had that sheer grit and determination. We knew if we worked hard and stuck together something would happen. That togetherness was great and looking back on the photos after the game, there's some real corkers. It's great to still be able to speak to the boys now and think we achieved something unbelievable together.
 
We had been really disappointed to miss out on automatic promotion. But I think if you ask any West Ham fan or any of the players who played out there that day, what way they'd want to go up, certainly a day out at Wembley in front of 90,000 fans, with the opportunity to play in the Play-off Final, is certainly the way to go. That final whistle went and the whole season hit us. It was just sheer relief that we'd finally done it. We'd got West Ham back where West Ham belong.
 
The celebrations were probably the biggest anti-climax for me ever, personally. I got drug tested after the game, so as soon as I went in the changing room, I got dragged off with Reidy. Me and Reidy were sat there having a few beers. He's gone straight away, and I was struggling! I just couldn't go. Four or five beers in and I just couldn't get anything out. By the time I got back to the changing room it was completely empty. Everyone had gone! The whole stadium had emptied, and the bus was waiting for me. So, I missed everything in the changing rooms for a drug test! I think we went back to the stadium, but everyone was just so drained so there weren't any mad, wild celebrations. Nobes had his stag do the next morning but my missus was quite heavily pregnant at the time, so I stayed to look after her. I think it wasn't until the end of the summer, when everyone was gearing up for pre-season, that everyone really appreciated what we'd done and how we'd stuck together, and then there was that real excitement leading into the Premier League.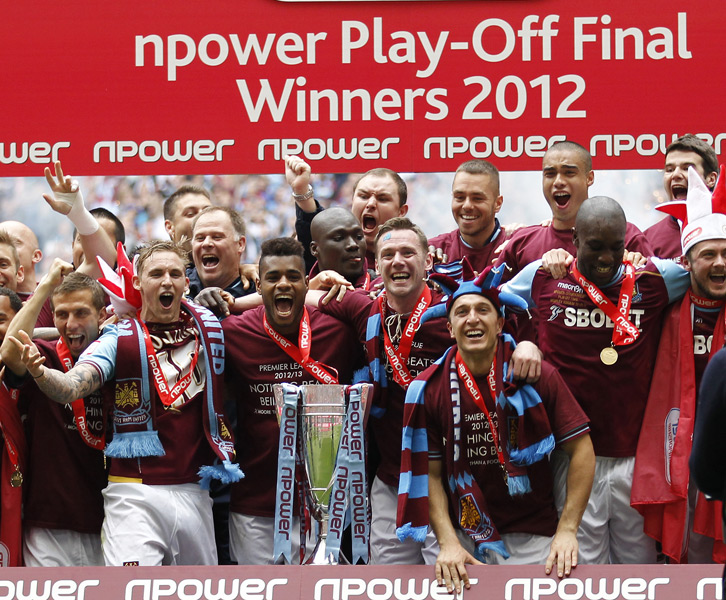 I look back now and I think that was probably my most enjoyable season at West Ham, even though it was in the Championship. The team spirit was just incredible, the bond and the tightness amongst the group was fantastic, and you could get a sense of it being around the training ground. For me, personally, coming up with the likes of Tonks, and seeing Nobes a couple of years ahead of us and aspiring to be like him, it was just great to share that sort of day and release with some of the boys that you'd got so close with, we were like a band of brothers.
I'm having a great time at Atlanta, but it would be amazing to come back to West Ham one day. We talk about the West Ham family all the time. For me personally, I came through as a youngster, made a mark in the first team, had those emotions of relegation, promotion, injury, losing my dad, and having to retire but then coming back to the club as a coach. I spent ten or eleven years at a Club that I was so passionate about, so walking away was probably the hardest decision I had to make. It was a real crossroads for me, and I felt I could maybe get a bit comfortable in terms of my coaching. I'm so early on in my journey that I wanted to go out, learn, find a different culture, and test myself in a completely different environment. Over the next few years I'm going to be working really hard, getting my head down, continuing to learn and develop, and hopefully when the time comes there will be an opportunity to come back. It would be unbelievable to walk out at London Stadium in front of 60,000 fans, but this time as a coach, and try to set up a West Ham team that will play exciting football and win games.