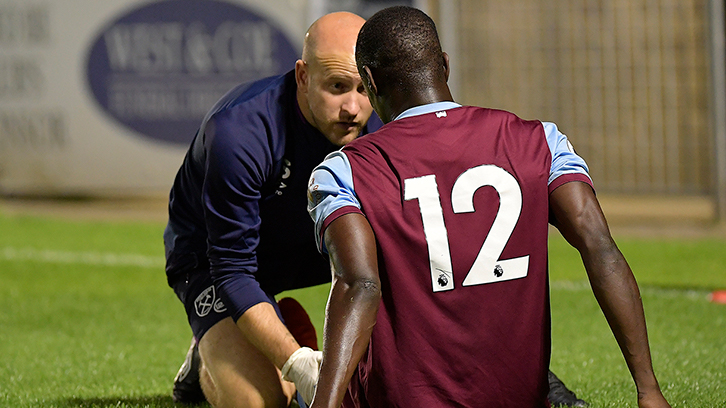 Following the closure of West Ham United's Academy training facilities at Chadwell Heath due to the coronavirus (COVID-19) outbreak, programmes of holistic development have been delivered online to the Club's young players.
For the Hammers' PDP (Professional Development Phase – U23s and U18s squads) this meant that, as well as maintaining group training sessions over video calls during lockdown, individualised training programmes have been designed to maintain players' fitness while self-isolating.
Working in close conjunction with the Club's wider medical, fitness and sports science staff, Head of Academy Science and Medicine Tom Smith has been at the forefront of devising such programmes for the Academy youngsters.
"It's been an interesting experience!" Smith said. "It's been very different to what Academy players and staff have been used to, so has required a level of initiative and adaptability.
"We're used to operating on a six or seven day-a-week programme at the training grounds, so to all of a sudden switch to working remotely has been a new challenge for us all to take on."
It has now been just over two months since an Academy side last took to the field in a competitive fixture – the U23s' dramatic cup victory over Derby County – and the Academy Games programme has since been curtailed.

With the English game's suspension following just days after that memorable win at Pride Park, Smith and the wider Academy Management Team faced the challenge of adapting their approach quickly to protect the safety of their young charges and their families.
"The quick turnaround from when we were working 'normally' to everyone working remotely was a really smooth transition," Smith recalled. 
"Over the weekend in question, a lot of hard work went on behind the scenes to ensure there were high-quality training programmes devised and sent out efficiently to players - based on their individual needs."
 
We've seen players of all ages participate in... learning new life skills, such as following recipes and completing chores - and that's what it's all about: helping the players develop not only as footballers, but also as people

Tom Smith

A key consideration during this process was the need to strike a balance within the programmes Smith and his team had set out across the Academy.
He explained: "I think in the back our minds, as a Sport Science and Medical team, we initially had two concerns: the players not doing enough and being under-trained; or, with the type of training that they are restricted to, it leading to them over-training in certain areas. With an ever-changing landscape, we also needed to be flexible as to when the end point of these remote programmes may be.
"As a result, one of the key things that we focused on was communicating with players regularly and making sure that they understand the plans that they are given, and how to carry them out both effectively and efficiently to get the timing of their sessions right."
While under testing circumstances, the chance to further empower the young players to understand the value of their own sessions has been well-received and well-adopted by all involved.
"There's been a good level of engagement across the Academy, with support that has spanned across all specialities," Smith explained. "That's not only the physical training and the technical work, but also the social support for their mental wellbeing as well.
"In addition to the physical programmes, we've seen players of all ages participate in things like technical skill challenges and learning new life skills, such as following recipes and completing chores - and that's what it's all about: helping the players develop not only as footballers, but also as people. 
"I do hope that a positive outcome from this is players growing in terms of maturity, responsibility and a recognition of the importance of their roles, both on and off the pitch."