#50GreatestMatches - #48 West Ham United 5-5 Aston Villa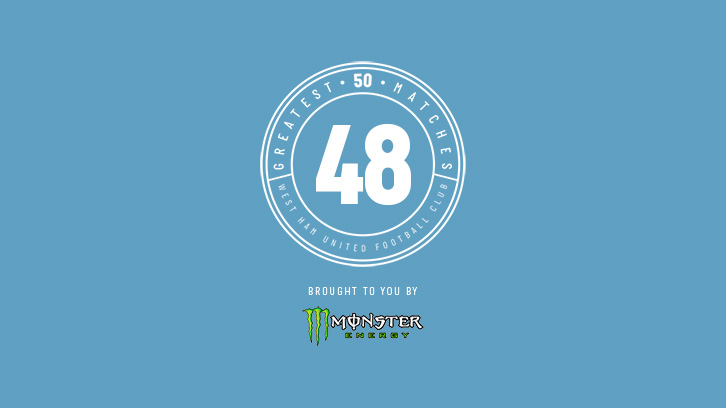 West Ham United celebrates its 125th anniversary on 29 June – and as part of our celebrations we're counting down to the date with the Club's #50GreatestMatches – brought to you by Monster Energy!
Since the Hammers were formed as Thames Ironworks FC in 1895, we have played in excess of 5,500 matches – reaching five FA Cup finals, lifting European silverware and competing across the globe and enjoying thousands of memorable moments.
With your help and recommendations, we've whittled down that list of 5,500 matches to a top 50, featuring landmark goals, trophies held aloft, heroic individual performances and remarkable collective efforts.
We continue the #50GreatestMatches countdown today with a thriller against Aston Villa in January 1931 that ended in a rare scoreline...
Of the 3,872 Football League and Premier League matches West Ham United have contested since 1919, just three have ended in 5-5 draws.
All three were in the old Division One – the precursor to the Premier League – with the second occurring at St James' Park on 10 December 1960, when the Hammers relinquished a 5-2 lead to Newcastle United, and the third at Stamford Bridge on 17 December 1966, when West Ham led 2-0, trailed 3-2 and led 5-3 before being pegged back in the last minute.
The first had taken place three decades earlier, on 3 January 1931, when the Irons played out a ten-goal thriller with Aston Villa on a mud bath of a pitch at the Boleyn Ground.
Amazingly, or perhaps because of the swamp-like conditions, there were no fewer than EIGHT goals before half-time, with Syd King's side scoring five of them!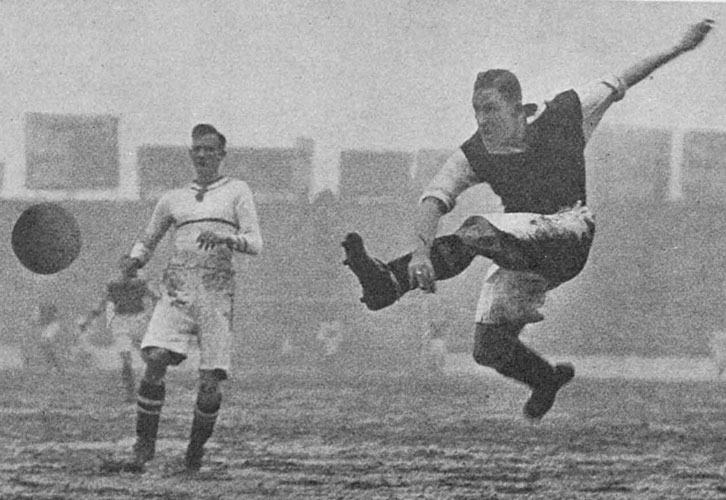 England forward Vivian Gibbins opened the scoring before Joe Beresford equalised for the visitors.
Deputising for the absent Jimmy Ruffell, outside left Jim Harris, making one of just seven appearances for the Hammers and had only made his debut in a 4-3 win over Portsmouth on Boxing Day 1930, scored his only goal for the Club, before Gibbins got his second.
Long-serving winger Tommy Yews and half-back Jim Barrett also found the net, while George Brown and Billy Walker were on target for the visitors to make it 5-3 at the interval.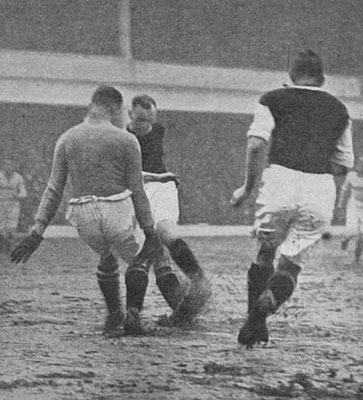 Shortly after the break, Eric Houghton pulled another one back from the penalty spot, before Beresford completed the scoring with his second leveler of the game midway through the second half.
Amazingly, there were no further goals in the final 20 minutes and both teams were forced to settle for a point apiece.
"Perhaps, on the whole, West Ham were a trifle unlucky in not coming off the field with both points to their credit," a report in The People newspaper reflected. "The game was notable for its speed and incident, with conditions under foot as bad as they could possibly be.
"Feet literally sank in the mud. It was almost impossible to make the ball travel, falls were numerous, to rise from which, soaked from head to foot, must have been torture.
"Yet both sides played fine football. The home side were visibly tiring towards the end, but they spared themselves no a jot and, with the visitors, gave a splendid display of physical and plucky sturdiness."
While a 5-5 draw is now a seldom seen score-line, goals were in far greater abundance back in the 1930s.
The 1930/31 season had already witnessed West Ham thrashing Liverpool 7-0, Manchester United 5-1 and both Chelsea and Sheffield United 4-1 but losing 6-1 at Aston Villa and Sunderland!
However, with nine wins and just one defeat from 13 home matches, West Ham ended the first weekend of 1931 sixth in the Division One table, just seven points behind leaders Arsenal, and three behind their opponents.
Amazingly, however, the Hammers won just two of their closing 16 matches to fall from the top six to a final position of 18th, having scored 79 goals and conceded 94.
*Don't miss #47 in our #50GreatestMatches countdown on Thursday – the first competitive match at the Boleyn Ground!