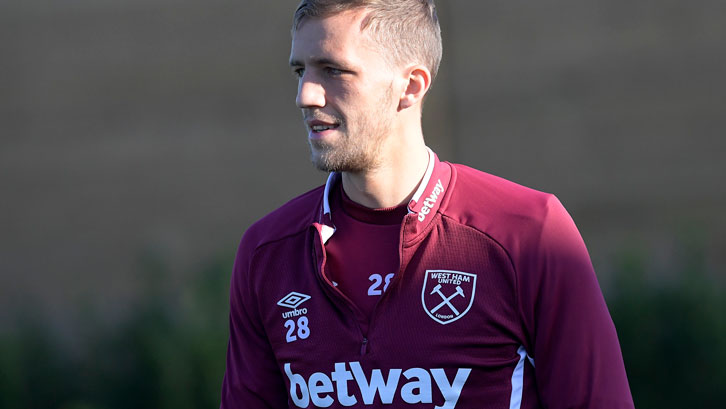 Like thousands of other footballers across the world, Tomas Soucek is using the coronavirus (COVID-19) lockdown to spend more time with his young family.
The Czech, who is currently on loan with West Ham United from Slavia Prague, moved to London with his girlfriend and daughter earlier this year.
Less than six weeks after signing for the Hammers, however, competitive football was suspended and players, like millions of other non-essential workers, were required to stay at home, only venturing out to exercise once each day or to buy food or medical products.
To make everyday life even more challenging, Soucek and his girlfriend Natalia have been learning a new language and living in a new city, having previously spent all of their lives in their native Czech Republic.
So, to make things easier, the 25-year-old has integrated his family into his training programme, taking his daily exercise with them at a park near to their home in London's Docklands.
"It is difficult to stay at home for such a long time, but we are happy to be all together and healthy," Soucek began. "I think that life in London is good, but this situation made it much more difficult to find all the necessary essentials for living for us and for the baby on a daily basis.
"I go outside to practice almost every day. I often go for a walk with my family and when we come to the park, I do my training while they play. After my practice we play together for a while and we go home."
The No28 has also taken advantage of the opportunity to visit Rush Green to train in isolation, working on his already impressive stamina and working with the ball, with only a member of the club's medical team on site in case of an emergency.
While he would rather be training in a group, Soucek understands the current situation requires him to work alone, for the time being at least. 
I hope that all people will be happy and healthy. The next step would be saving West Ham's Premier League status and completing my transfer

Tomas Soucek
"I was at Rush Green a few times because I wanted some changes in my training and change of the environment, but training by myself is very different to the training with teammates," he confirmed.
Back at home, Soucek has tried to make life as easy and familiar as possible for himself and his girlfriend and daughter, keeping in regular contact with his new West Ham coaches and teammates, his long-time friends and colleagues and extended family members back home.
"While the situation is new and difficult, the biggest advantage is that I have much more time for my daughter, and the second advantage is more time for learning English," he explained. "I help my girlfriend in the kitchen too.
"We also have time to call our family and friends every day as we have a little daughter and our family wants to see her via video.
"I also spoke with teammates from Slavia about this coronavirus situation, about the present situation in my previous team and about friendly staff. With teammates from West Ham we speak together via our group and sometimes on group calls."
While the present may be testing him, his teammates, his family and friends and the wider world, Soucek is a positive person and he retains an optimistic outlook, both personally and professionally, and revealed his ambition to make his move to east London permanent.
"I hope that all people will be happy and healthy," he concluded. "The next step would be saving West Ham's Premier League status and completing my transfer.
"I've played a few games in Premier League and I look forward to playing many more."