Alisha Lehmann offers her eclectic insight into the West Ham United women's squad…
Who is the funniest? 
I think the funniest is Julia Simic. We both speak German and we have our own jokes in German. I just find her really funny. 
Most likely to be a coach?
I reckon it would be Laura Vetterlein. It's something we talk about and I think she gives good advice. I think she would make a really good coach. 
Who is the longest getting ready after a match?
This is a hard one, but I think it's Kate Longhurst. On away games, we're waiting for her all the time. Oh my goodness, she takes ages. I want to go as quick as possible after games but, on away games, we have to wait for Kate.
Who has the strangest pre-match routine? 
I heard that Gilly Flaherty has to put on her socks on in a certain way. So right sock first, and then the left. I focus on myself though; I tend to watch videos of other attacking players to get ideas for matches. 
Who is the hardest working player in training? 
I would like to back myself. I think I train really hard. I want to be back on the pitch as soon as possible so I'm always working. It's so important to be fit.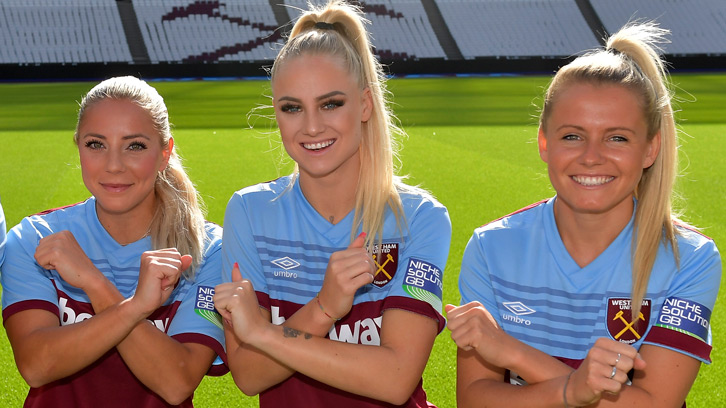 Who has the best fashion sense? 
Me! I'm joking! Kenza [Dali] has a good style but our styles are so different.
Who is the team DJ? 
Adriana Leon has a really good taste in music. She tends to go for hip-hop music, which I really like!
Who is the last one in for training? 
It's Julia Simic, 100 per cent. She's always in at the last minute. I have to text her sometimes to ask her where she is! 
Who has a hidden talent? 
I think Kate Longhurst has a hidden talent for dancing. She's always dancing in the changing room, and she's quite good to be fair! 
Who is your best friend in the squad? 
An easy question; it's Julia Simic! We've played together for a year now and, although we didn't know each other before, we spend a lot of time together. We live together now, and we get on so well.