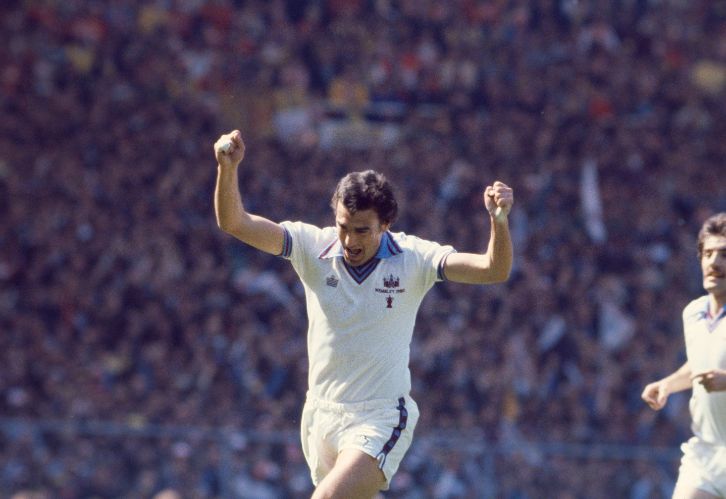 Capped 47 times by England, four-times Hammer of the Year, Sir Trevor Brooking made 647 appearances in the Claret and Blue, scoring 102 goals including his unforgettable match-winning header against Arsenal in the 1980 FA Cup final…
Forty years ago, he engraved his name in East End folklore by nodding home the most memorable header in Hammers history.
Already a 1975 FA Cup winner, Sir Trevor Brooking cemented his place in the pantheon of West Ham United legends with his marvellous match-winner, five seasons later.
"After being favourites in the Fulham final, the roles were now reversed and, despite being the second-tier underdogs, we were confident that we would play well against a very good Arsenal side," insists the 47-times capped England international, who was recently voted into third spot in the #50 Greatest Hammers poll. "During those intervening five years, John Lyall had built the best defence that I ever played in front of during my time at West Ham and the success that also followed in the seasons afterwards was based on the fact that he had transformed us into having such a solid unit at the back."
Contrary to popular belief, it wasn't a one-off - there were a few headers in the 102 goals I scored for the Club!

Sir Trevor Brooking
Indeed, that defensive resilience which paved the Claret & Blue road to Wembley in 1980 had been no more in evidence than in the third round tie at West Bromwich Albion back in early January.
"Phil Parkes had a big, big game in goal up at The Hawthorns," observes Sir Trevor, who scored in the subsequent replay victory over the Baggies at Upton Park. "We just didn't seem to give stupid goals away anymore with our back-four comprising Ray 'Tonka' Stewart, Frank Lampard, Alvin Martin and my minder, Billy Bonds.
"We got past both West Bromwich and Aston Villa with big performances and then our semi-final replay victory over Everton meant that we'd already beaten three top-flight teams on the way to Wembley.
"Alan Devonshire possessed electrifying pace and he'd given his marker, John Gidman, a torrid night at Elland Road before Frank Lampard then scored with his unforgettable diving header towards the end of extra-time. Poor Frank probably regrets his famous jig around the corner flag to this day," chuckles Sir Trevor, who made 647 appearances in the Claret & Blue. "But his goal did, at least, mean that we were back in an FA Cup final.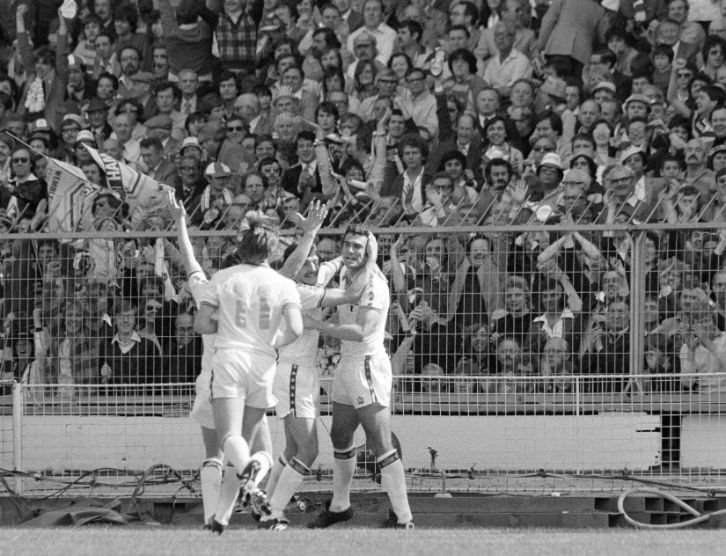 "Not only did we have that solid defence against Arsenal but we had a fine mix of youth and experience across the rest of the team, too. The determination of young Paul Allen and Geoff Pike meant that we could keep [future Hammer] Liam Brady marked, while David Cross and 'Pancho' Pearson had both been around for some time. John knew that, tactically, he could change things for the final by asking Crossie to go it alone up front.
"The 13th-minute proved lucky for me," smiles the quadruple Hammer-of-the-Year, recalling the magic moment that would leave an indelible, golden mark on his distinguished career. "Pancho struck Dev's cross back across goal, where I diverted my stooping header past Pat Jennings. Contrary to popular belief, it wasn't a one-off - there were a few headers in the 102 goals I scored for the Club!
"There was a long way to go but none of us ever thought we'd lose from that point onwards and when it eventually came, the final whistle just signalled pure excitement.
"Forgiving Tonka for being Scottish, we're the last all-British team to lift the trophy as well as being the last club from outside the top-flight to win the FA Cup – that's never been repeated because it's so hard for any Championship side, nowadays," concludes the dual FA Cup winner and footballing knight, four decades on. "It was a fantastic team performance but from a personal perspective, I just didn't appreciate how that one, solitary goal would affect the rest of my life and become so significant over the next 40 years."