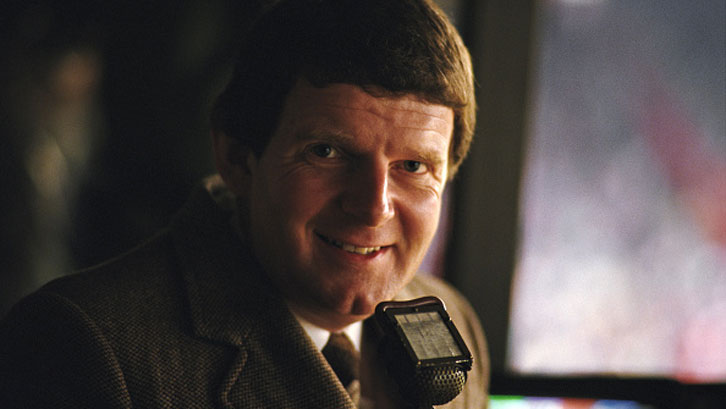 Commentator John Motson was behind the microphone on the day West Ham United lifted the FA Cup in 1980.
Beginning with the BBC in 1968, he has commentated on more than 2,000 matches on television and radio, and was the dominant voice of British football throughout his long and distinguished career. He commentated on no less than 29 FA Cup finals in total and in 2018 celebrated 50 years with the BBC, before retiring from TV commentary and moving to work for Talksport radio.
In an exclusive interview with whufc.com, Motty reflects on his memories of that magical day 40 years ago…
In 1980 I was still in my early years as an FA Cup final commentator for the BBC. My first one had been in 1977, between Manchester United and Liverpool. David Coleman returned to take the microphone the following year, when Ipswich beat Arsenal, and then I began a long run in 1979, with the topsy-turvy, 3-2 win for Arsenal against United. When West Ham had reached the FA Cup Final five years earlier, against Fulham in 1975, I had been a pitchside reporter, so I was a lot closer to what goes on behind the scenes on cup final day. That day West Ham had been the favourites in a London derby, but in 1980 the roles were reversed against an Arsenal side playing in their third consecutive final. There was a fantastic atmosphere inside Wembley and the searing heat – I think it was 100 degrees down on the pitch - only added to the intensity.
My recollection of the winning goal by Trevor Brooking 13 minutes into the game is quite interesting. In my previous FA Cup final commentaries, there had been a couple of goals that had caused me problems – in '77 Lou Macari had a shot that deflected off Jimmy Greenhoff and everyone was a bit confused as to who had actually scored, then in '79 for Arsenal's opening goal, Alan Sunderland and Brian Talbot arrived to make contact with the ball at virtually the same time, and both of them claimed the goal. I began to think there was some kind of a jinx or curse on me! With the goal in '80, the ball obviously flew around the penalty area at first, with Stuart Pearson and David Cross involved, then there was the header diverted past Pat Jennings. I paused for a second but, thankfully, the goalscorer ran towards my side of the stadium, and there was no easier person to recognise than Trevor, with his arm aloft. I was able to say: 'It's Brooking!' but I think I said it with a hint of amazement because I don't think Trevor scored too many headers!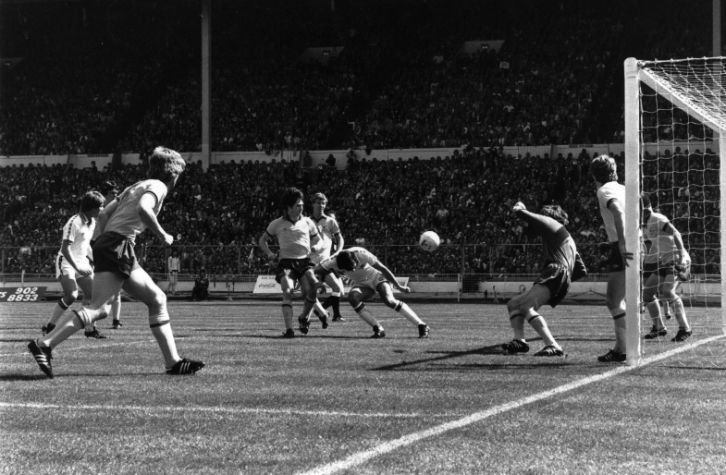 There was a famous footnote to Trevor being the hero that day. On the eve of the match, Brian Clough had given one of his typically mischievous interviews, in which he paraphrased a Muhammed Ali quote to describe Trevor, saying: 'He floats like a butterfly…and stings like one too'. Cloughie was a regular TV pundit in those days, very outspoken of course, and he kind of got under Trevor's skin slightly I think. I'm not sure Trevor would say that is the reason he scored the goal, but he played ever so well that day and Cloughie was forced to eat humble pie. In future years, I was fortunate enough to share the BBC commentary box with Trevor Brooking on many occasions, and I can't speak highly enough of the support he gave me.
Aside from the winning goal, the 1980 final is also most remembered for the famous Willie Young tackle on young Paul Allen. I think what that incident did do was bring to the attention of everybody that there perhaps needed to be greater punishment for such offences. Willie Young timed his tackle very cleverly to ensure he didn't concede a penalty and so all West Ham got from the situation was a free-kick on the edge of the box. It paved the way for the professional foul rule that has evolved into the denial of a clear goalscoring opportunity, and of course would be a clear red card nowadays.
West Ham were generally the better side on the day and deserved their victory. Arsenal just didn't rise to the occasion. They were a fine team at the time – Pat Jennings in goal, David O'Leary in the centre of defence, Liam Brady widely regarded as the star of the show and soon to move to Italy – and they were about to play in the European Cup Winners' Cup final a few days later against Valencia. But the Hammers just got it right on the day – John Lyall making a late change to his formation to play David Cross as a lone striker, and it worked a treat. I had the honour of watching Billy Bonds climb the steps to lift the trophy for the second time in five years, and also describe the achievement of a Second Division side winning the FA Cup – and of course West Ham remain the last team to do so.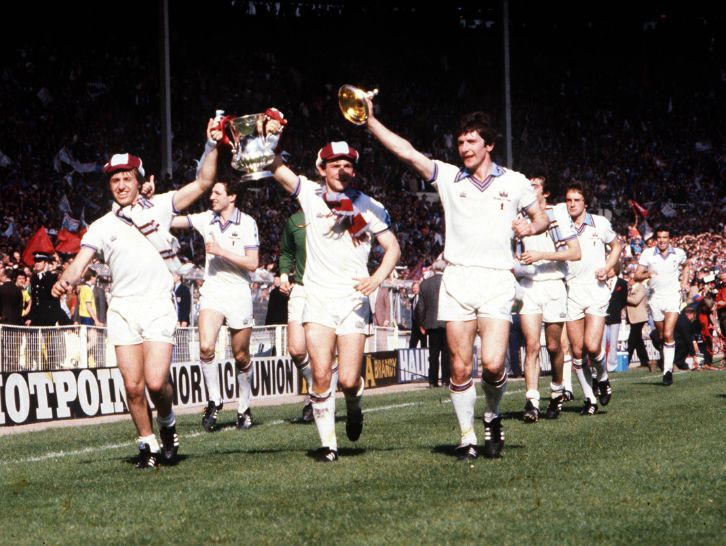 FA Cup final day back then was a huge, huge event in the nation's calendar. The TV schedule was dominated all day long by the build-up to the match and the celebrations afterwards. As a pitchside reporter in previous years, I had been heavily involved in that side of things, but as main commentator I became a bit cut off from the rest of the production - my role really was just to be fully prepared and ready for the 90-minute match, to have all of the facts and figures at my disposal and then call the action correctly. In those days, before multiple sports channels and platforms, both the BBC and ITV broadcast the FA Cup final live and to be perfectly honest, on that day, it was gloves off! Battling for the TV audience, battling to be the first ones on the team coach, the first ones to get the FA Cup trophy on the screen at the end of the game, the first ones to interview the managers in the tunnel…I can tell you, it was pretty hostile!
Thankfully, the rivalry didn't extend to the commentary box. The late Brian Moore – who loved West Ham – called the game for ITV, and he and I tried to stay apart from all the squabbling. In fact, people didn't know this, but every year we both found a little café a few weeks before the cup final and went for a little private lunch. Obviously, we were competitors, but we didn't really want to be a part of the BBC v ITV jingoism that was prominent at the time. We did that for several years and had great respect for each other. It was very different times then, though. The FA Cup final was the biggest day of the year – virtually everyone in the country sat down to watch it and it meant so much. There were European finals, and international football, but nothing trumped the FA Cup, and winning it was the ultimate achievement then.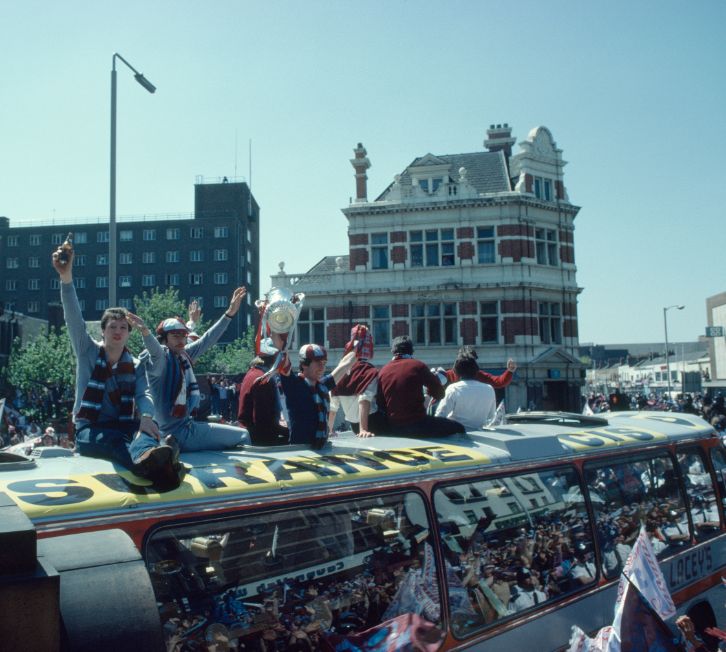 It was the second FA Cup for Billy Bonds, Trevor Brooking and Frank Lampard, and of course for the manager John Lyall, too. He was such a solid and loyal servant to West Ham, starting as a player on the groundstaff before injury curtailed his career, then becoming a coach under Ron Greenwood - the high-priest of football as I used to call him – and eventually taking over as manager. Everyone in the game had such high respect for John, he was as straight and honest a man as you could ever meet. I do have one funny story involving him. I was commentating on a game between Everton and West Ham in the old First Division up at Goodison Park and it finished in a 0-0 draw, quite a poor game – which I reflected in my report for Grandstand. When I interviewed John, he gave me a real telling off and passionately defended his team, pointing out that West Ham had for many years played football the right way and never sought to defend for a draw or play in a boring style. He got quite narked by it! Then I saw him a few weeks later in the car park at Tottenham and he made a point of coming up to me, laughing and – I'll never forget – saying: 'You're a bombero!' (Spanish for firefighter), which I took to mean he thought I'd poured cold water on his team's performance! Anyway, we made it up and he was always entirely helpful and courteous with me at all times. A great man.
My FA Cup connection with West Ham actually goes back slightly further than 1980. My late father took me to many matches at Wembley but the first FA Cup final we went along to was in 1964 – when the Hammers beat Preston 3-2. I clearly remember Ronnie Boyce's winning goal in the dying minutes and the celebrations at the final whistle. I don't know how my father had managed it, but we had seats right next to the steps, on the side that the players walked down after collecting their medals. And I will never forget that I managed to put my hand out and tap the back of Bobby Moore's shirt as he carried the trophy back down to the pitch for the lap of honour. A fantastic moment to remember.