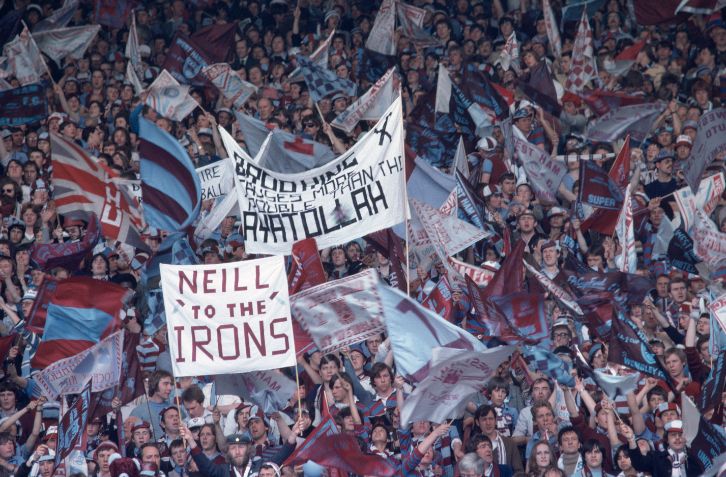 Any Old Irons members have shared their memories of West Ham United's 1980 FA Cup final victory over Arsenal.
The programme, led by the West Ham United Foundation on behalf of the Club, was created in 2015 in a bid to tackle social isolation and loneliness among older people in the east London and Essex area, which has been a particular focus for the Club during the COVID-19 outbreak. 
The initiative provides five-week programmes designed to gives participants the opportunity to connect with other fans and locals in their community, bringing them together for fun and friendship, with meetings, events, workshops and guest speakers. Earlier in 2020, Any Old Irons was shortlisted at the London Football Awards for Community Project of the Year.
Members, who received calls from 1980 FA Cup winners earlier this week, have been sharing stories and looking back through their scrapbooks and photo albums for memorabilia associated with that historic weekend.
One, Terry Palmer, explained: "I've just come across this photo taken the day after the 1980 final. The budgie, me, mum with my son Jon and my brother Steve. As you can see, Jon was on the right road, even at six months."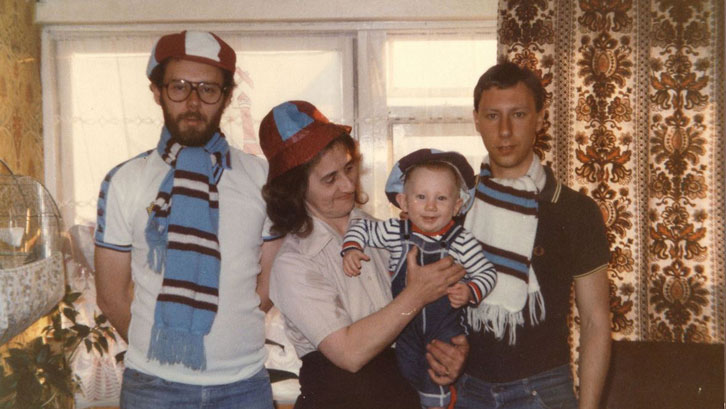 Another, Pat Mahoney, recalled: "My brother, Gerard, was coming over from Ireland for the game, and had been telling me all along he would have a ticket for both of us. The night before he phoned to say he only could get one! I was devastated, but decided to go to Wembley anyway.
"I lived in Norwich at the time and hitch-hiked down to London early Saturday morning for the final. I caught the Tube to Wembley Park joining in with 'Bubbles' most of the way. Unbelievable atmosphere getting everybody 'in the mood.' I was semi depressed as I had no ticket.
"I walked up the 'Magic Carpet' (Wembley Way) to the Twin Towers, where I had arranged to meet Gerard. Loads of people were milling around looking for tickets. Spivs were selling them for ridiculous prices, far more than I could afford. A bloke came up to me and asked me if I needed a ticket. I said I did and he told me his friend was due to come from Stoke but had not turned up, and he was willing to sell me the ticket at cost price. As soon as I got my money out to pay him, we were surrounded by people offering to pay him more for the ticket. Fair dues to him though, he honoured his offer and only took cost price from me! I had a ticket!"
"My brother turned up about five minutes later and we compared tickets. By a fluke we were to go in the same turnstile and then the same numbered section but no idea if we'd be with Arsenal or West Ham fans. When we went up the steps to our section, we were met with a cacophony of noise and colour. We were slap bang in the middle of the West Ham end behind the goal – everyone was singing 'Bubbles' and waving flags and scarves. I am not ashamed to admit that emotions overcame me, and tears poured down my face – even though I was 30 at the time! I looked at Gerard and he too was in tears, but then he was only 21!
"Being on an emotional high my memories of the game itself on the day are limited – Trev's goal and Willie Young bringing down Paul Allen when he was a cert to score stick out. At the final whistle we all went mental – West Ham, a Second Division club, had defeated Arsenal, a First Division club, and won the FA Cup!
"We left Wembley and headed back to East London with a very lively and happy bunch of supporters. Got off the train at West Ham and walked back to where we used to live back in the '60s in Liverpool Road, Canning Town. We met up with some neighbours we had not seen for years and celebrated some with them.
"Then we headed for the Boleyn, stopping off along the way in the Ordnance Arms, Abbey Arms and the Greengate. Cars were going up and down the Barking Rd beeping horns, loads dancing inside and outside pubs. The streets around the Boleyn was thronged."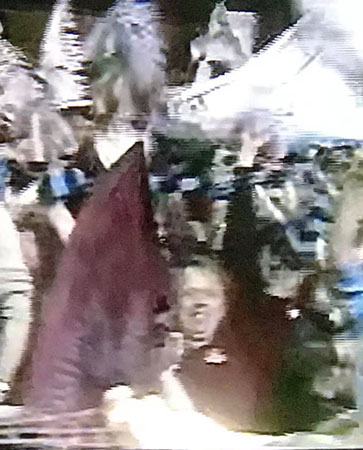 Bill Green, who discovered this photo, said: "It was my 34th birthday and I had a front row seat near the halfway line. When I got the video of the game, I was plain as day holding up my scarf at the end of the match. What a souvenir!"
Sue Adams was another who was fortunate enough to be at Wembley that sunny afternoon. "I got a ticket but not with my friends," she recalled. "We met early and went for a drink. On the Tube there was a constant chant of 'We are West Ham's Claret and Blue Army'.
"I went to my seat opposite the Royal Box and sat next to a couple who had broad scouse accents and a very large picnic box. When we got chatting, they told me they were Alvin Martin's aunt and uncle. They also fed me. I suspect we both understood about 50% of what we each said!
"The game was a blur of excitement and joy. I returned back to The Brit in Barking for a massive celebration with dancing in the street and much singing. I went to the parade next day with a massive hangover then back to carry on celebrating."