It was the crowning glory of a long and successful career, the moment David Cross walked up the Wembley steps to lift the FA Cup on 10 May 1980.
The Lancastrian spent five years in east London as a Hammer, winning promotion, appearing in Europe and in a second Wembley showpiece a year later as John Lyall's men reached the League Cup final.
But it was that famous victory over Arsenal that will be remembered forever, and on the eve of the 40th anniversary of that achievement, Cross recalled that remarkable day with Tony Cottee...
Tony Cottee: I'm sure everyone's noticed, myself included, that you have got a West Ham scarf around your neck. I understand that's the one you had around your neck on the famous day we're going to talk about 40 years ago at Wembley?
David Cross: Yeah, you can never really remember how it happens but I think it's probably as we were going up the steps to get our medals and people wrap a scarf around your neck and someone sticks a hat on your head. This is the scarf that somebody put around me that afternoon. I've just kept it ever since. 
TC: Probably the question that most fans want to ask you is when did you find out about the tactical change? Everyone talks about No10s now, or one up front and all that but John Lyall actually did that in the 1980 FA Cup final. You played up front on your own and Stuart Pearson, who was a really good player, played just behind you. When did John actually tell you that was gong to happen?
DC: He told me with about 15 minutes to go, so about quarter to three. He just said, 'Dave, Stuart let's have a quick chat'. He took us to one side and he told us then. He said, 'Look I'm thinking of just changing things, so Dave I want to you play up front on your own. Stuart I'm going to withdraw you into midfield,' and I was shocked if you like. You know what's it like because as a striker you want to be a goalscorer. We played with two up front all season, Stuart and I had a good combination. Stuart was a very good player and John had just worked out that something different might just upset Arsenal's plans themselves.
TC: Did you trust him Dave? Did you think this is a crazy idea, or I think it's a good one?
DC: Tony, if you knew 30 years ago that you were going to play in the cup final the next day you'd be quite happy to play anywhere on the field. Whatever John said I'd go with because he made me a better player even though he signed me when I was 27.
He made me a better player and I did trust John implicitly. I asked John later, years later, and said, 'What made you do that?' And he said, 'Well, I didn't think Arsenal would work out what we were doing hopefully for half-an-hour, maybe even less, maybe longer, but it would be something different and against what their plans were'. He did say something that really hit me, he just said. 'I knew I could trust you to do that job,' and that meant a lot to me really.
He had thought what he could do to win the cup final and he made me a big part of that, and the other thing was as well that you hit on the head. Stuart was a good player, he could play faced up. I was a back-to-goal player, really I only faced their goal when the crosses came in and I was going to get on the end of something. Stuart could play faced up, I couldn't and I knew Stuart could play in that position. I've said this to Stuart himself, I think that was the best game he had at the club.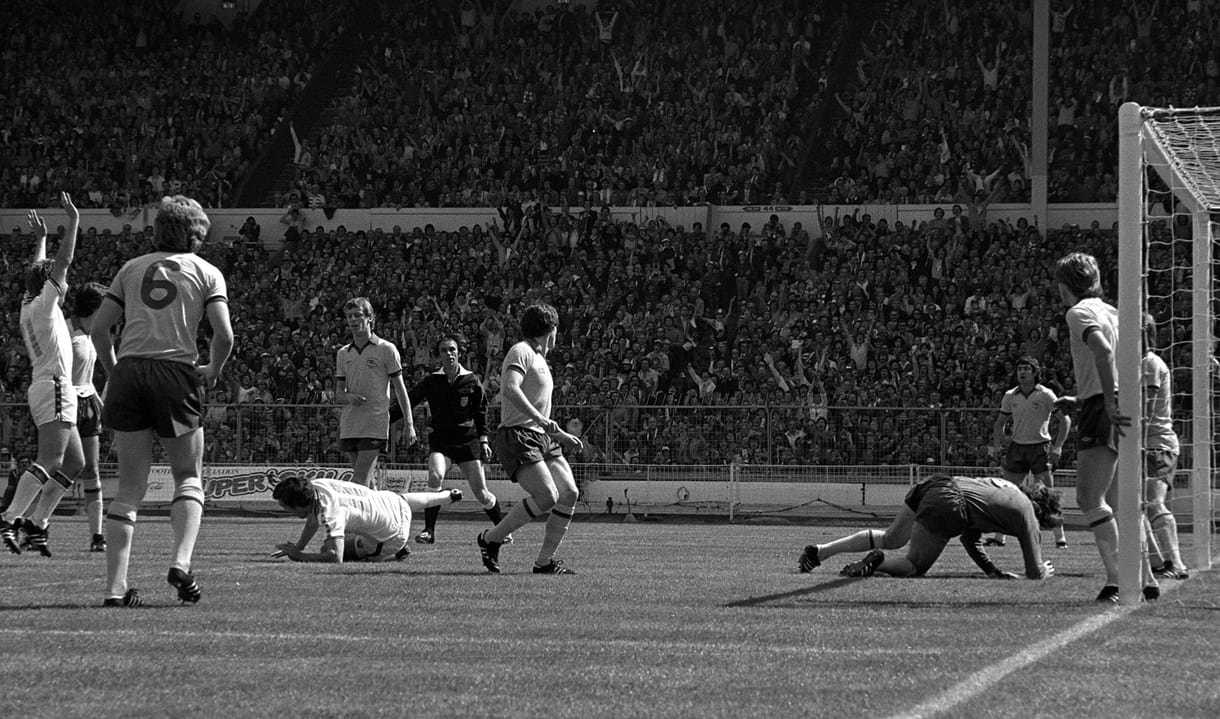 TC: I think everyone in that team, everyone was really on their game. I agree with you. It took 30 minutes for Arsenal to get to grips with it and by that time they were already a goal down because Trevor's goal came in the 13th minute. Let's talk selfish strikers. Wen Dev puts the cross in and Pat Jennings flicks the ball are you thinking here's my goal in the cup final and are you disappointed it didn't go in?
DC: When it dropped to me I knew it was a difficult one because it was dropping and I was going to have to stretch forward. You couldn't think this through in the split-second it happened but I just knew instinctively not to hot it hard because I thought if I go for it I'll put it over the bar and it'll go into the fans.
I just thought keep it down, keep it on target and you never know it might go in. Often they do sneak in off the defender's foot or through someone's legs. I just kind of toe-poked it towards the goal and prayed it would go in. Willie Young cleared if off the line. It went to Stuart, he smashed it and instead of it going straight towards the goal, he kind of hit it across the face and there was Trev to head it in. It worked out in the end, but you're right, like any goalscorer and you'll know exactly what I'm talking about, you just want to be the one who scores that goal and is the hero. My role that day was really to contain their back four if possible.
TC: You did that fantastically well. I was at the game as a fan. It was absolutely roasting as well. I never really felt that Arsenal were causing us too many problems. It could easily have been 2-0 and that would have been fully deserved.
DC: Yeah it would, going back to what you said about not really troubling us. I thought the biggest factor in the game, other than the change of formation and Stuart doing so well in the middle of the field, the biggest factor for me was the fact that Frank Stapleton and Alan Sunderland, who were two terrific strikers, they really never had a kick.
Billy and Alvin just shackled them so well that they never really got anywhere near Parksey. On the odd occasion they did, you know what Phil was like. He was the safest goalkeeper I ever played with. We never really looked as though we were gping to concede a goal. It wasn't a great footballing spectacle for a neutral but for our fans on a baking hot day it was a marvellous occasion.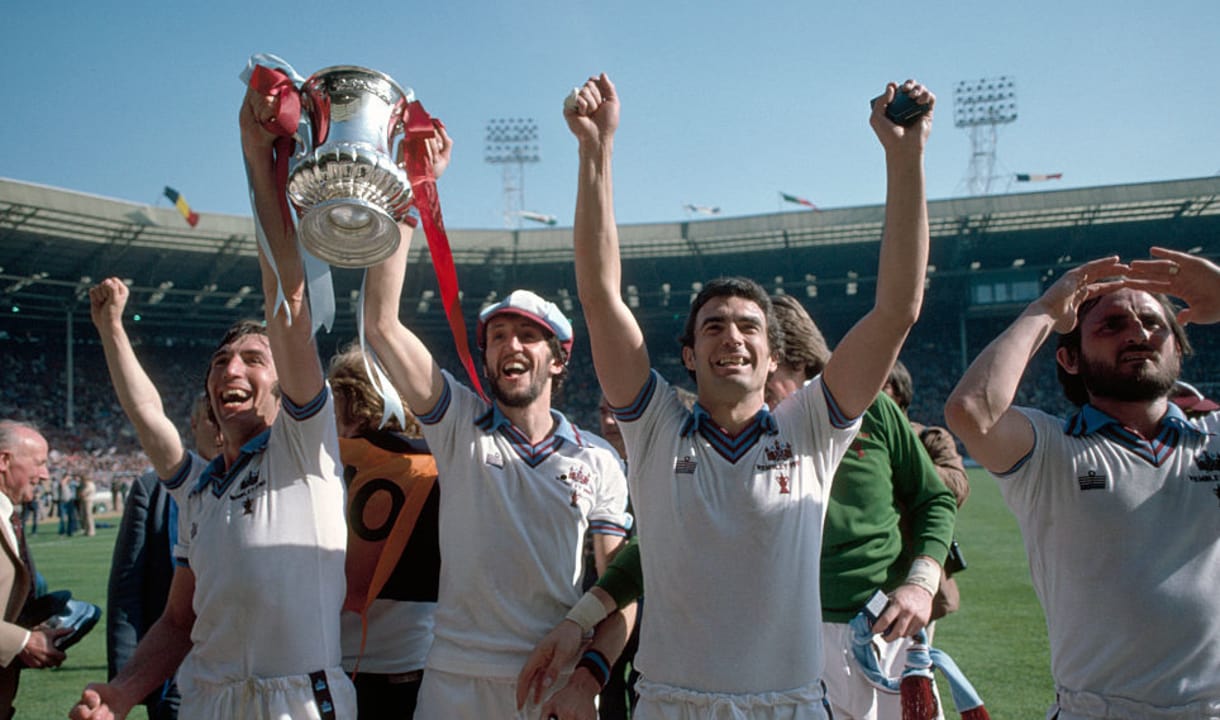 TC: Dave what about the celebrations. What do you remember after the game? What did you do that evening, in particular what do you remember about the victory parade? I went on the Sunday when you were to East Ham. What an incredible day that was.
DC: It was. Just going back to the day itself, I played at Wembley seven years earlier for Norwich against Tottenham in the League Cup final and people asked afterwards about what happened in the game. I couldn't remember anything that had happened. It kind of was a blur, and I'd heard people say that about the occasion so I was determined on 10 May 1980 that although I couldn't govern whether I score or govern whether we won, I could govern whether I could enjoy the day.
I was determined to enjoy it completely.  I wanted to remember the whole thing. I remember our celebrations, then the next day the parade past the Town Hall was just a fantastic occasion. The good thing about that was that we were able to share it with all those fans. It wasn't just about us. It was about the fans as well. It was just the whole weekend, it was fantastic. I was really pleased that I made that decision not to get over excited and forget about everything. I do recall everything vividly.
TC: Can you believe on Sunday, Dave, 10 May, it's 40 years since West Ham won the cup? Has it gone quick?
DC: The memories of the game are very vivid, but 40 years has just flown by in some respects. It's a bit of a disappointment for me because I tell people up here in Lancashire that I'm only 49, so now that the 40th anniversary has come in, a lot of people are realising I was only nine when I played in the cup final. I'm having to make a few apologies on that front!