Voted fifth in the #50GreatestHammers poll, 1980 FA Cup winner Alan Devonshire will be forever remembered for his sensational solo-strike in the semi-final replay at Elland Road…
The Hoover factory in Perivale was a mere Phil Parkes drop-kick from Wembley.
But those Twin Towers must have seemed light years away for Alan Devonshire as he combined driving his fork-lift truck around the warehouse for £80 per week, while playing part-time football.
Fast forward four seasons, though, and 'Dev' was inside that famous old Stadium, climbing the 39 steps up to the Royal Box, where he collected his FA Cup winner's medal.
"Living in Ealing as a boy, it had always been my dream to play in a Wembley final," reveals the mesmerising, mercurial midfielder, who made 447 outings in the Claret & Blue following his bargain-bucket £5,000 transfer from non-league Southall in September 1976. "Back in those days, the FA Cup final was the biggest game of the season with all the build-up, the millions watching on television around the world and the 100,000 fans packed inside the stadium."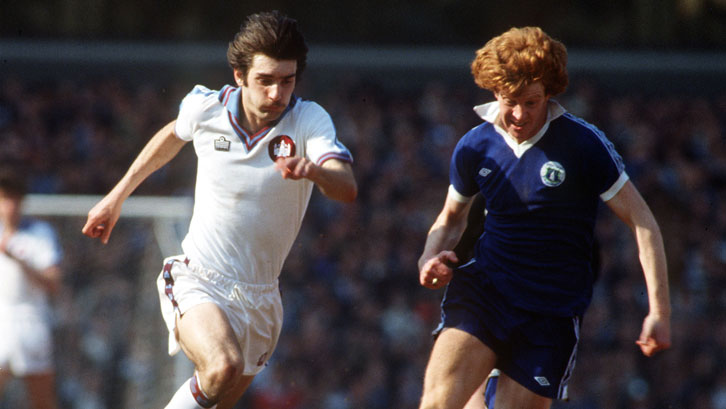 Devonshire's stand-out moment in the Hammers Cup-winning campaign came in extra-time at Elland Road, where West Ham United were still locked in a stalemate with top-flight Everton in the FA Cup semi-final replay on 16 April 1980.
"We were the only second-tier team left in the competition and everyone had wanted to play us but we were a good side and didn't have any fear," contends the 64-year-old. "I'd never given a penalty away in my entire career but in the first semi-final at Villa Park, the referee reckoned I'd pushed Andy King and Brian Kidd scored from the spot. Thankfully, Stuart Pearson equalised and, going to Elland Road for Wednesday's night's replay, we already felt really aggrieved.
"Back then, I could just run and run and my man-marker, John Gidman, didn't get anywhere near me all evening. After our 1-1 draw on the Saturday, it had now ended goalless but four minutes into extra-time, I went on another dash down the left before cutting in and playing a one-two with Stuart," continues the eight-times capped England international replaying his magical moment, four decades on. "Kevin Ratcliffe tried to slide me but keeping my balance, I bent the ball into the net. It was a quality goal and the most important of the 32 that I scored for West Ham.
"And although Bob Latchford equalised, Frank Lampard famously sent us to Wembley with his unforgettable diving header. What a night! Even today, 40 years on, people still come up and say: 'I was there at Elland Road that night you scored that goal.'"
Now with only Terry Neill's Gunners standing in his way, the lad from that Hoover factory finally had the chance to realise his dream and clean up with an FA Cup winner's medal at Wembley.
"Having beaten West Bromwich Albion, Aston Villa and Everton, we weren't worried about playing Arsenal," concludes Dev, who is presently manager of National League, Maidenhead United. "In fact, John allowed ten of us go to Wembley dogs the night before the final and it was surreal looking beyond the greyhound track towards the pitch knowing that we'd be playing there the following afternoon…"