Academy
Steve Potts: The U23s have improved in every aspect during this season
West Ham United U23s' season drew to a close last week following the curtailment of the 2019/20 Academy Games programme, with the Hammers still unbeaten in their league.
Just days prior to the suspension of footballing activities across the country, the Development Squad had ventured to Pride Park to face Derby U23s in the Premier League International Cup quarter-final, putting in arguably their finest performance of the season to triumph on penalties against high-flying opposition.
Accompanying lead coach Dmitri Halajko in the dugout that night – as he has done all season - was two-time Hammer of the Year, and U23s Assistant Coach, Steve Potts.
The enterprising right-back, as he is often remembered by the Hammers faithful, made 505 appearances for the Club over a 16-year span before returning to the Academy coaching set-up back in 2011.
Ahead of his 53rd birthday today (Thursday 7 May), 'Pottsy' has been taking his coaching sessions online, but like many people, his thoughts have also been away from the game.
"It's been a very strange experience, hasn't it?" he said. "When you first come away from the Club, your thoughts aren't on football. You put the news on and it's heart-breaking to see what's going on around the world.
"When you think back to that week before the suspension, people were out and about still. We were on our way to Derby. You're certainly aware of the situation then, and everyone was using hand sanitizers. 
"All of a sudden it's no longer appropriate to be at the training ground – and then the decision is made to close it down."
Without being able to get out on the grass, the Academy coaching staff have come up with a raft of inventive ways to continue the development of their youngsters. 
One of these included inviting on-loan West Ham midfielder Josh Cullen to host a video call with the developments quad to discuss his progression through the Academy ranks.
"We had Josh Cullen do a talk with the U23s," Potts explained. "That's really important when you look at a path to the first team. 
"He's played a few games for the first team and then gone out on loan to League One and the Championship, and is still very much hoping to be part of the West Ham first team going forward."
Youngsters Conor Coventry, Nathan Holland, Nathan Trott, Ajibola Alese and Dan Kemp have all enjoyed fruitful loan spells during this season and Potts insists that proving yourself in league football is the key for any youth player.
"If you go out and play 30-40 games of league football, then you prove you can make that step-up and from then on managers and coaches no longer have to worry about that with you and that's so important".
Potts also took time to praise the achievements of the U23s in the 19/20 campaign.
"I think the team has certainly improved in a lot of aspects of their game this season. They've been unbeaten in the league this season, and whatever level you are playing at that's something that is really tough to do!"
This season has also seen the blooding of a fresh crop of U23 players, including the England U16s pairing of winger Amadou Diallo and defender Jamal Baptiste. 
Both players have been regular fixtures for the U23s during the course of the year, and getting to learn from more established professionals like Ben Johnson and Nathan Holland is sure to be of huge benefit to them in the future.
"I think it's almost like a youngster going into the first team when you look at Amadou (Diallo) and Jamal (Baptiste) stepping into the U23s," Potts reasoned.
"You look to the senior players within the U23s set-up to help them out, and that then has a knock-on effect then when they become the senior players."
During his career in Claret and Blue, Potts saw himself make the transition from an impressionable young talent at the Academy of Football to the captain of his boyhood club.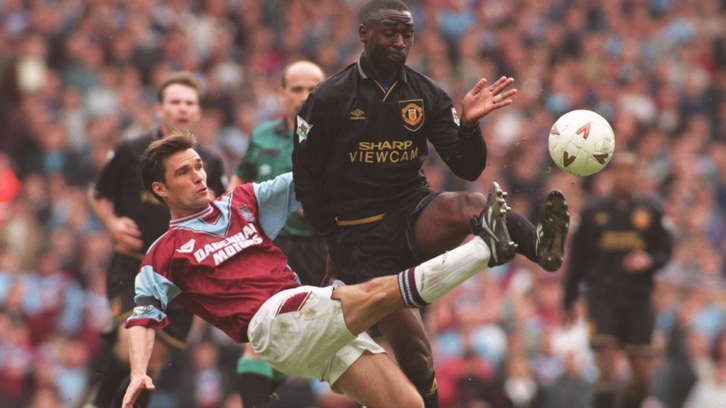 The defender is now one of a number of former Irons players tasked with nurturing the next generation of talent at the Academy of Football.
Working alongside Kevin Keen, Carlton Cole, Paul Konchesky and Zavon Hines, Potts believes integrating former players into the coaching staff has been of huge benefit to the Academy of Football.
"I think what former players do have is an idea of exactly what a young player needs to make it," he said. 
"A lot of it is the make-up of the boy and what they're all about: attitude and hard work. I think all of the coaches at West Ham know that."
 
 Everyone at West Ham United would like to wish Steve Potts a very happy 53rd birthday!