1980 FA Cup winner Ray Stewart netted 76 penalties for the Hammers, including one dramatic, deadly decider to clinch a quarter-final win over Aston Villa…
He certainly knew how to take a spot-kick.
And Ray Stewart memorably converted his fair share of pressure cooker penalties during his dozen seasons down West Ham way.
But few were more breath-taking than the late, late winner that the ice-cool, 20-year-old blasted home against Aston Villa on 8 March 1980 to secure the Hammers place in the FA Cup semi-finals.
Just seven months earlier, aged 19, Stewart had become Britain's most-expensive teenager, when John Lyall splashed the cash to sign him from Dundee United in a record £430,000 deal and the Scot wasted no time in showing the East End his lethal shooting boots.

"I'd scored the first of my 76 penalties during a 2-1 victory over Burnley just two weeks after making my debut," Stewart, who made 432 appearances in the Claret and Blue, told Steve Blowers. "The West Ham fans quickly saw that I could hit a football and, after that, they were always encouraging me to hit 'em!"
By the time that top-flight Aston Villa arrived at a boggy Boleyn Ground for that FA Cup quarter-final clash against Lyall's lads, 'Tonka' (the nickname derived from the indestructible Tonka toy trucks!) had already powerfully smashed home seven spot-kicks, including one in the fourth round at Brisbane Road, where his two goals had helped the Hammers to a 3-2 win over near neighbours Orient.
"We were looking destined for a tricky replay at Villa Park after a goalless 89 minutes," recalls the ten-times capped Scotland international. "But then Ken McNaught handled as he went up to meet a late corner and, with a crowd of 36,393 – our biggest of the season – looking on, suddenly it was all down to me!
"I was only young, but I always thrived on those pressure situations. It was a muddy, muddy pitch and I was conscious that I might slip over and put the penalty over the South Bank crossbar. At that moment, I could've been a saint or a sinner so, taking a careful run-up, I was just set on scoring and, although Jimmy Rimmer dived correctly to his right, my kick was too powerful for him and we were in the semi-finals.
"We'd left it late but the Hammers supporters went mad – having come down from Scotland to the East End and scoring such an important goal they'd now accepted me as an official Jockney!"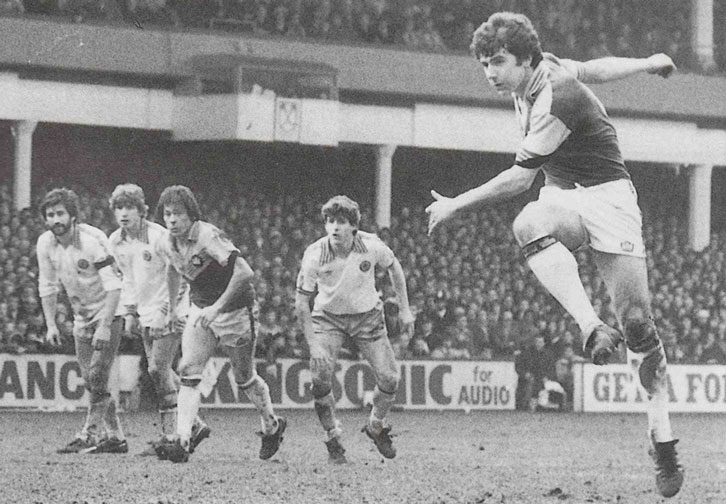 A subsequent victory over Everton in the semi-finals gave Stewart – the second youngest member of the FA Cup-winning side behind Paul Allen – his passport to Wembley.
"Only 12 months earlier, I'd been a teenager living in Stanley, Perthshire – a village with a population of less than 1,500 - and now there were 100,000 supporters packed into the stadium," he exclaims. "I looked around Wembley and thought: 'It's great to be here!' It was a dream come true for the West Ham fans, too. 
"We may have been the underdogs when it came to facing a top side like Arsenal but I wasn't nervous because I knew I was good at my job and I wanted to stand up and be counted alongside the rest of my team-mates. I was playing in a great defence alongside Phil Parkes, Frank Lampard, Alvin Martin and Billy Bonds and, when you looked through the entire side, we were just a fantastic team. 
"I wanted the whole of the watching world to see how good we were and I wanted them to be impressed, too," concludes the 60-year-old who, industrious and energetic as ever, currently delivers dental supplies around Scotland. "When the other players talk about it today, they say that when John rebuilt his Cup-winning squad, 'Tonka' was the final piece in his jigsaw. It makes me so proud to hear them say that. It's amazing!"