Women
Anna Moorhouse: Cycling 241 miles, training at home and the amazing NHS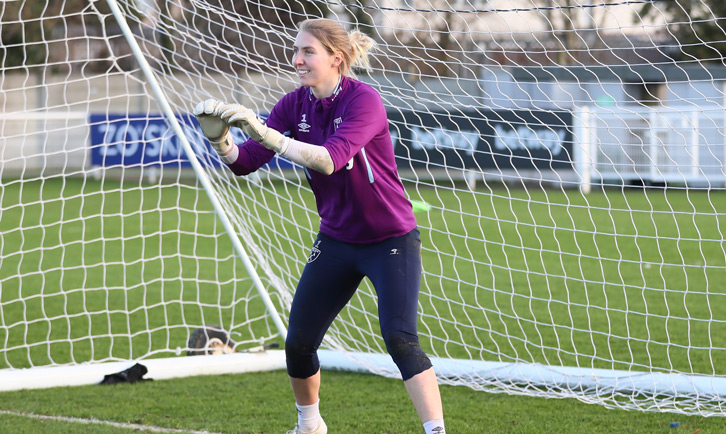 Anna Moorhouse has found a novel, challenging and inspiring way of passing the time during the government-imposed lockdown; cycling over 241 miles! 
The West Ham United shot-stopper has committed to travelling the equivalent of the distance from her family home in Oldham to the location of women's captain Gilly Flaherty's shop – the Cryo-Lounge – in support of a fundraiser for the business. 
With the Cryo-Lounge close to celebrating its first anniversary of opening and, like small businesses across the country, having to close during the ongoing coronavirus (COVID-19) pandemic, Moorhouse has elected to show support for her teammate and friend by raising money for Flaherty's fundraiser. 
Having begun at the start of May, Moorhouse will cycle the 241-mile distance between her Oldham home and the Cryo-Lounge in Kent, with an additional mile added for every £100 she raises. 
"Everyone knows that Gilly is a very passionate person and she opened the Cryo-Lounge a year ago," Moorhouse told whufc.com. "We all know how hard Gilly has worked and we've seen how much time and effort she's put into setting the Cryo-Lounge up, so I thought 'what better way to support her and her fundraising than by trying to cycle the distance from my parents' house to the Cryo-Longue?'.
"So, somewhat stupidly, I've agreed to try and cycle 241 miles by the end of May, on top of my usual training. I can try to do my bit and encourage other people to donate as well by putting myself through a bit of pain. 
"I had a rest day off the bike on Monday. It's not been too bad, although the hills are killer. I'm having to use my dad's bike, which doesn't have gears on. Anyone that knows Oldham too will know that there are a lot of hills, so it's a struggle and it's hard work, but it is using time in my day and I'm enjoying doing it."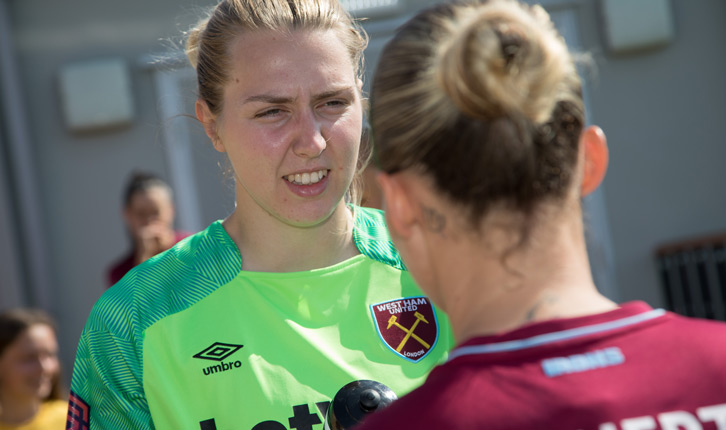 'Bodyweight work, circuits and a lot of running'
Cycling such a distance is an impressive feat for any individual, professional athlete or otherwise, and Moorhouse is undertaking this challenge on top of continuing her Club-approved fitness and conditioning programme. 
Like thousands of footballers across the globe, the shot-stopper is working tirelessly to ensure she remains in the best possible shape for when sport finally returns. 
She continued: "It's been pretty hard because we're in a kind of off-season, but obviously we can't go to the gym. In that regard it's kind of been a weird one. 
"Colm (Smith, West Ham United women's strength and conditioning coach) has got us doing bodyweight work, circuits, and a lot of running, which I'm not best pleased about! But it's got to be done. We've got our programme and it's been good. 
"Everyone's programmes differ slightly, because of what equipment we have available and the things we can do, but I think Courtney and I have had a similar programme to the rest of the squad, even though we're goalkeepers. When we talk about the work we've been doing in our group chat, or send in our photos, Courtney and I are sending in similar pictures."
We never used the group chat before the lockdown, but when lockdown started we all began sharing work-out selfies. Everyone is just trying to keep each other motivated and positive.

Anna Moorhouse
A WhatsApp group chat has kept the West Ham United women's squad connected and social throughout the government-imposed lockdown. With players returning home to be with family, Moorhouse says the conversations have been essential to keeping team morale high. 
"We never used the group chat that much before the lockdown. It was mainly used as a group for when we wanted treatment times. But when lockdown started, we all began sharing work-out selfies and chatting a lot more in the group. 
"Everyone is just trying to keep each other motivated and positive. We let Elena (Jobson) and Colm get involved too, because they're in the group with us too, so they're the only coaches that are allowed to join in with that banter."
'It's good to be home'
For West Ham United women's No1, home is back in Oldham, with Moorhouse isolating alongside her parents and younger brother. 
The 25-year-old, despite the ongoing situation, is enjoying the time she can spend with her family, with trips to visit her parents usually a rarity during the tenacious Barclays FA Women's Super League season.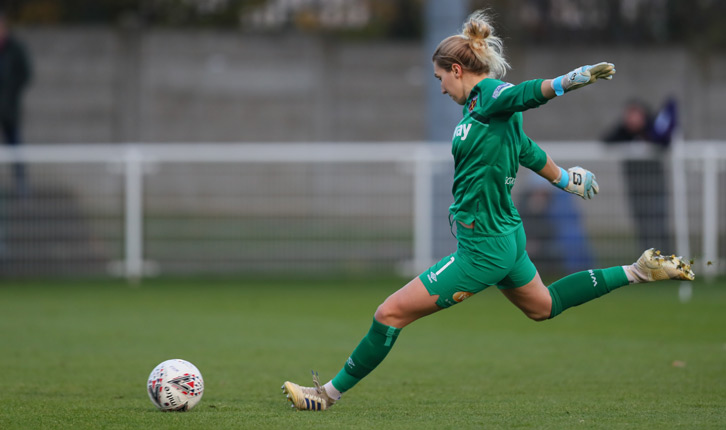 "It was nice to be able to come home," Moorhouse said. "I came back just before the government put the lockdown in place, so I was glad I was able to do that. 
"It's good to be home. My little brother and I haven't fallen out yet! We're all still on good terms. I don't get to spend too much time at home during the season, or get too much time to see my parents, so on that side of things it has been really nice.
"I've been coping pretty well. I've tried to keep a pretty structured day-to-day routine. I wake up a decent time every day and I go and do my training. I have lunch and then do my gym sessions after lunch, which then gives me the rest of the day to rest, chill out, take the dog out for a walk."
'All I can say is thank you'
As Moorhouse continues her hard work to maintain fitness and raise funds for the Cryo-Lounge, the goalkeeper knows that there are those in our society who are working harder and deserve significantly more praise.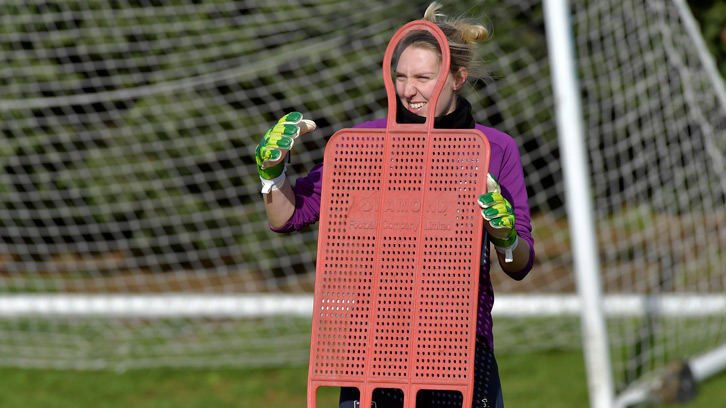 The doctors and nurses of the NHS, and key workers across the country, continue to put themselves in harms' way each and every day to take care of the nation, something that Moorhouse believes cannot go unappreciated. 
She added: "I think it's important to stress that our NHS doctors and nurses, and key workers, do amazing things anyway. It's no secret that before the coronavirus, the NHS was amazing then as well. If you have to use that service, you know the doctors and nurses are going to look after you and they are all wonderful people. 
"Now they are dealing with this extra burden of coronavirus, and they're not complaining. They are saving peoples' lives, and you can see from what they put on social media that they are all so passionate about what they do and love their jobs and want to help people every single day. 
"I think all I can say to them is thank you. Thank you to all the NHS doctors and nurses. Thank you to the key workers – police officers, firefighters, care home workers, and every single key worker. I hope you know how much you are appreciated."