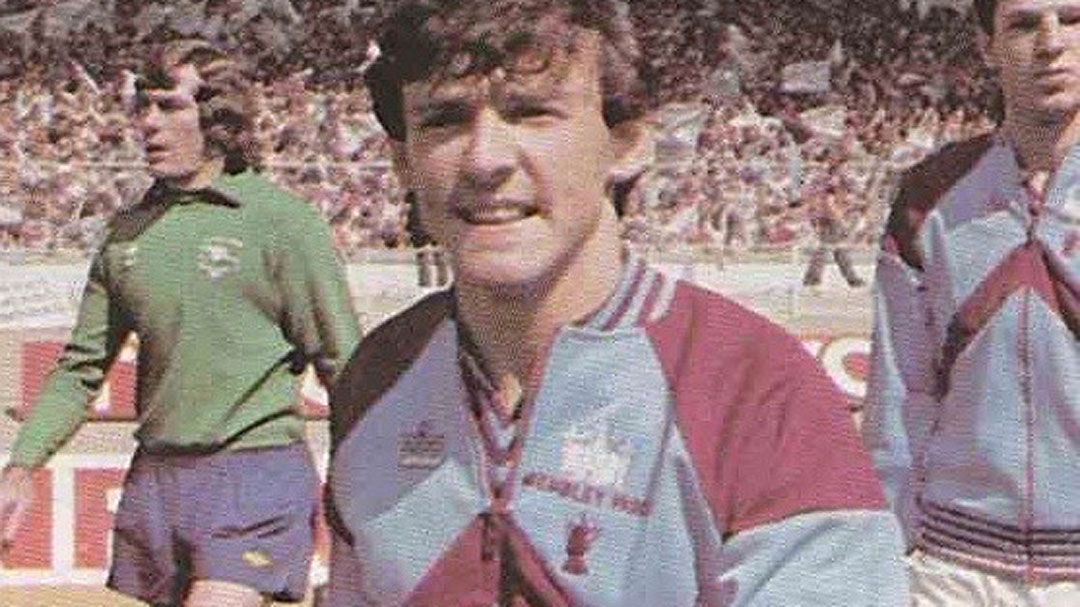 Aged 17 years, 256 days, Paul Allen became the youngest-ever Wembley finalist when he helped the Hammers to FA Cup glory in 1980...
He had not even made his first-team bow when the Hammers kicked off their 1979/80 campaign in mid-August.
But by May, teenager Paul Allen was crying tears of joy as he ran around Wembley proudly clutching a winner's medal.

"I was just a young boy surrounded by a good group of senior professionals, who were very supportive both on and off the pitch," insists Paul, who had never looked back after making the first of his 197 appearances in the Claret and Blue against Southend United in September 1979. "By the time our FA Cup fifth-round match against Swansea City came around, I'd started in 28 consecutive games since making my debut."
But upon arriving the Boleyn Ground on 16 February 1980, that solid sequence was about to be broken as John Lyall opted to name his rookie midfielder on the bench for the last-16 tie.
"After playing in our previous rounds against West Bromwich Albion and Orient, I was really disappointed that I'd been left out of the starting XI," confirms Paul. "When I reflect on it now, though, John had very valid reasons for wanting to rest me." 
The eager youngster still got his chance to shine against the Welshmen, however, when Stuart Pearson was forced to retire after a goalless first half with a neck injury.
And with John Toshack's fellow second-tier side looking all set to force a tricky replay, Paul saved his team an arduous, midweek trip to Vetch Field when he struck with just five minutes remaining after Swans' 'keeper, Glan Letheran, found a David Cross scorcher simply too hot to handle. 
"I only had to follow up on the loose ball to slot home," recalls Allen, who then saw the on-fire Cross double the lead in the dying embers of the tie to set up a quarter-final against Aston Villa. "Although I'd just scored my first-ever FA Cup goal to help us into the last eight, the idea of getting to Wembley just wasn't in my thoughts – I was still only a kid taking everything game-by-game."
Victories over top-flight Villa and Everton, however, would soon secure Paul's afternoon under the famous old Twin Towers and a place in the history books as the youngest-ever player to appear in a Wembley final at a youthful 17 years and 256 days. 
"Because of my age, the national newspapers had been building me up in the days running-up to the final but I hadn't been picked for our last home league match of the season against Charlton Athletic and I hadn't known how to take that," reveals Paul. "Then on the Friday lunchtime after training, John announced his starting XI for the following afternoon and, upon hearing my name, I selfishly switched off. I was so happy! Returning home, my Dad – Ron – asked me for tomorrow's starting line-up but upon getting to myself at No7, I couldn't tell him the last four names because I simply hadn't heard them."
Unlike match-winner Trevor Brooking, poor Paul will always be remembered for the FA Cup final goal that he did NOT score after Arsenal's Willie Young cynically chopped down the escaping youngster at the expense of a yellow card in the closing stages. 
"With their 'keeper Pat Jennings just coming into sight, my brain was processing what to do, when I got scythed from behind," concludes Paul philosophically. "Even today, 40 years on, it's still a big talking point for many people but, in reality, it didn't affect the outcome of an amazing, emotional day. We won 1-0, I've got my winner's medal and I'm thrilled that I'm part of Hammers history – I certainly don't wake up every morning thinking about that tackle!"
On Thursday, penalty king Ray Stewart reflects on his dramatic last-gasp spot-kick winner against Aston Villa in the sixth round...