Merchandise
Hammers warehouse re-open and despatching orders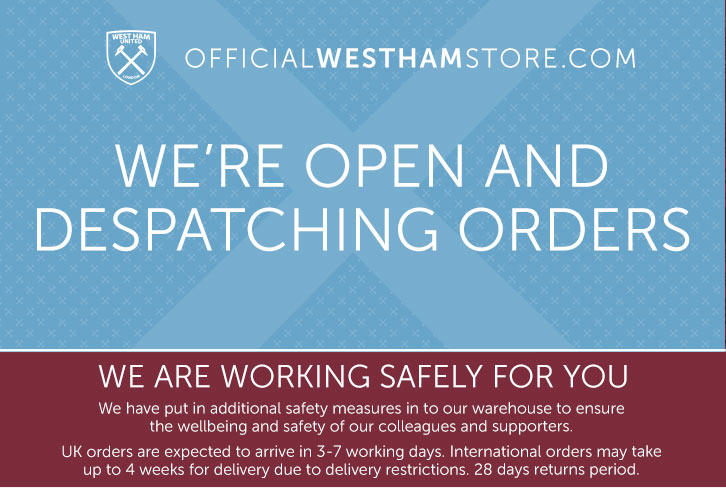 The Club's warehouse is open aagain in line with Government guidance and social distancing measures, with orders placed through the online store now being despatched.
Click here to shop online where you can save up to £30 on the Hammers 2019/20 replica kit.
The safety and wellbeing of our employees, supporters and their families during the COVID-19 outbreak is of paramount importance to West Ham United, and the Club has ensured that social distancing can take place in its warehouse operations.
To comply with social distancing at all times, staff have returned in smaller teams and they will have the same working pattern to prevent cross-contamination, while everyone will be given their own dedicated work stations and there will be designated walk ways and separate entrance and exits.
The working areas were deep cleaned in preparation for the return, while the work areas and toilets will also be cleaned every morning before staff arrive for work. There are hand-washing stations available throughout the working areas, too.
The Club would like to reassure supporters that no staff who have shown symptoms of COVID-19 and are within an isolation period will be allowed to work in the warehouse.
Existing orders will be prioritised and parcels will be despatched as soon as possible - the Club appreciates your patience and understanding on this matter in these unprecedented times. Orders placed to addresses within the UK are expected to arrive in three to seven working days from the date of despatch, with overseas orders expected to take up to four weeks.
The Club is also pleased to confirm that we have changed our returns period to 28 days from the date of delivery, to give supporters more flexibility during this time. More information on our returns policy can be found at: https://www.officialwesthamstore.com/page/returnspolicy.
If you would like to get in touch with us please email onlinestore@westhamunited.co.uk, or contact us on 020 8586 8001 and we will endeavour to assist you as soon as possible.