After joining West Ham United from Rochdale in November 1974, rookie striker Alan Taylor etched his name into East End folklore thanks to his half-dozen goals that helped the Hammers lift the FA Cup with victory over Fulham, less than six months later…
Muddy marvel Alan Taylor had put his name on the map with a brilliant brace at Arsenal in the FA Cup sixth round back in March 1975.
After emerging from the anonymity of the fourth-tier, the £40,000 autumn capture from Rochdale grabbed all the headlines with his match-winning double at Highbury in only his second start in Claret and Blue. 
And now the 21-year-old found himself starring on an even bigger stage as the Hammers met high-flying Ipswich Town in a semi-final at Villa Park in front of 58,000 sun-drenched fans.
"It had been the same for each team at Highbury where mud and puddles covered the entire surface and now we were both playing on a rock-hard pitch," Taylor tells Steve Blowers, looking back on that baking Birmingham afternoon 45 years ago.
"With the opportunity to get to an FA Cup final, there was a lot at stake and we ended up playing out a boring 0-0 draw, in which each side found their chances very limited. 

"At least it gave us another opportunity four days later and, after the rain at Highbury and the sun at Villa Park, we were now met with a blizzard of sleet and snow for the replay at Stamford Bridge. Although it was a freezing cold night, the atmosphere under the floodlights was just incredible.
"Ipswich were third in the league and favourites to beat us and they had an early goal disallowed before I headed us into the lead on the half-hour mark," continues talisman Taylor. "Just before the break, though, we conceded an unlucky own goal and then found ourselves under pressure during the second half. Fortunately for us, Ipswich had another one ruled out for offside before I got my second goal with about ten minutes remaining. 
"The Ipswich lads were distraught and, looking back, I can understand how they felt because chances to play in a Wembley final don't come along too often – in fact, I was really pleased for them when they won the FA Cup, three years later."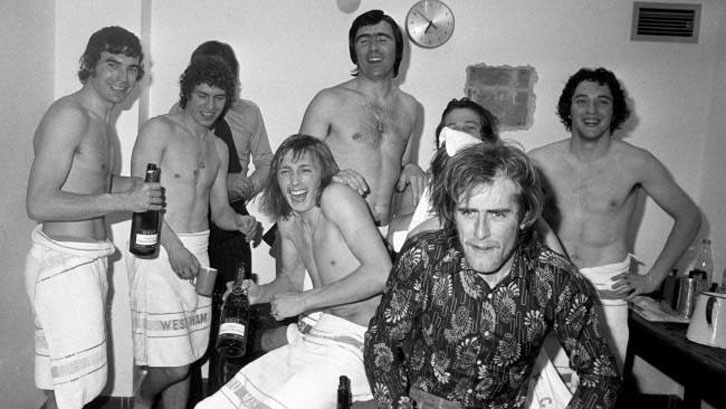 While there were Tractor Boy tears all the way back to Suffolk, there were only cheers for the happy Hammers as they headed home to the East End.
"The scenes outside Stamford Bridge were unbelievable and as the team coach drove down the King's Road there was just Claret and Blue everywhere as our fans sang in the streets," smiles the man, who had taken his competition tally to four goals and booked West Ham's trip to Wembley. "Ron Greenwood and John Lyall had come in for me because I'd been scoring goals up at Rochdale and, having also signed Billy Jennings and Keith Robson earlier that season, they have to take great credit for settling the three of us into the team so quickly and getting us on that fabulous cup run.
"We were all in our early twenties and still learning our game and senior players like Billy Bonds, Trevor Brooking, Frank Lampard and Bobby Gould were a massive help to us in and around the dressing room," concludes Alan. "Confidence was high and there was a real buzz as we looked forward to facing Bobby Moore and Fulham at Wembley. Playing in an FA Cup final was now all that I could think about…"
Visit whufc.com on Sunday for the full story of how Alan Taylor's two goals secured the FA Cup for West Ham United for the second time in Hammers history…