After a breakout year, the Any Old Irons are wrapping up their podcast in red carpet style.
Having spoken with the likes of Sir Trevor Brooking, Jack Sullivan, Kate Longhurst, Sébastien Haller, Tony Cottee and more, the final episode in the first series of the podcast turns to celebrity West Ham supporter, actor Ray Winstone.
Due to the current lockdown, the group called on their last guest, club legend Cottee to lead the conversation on their behalf.
It's not just the football but the area where I came from. I've got a thing on the wall here that says 'in our family blood'

Ray Winstone
Cottee said: "Knowing all about the Foundation and the Any Old Irons scheme, it was a pleasure to be able to help them with their podcast. They've achieved a great deal by delivering these episodes and to have the guests that they've had just shows how far-reaching the support is. Ray is a fantastic guy and we had a great time recording this!"
Topics included Winstone's first game of football with his Uncle Len, ultimate West Ham favourites, his experience in isolation abroad and who he wants to see on the New Year's Honours list. 
Winstone also touched on what West Ham means to him, saying: "It's not just the football but the area where I came from. I've got a thing on the wall here that says 'in our family blood'.
"If I'm on the other side of the world, and I might be in Australia, I remember being in the outback in Australia and we got English newspapers flown in every now and then and the first thing you used to do, it was before mobile phones and that kind of stuff, you pick up the paper and there it was, the West Ham result.
"So, it was the first thing you looked at because it just reminded you, you might be the other side of the world but that's where you're from, don't forget that. Don't forget that because that's where you're made from and that's everything to me, you know."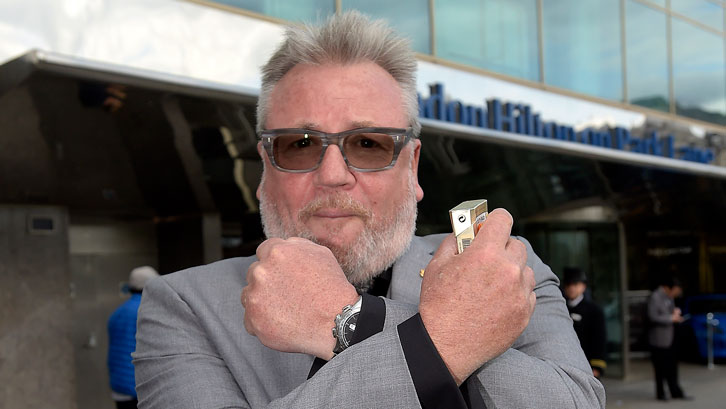 The Foundation's Any Old Irons scheme was started in a bid to tackle social isolation and has grown from strength to strength, with more than 300 members take part in cohorts across east London and Essex in the last three years. 
The Hammers' initiative sees attendees take part in a five-week programme consisting of sport and social events as well as technology support and workshops. During this lockdown period, although activity hasn't been able to continue as normal, there has been ongoing support through a variety of methods, such as: a letter of encouragement from Mark Noble, peer-to-peer phone calls, surprise calls to members from Declan Rice and David Moyes, print and email newsletters and a Facebook group with activities such as Bingo, player Q&A's, watch parties and messages of support. 
The group are also pleased to share that, although this marks the last episode in a five-episode first series, they will be delivering a bonus episode featuring a guest who runs in good company in with Ray; comedian, actor, author, thought-leader and passionate activist for mental health and drug rehabilitation, Russell Brand. 
To listen to the podcast, search Any Old Irons on iTunes, Spotify or SoundCloud. If you would like further information about the Any Old Irons please contact [email protected].