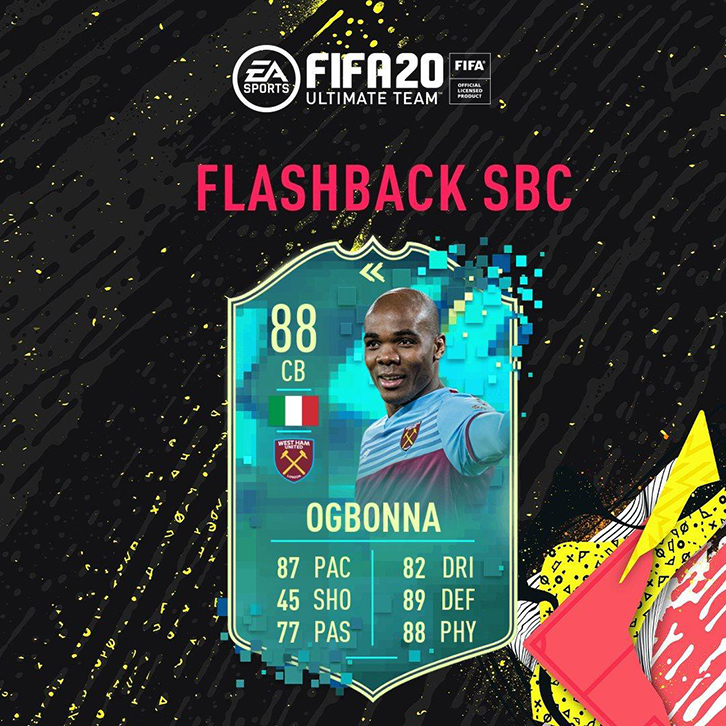 West Ham United FIFA players tonight have a new first name on their Ultimate Team team-sheet: EA Sports have announced a powerful Angelo Ogbonna Flashback SBC card for players to claim.
The solid Italian centre-back has enjoyed a fine season on the pitch thus far, and has been rewarded with a special 88-rated card in the premier online gaming mode in EA Sports' FIFA 20.
With the perfect blend of 87-rated pace, 88-rated physicality and 89-rated defensive instincts – plus an impressive 77 passing and 82 dribbling – the Ogbonna card is a huge increase from his normal 77 rating, and represents a surefire target for many of the game's top players.
 
Look who's here ??‼️ Flashback SBC @OgbonnaOfficial now in #FUT ? #FUT20 #westhamesports pic.twitter.com/Jj6L7sUfCI

— WestHamEsports (@WestHamEsports) March 29, 2020

To acquire the card, however, three challenging squad-building challenges must be completed, namely assembling: an 85-rated squad featuring players from Italy; an 85-rated squad featuring players from the Premier League; and an 86-rated squad featuring Team of the Week or TOTM MOMENTS cards.
Rewards for completing these individual requirements include a Prime Mixed Players Pack; a Small Rare Gold Players Pack; and a Rare Electrum Players Pack, respectively.
Ogbonna becomes the fifth West Ham United player to be awarded with a special card this season, after Aaron Cresswell, Mark Noble and Robert Snodgrass all were rewarded with Team of the Week cards during the course of the campaign, while a special Felipe Anderson card was released as a Season Objective during January.
Love your FIFA? You can get all the latest West Ham United eSports updates on Twitter and Instagram @WestHamEsports.