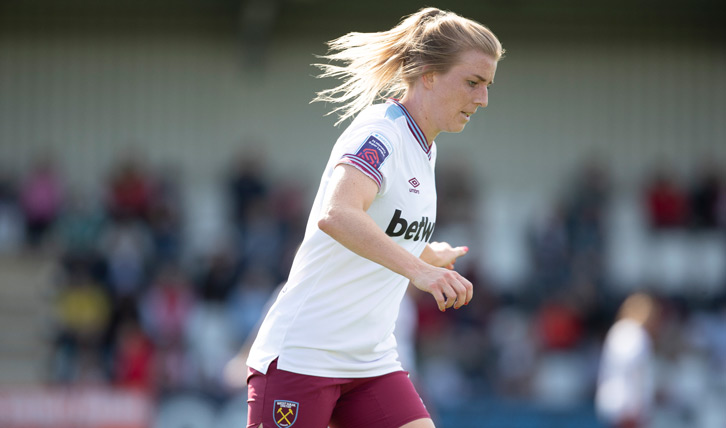 "Stick together by not being together."
 
That was the key advice given by West Ham United midfielder Kate Longhurst for supporters after recent Government guidelines on self-isolation and social distancing.
 
The most recent directives from the Prime Minister and the Government is a simple one in the ongoing battle against coronavirus: 'Stay at home, protect the NHS, save lives.'
 
Longhurst knows how important following that advice is, with every single West Ham player working from home, and has stressed the significance of looking after each other during these times.
It is tough times and we all need to ride it out and stick together by not being together

Kate Longhurst 
"As a squad, we know what we have to do," Longhurst told whufc.com. "We know that, at the moment, we have to stay inside and protect ourselves and others.
 
"It is worrying times for everyone, but I think, as long as everyone follows the rules and regulations and guidance that the government have put to us – which is not that hard to follow – we will all be okay.
 
"It is tough times and we all need to ride it out and stick together by not being together."
 
With other nations across Europe and the world displaying the further-on effect of Covid-19, Longhurst knows that every single individual must play their role in the fight against coronavirus.
 
The midfielder has taken the opportunity to hail the work done by keyworkers, with the ongoing pandemic putting unprecedented pressure on the National Health Service and other key services.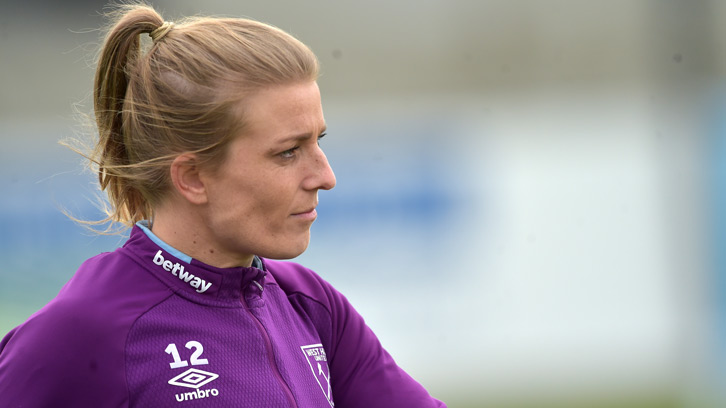 She continued: "You look what's happening around the world and the situation is awful, and we don't want to get to that position. The only way people can affect that is by being responsible, following the government guidelines, and making the right decision. Right now, that requires us to not leave our homes unless we absolutely have to; to get food, for our daily exercise, or helping a vulnerable person.
 
"Yes, having to stay inside and isolate is a bit annoying, it's a little frustrating, but there are keyworkers out on the front-line, and we have to respect that and do our bit to help them.
 
"I hope those doctors and nurses in the NHS know that what they do is greatly appreciated. I think, when things were normal, people did take for granted what they did. It shouldn't take a pandemic for us to realise the incredible job they do, but these people are literally putting their lives on the line for the rest of us.
 
"The term 'hero' is used a lot these days but, for me, there's no other word for it. They are heroes."
While working from home, each West Ham United women's player has been provided with an exercise and conditioning programme in order to keep themselves in match-ready shape, for when football returns.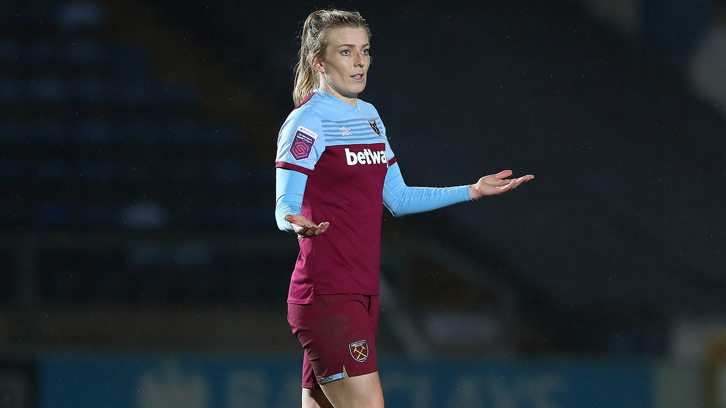 Longhurst says these exercises have helped to keep the squad positive and competitive as they compare with each other on a daily basis.
 
"The WhatsApp group has been going off daily," she added. "We've all been sent an individual programme so, every single day, everyone is sending in a selfie of themselves doing their routine to show they've done their session.  We did a 5k yesterday, but it's been something different every single day, which has been really good for everyone.
 
"We've all kept up with it in our group chat to keep it fun and competitive.  It keeps moral high and positive and keeps us all together too. Also, if you see someone else has done their session, it gives you a kick to get yours done too! It's been a really good way of keeping everyone together and to keep that team spirit high.
 
"Beardy has been in touch with everyone, making sure we're okay. The staff have been really, really supportive. We need to keep ourselves in peak condition until the day comes that we can get back into training."