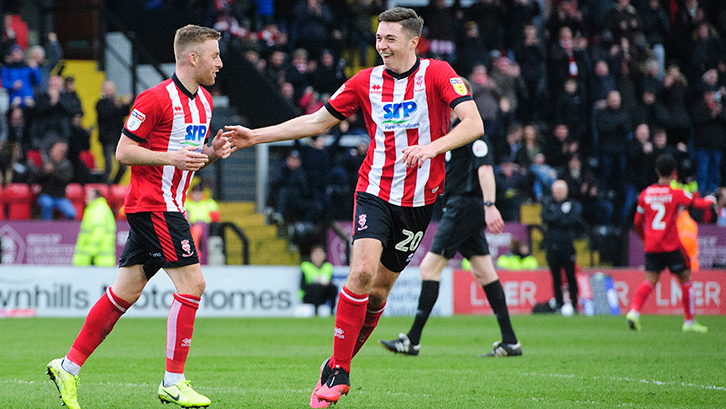 West Ham United midfielder Conor Coventry turns 20-years-old today – but is growing as a young footballer more than ever before.
That's according to the Republic of Ireland U21 international himself who, having enjoyed a fine first half the campaign unbeaten with the Hammers' U23s side, penned a new long-term deal with the Irons in January.
Just a few days later, Coventry's next challenge came calling: a half-season loan at Michael Appleton's exciting League One outfit Lincoln City FC, an ambitious side who play attractive football perfectly attuned to the Waltham Forest-born youngster's playmaking abilities.
So with Coventry celebrating his landmark birthday, we caught up with him and found out how he's enjoyed life on loan so far.
Happy birthday, Conor! While we're in unusual circumstances right now, how have you found your first couple of months out on loan at Lincoln?
"It's been great. It's been very challenging, and different to what I'm used to. It's what I went out on loan to try and get: something out of my comfort zone, in a league that's very different to what I've played in before.
"It has been tough at times too, but I feel like I've really been benefitting from that. I feel like I've learnt a lot about myself as a person and, mainly, on the pitch as well. I've really started to get used to it in the last few weeks."
You made your EFL debut back in January at Shrewsbury's New Meadow. What was your first taste of football like at that level?
"It was a really tough game. Shrewsbury is a tough place to go away to – as you can see, Liverpool drew away there in the FA Cup – but it was a really hard-fought game. 
"It was everything I'd expected: a high tempo from the off, a really well-contested game, and we got a draw on the day. It maybe could have been more."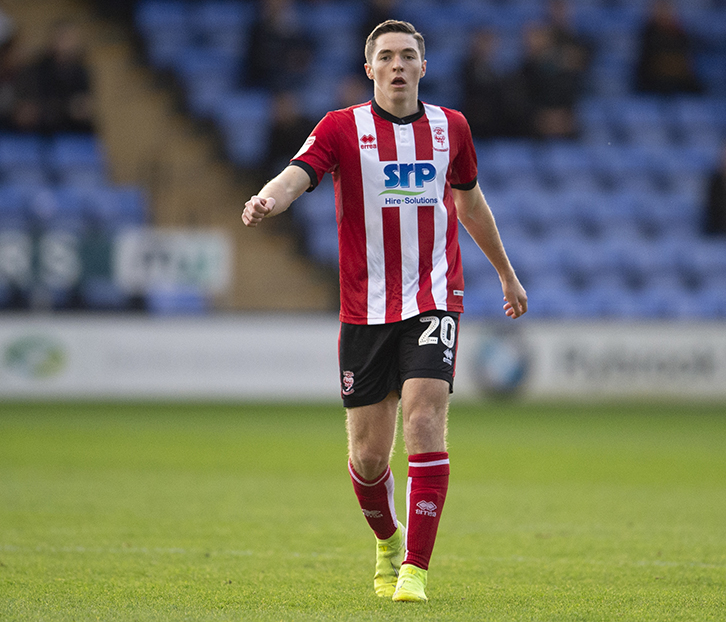 You have a couple of first-team appearances to your name at West Ham, but how have you found being part of match-day squads on a regular basis?
"It's great to be a first-team player and know you're going into every game for a result. That's the most important thing. 
"It's obviously different to my time with West Ham U23s, where of course you want to get the results – which we've been doing this season – but where it's also about development as well, whereas sometimes in those Football League games, it doesn't matter – you've just got to win at all costs. 
"That's something I'm really benefitting from as well – a completely different mindset – and it's something I'm really enjoying."
Has that been the biggest difference of life on loan for you?
"It is a big difference, of course, when you know everything's geared up to the next match. 
"The games themselves are a lot different as well, with things like the pitches, which can actually help dictate what goes on in the game. That's just helping me learn a different type of game, but the biggest difference for me has been more off the pitch, living and looking out for myself."
Is this the first time you've been living away from home?
 "Yes! I come from such a close family where, a lot of the time, they do things for me, so that was a rude awakening I guess, going up to Lincoln and having to fend for myself! 
"Even just cooking, cleaning – I didn't realise how hard cleaning was! It's made me grow up a lot."
And what's it been like getting used to playing in front of large crowds at Sincil Bank and elsewhere week-in, week-out?
"They're a really passionate fanbase at Lincoln. I'm really enjoying playing in front of them. 
"Obviously as a player, everyone wants to play in front of fans and have the fans cheering them on every match, so I've really enjoyed coming to Lincoln and playing under a great manager [Michael Appleton] and a good fanbase, and hopefully I can use that experience to one day be able to play in front of the West Ham supporters too."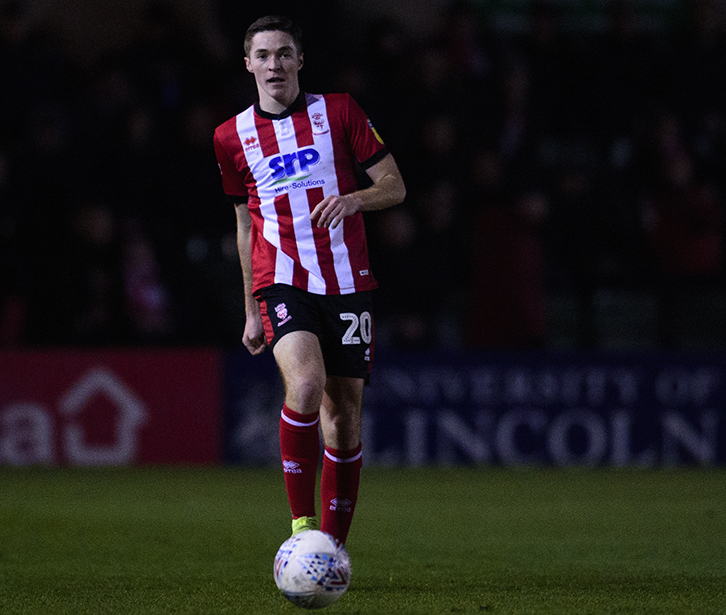 Let's look back to Lincoln's last game, that 3-2 win against Burton a few weeks ago. You played the full 90 minutes – and so did a familiar face or two…
"Yeah, it was good to see [Joe] Powelly [of Burton]! I've known him since I was ten-years-old, so it was really good to see one of my good mates. It wasn't so good for him to score a couple against us, but obviously I was happy for him – I just wished it wasn't against us!
"Obviously, we've also got [former Hammer, Anthony] Scully at Lincoln as well, and he lives with me at the moment. He helps me out a lot with my cooking and other things, so it's really good to have him at the club with me; it's made it so much easier to settle in."
Yourself and Anthony are part of a strong Irish contingent at Lincoln at the moment…
"I think there's seven of us overall! I knew Anthony from West Ham, and then Zach Elbouzedi, who's in the Irish U21 squad, I knew going in as well. Since I've gone in, the Irish lads have really looked out for us few younger ones too."
How are you keeping yourself sharp for when professional football eventually resumes?
"At the moment it's a lot of running. We obviously need to stay inside a lot of the time, but when I can get out, I do some running. 
"I've had some gym equipment at home from Lincoln and I've got programmes from both Lincoln and West Ham that I can be getting through, so I'm still working hard every day!"
Finally, Conor, when the League One games do eventually return, what are your collective and individual targets for the rest of the campaign?
"As a team at Lincoln, we know we're in a place where we're not definitely safe yet. Looking at it, we should be, but we know we need to confirm that first and just try and finish as high as we can, keep playing to the style we want to play to, and keep going to get as high a finish as possible. 
"For myself, obviously I've had to overcome a few things and really establish myself in the team, and I think I was starting to do that, starting the last few games on the bounce. 
"When it starts again I want to get in, start every game – and have an impact on every game I play in."