Dean Ashton's time in Claret and Blue was sweet, but far too short. 
A Club-record signing when he moved to West Ham United in January 2006 from Norwich City, Ashton managed 19 goals in 56 appearances for the Irons, before his career was ended early due to injury. 
Although the striker's West Ham spell was brief, Ashton netted some more than noteworthy goals for the Hammers, of which two in particular stand out to the former England attacker. 
"My most memorable one is the tap-in against Liverpool in the [2006] FA Cup final," Ashton recollected, with a smile, while watching back his West Ham finishes. "My best ever goal! Worst ever goal or best ever goal, depending on how you look at it.
"That goal came from years and years of constantly going in, in case the 'keeper spills it. As a 14-year-old, all I heard in training was: 'Ashton! Go on, in case this goalkeeper spills it! It eventually comes to fruition. 
"The FA Cup final, the biggest game of my life, Pepe Reina spills it and I tap that one in!"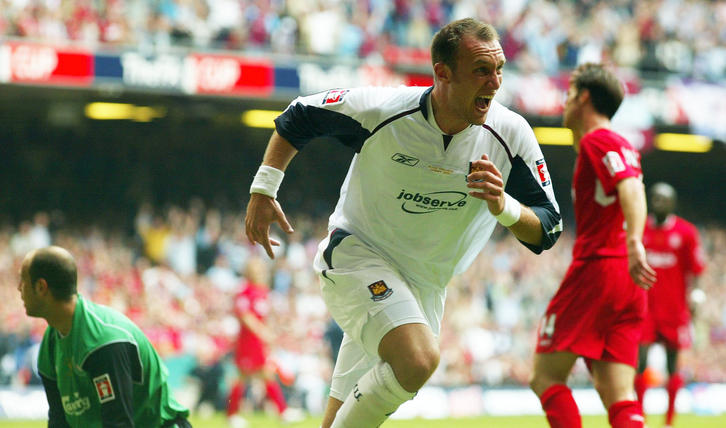 Everything about that special day, down at Cardiff's Millennium Stadium, for Ashton and his West Ham teammates, was the culmination of an FA Cup run filled with hard work, grit and determination. 
While the Irons were ultimately unsuccessful, losing out in a heart-breaking penalty shootout, Ashton and his old colleagues still reminisce about those days.
"The run to the FA Cup final was incredible," he continued. "The importance was huge because of where we were as a football club, and the players and the squad we had. It was something that was earmarked by the manager, Alan Pardew, as something we had to focus on, He was very passionate about that. 
"I actually missed the West Ham versus Norwich City cup tie, the third-round match, because I was injured, then I moved to West Ham from Norwich! For me it was a big opportunity to make a mark in such a great competition. 
 
My most memorable one is the tap in against Liverpool in the FA Cup Final... The FA Cup Final, the biggest game of my life, Pepe Reina spills it and I tap that one in!

Dean Ashton

"Once you get to the quarter-final stage, to beat Manchester City away, that's when all of us knew we had a great opportunity. Then you're waiting for the draw. I remember us all being together for the draw, obviously hoping we didn't have Chelsea or Liverpool. When Middlesbrough got pulled out there was a massive cheer that went up, as if we were through, but then obviously it was a tough game at Villa Park. 
"That's what the FA Cup is all about. It's about building these memories. These players that I played with then, that's all we talk about. We talk about Middlesbrough at Villa Park, Manchester City away, the FA Cup final. That's what we talk about because it was so special.
"It was the biggest occasion I've ever played in, the game that most people want to talk about. It is something for people to watch and remember, and for me, I can watch it back with my family. My goal wasn't technical but it's about what it means."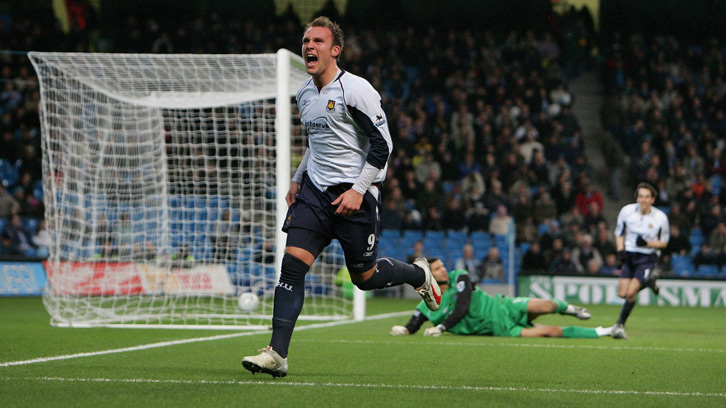 The other goal that holds a fond spot in Ashton's mind comes in rather peculiar circumstances.
Towards the end of the 2007/08 season, West Ham found themselves 3-0 down in the first half against a Manchester United side that was homing in on the Premier League title. 
It was during that sunny afternoon at Old Trafford that Ashton would score, in his mind, the technically best goal of his West Ham career.
"Technically, my best goal would have to be the Manchester United away overhead kick," he added. "With this massive carcass, to get that up and do that skill, it takes a lot!
"It was very strange. It was strange to be clapped by the opposition at Old Trafford. It was strange because I've scored arguably the most technical goal I've ever scored. It was strange because I can't celebrate, because we were being drubbed 3-0. But still it was a great memory. 
"I shrugged Rio [Ferdinand] off, hit the overhead kick past [Edwin] van der Sar. It doesn't get much better!"