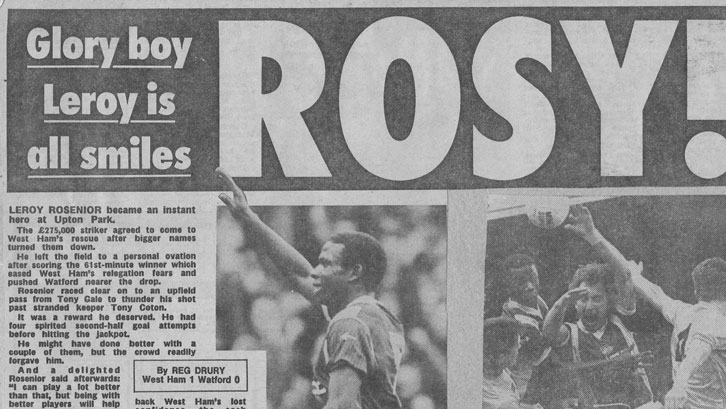 On signing for a new club, every striker wants to score his or her first goal as soon as possible.
It was no different for Leroy Rosenior, who was eager to make his mark after making a surprise move from third-tier Fulham to First Division West Ham United in March 1988.
The south London-born forward had experienced top-flight football previously, having spent two seasons with Queens Park Rangers between 1985-87, appearing 38 times in the First Division, scoring eight goals, and as a substitute in the Superhoops' 1986 League Cup final defeat by Oxford United.
I'd shown controlled aggression and netted the winner for my new club, which got me off to a great start with the West Ham fans

Leroy Rosenior
Rosenior had dropped two divisions to return to Fulham, where he had started his career as a teenager, in summer 1987, and caught John Lyall's eye after plundering 20 goals in just 34 Third Division games.
Meanwhile, with Frank McAvennie being sold to Celtic in October 1987, the Hammers had struggled for goals all season. As a result, the Londoners had repeatedly been linked with a big-money move for a new striker, with Chelsea's Kerry Dixon and Luton Town's Mick Harford among those mentioned in the media.
By mid-March 1988, the goal-shy Irons had netted just 30 times in 30 First Division matches. With the dreaded relegation looming larger after a 3-0 defeat by struggling Charlton Athletic, Lyall decided it was time to act, bringing the in-form Rosenior up the District line to the Boleyn Ground.

The 23-year-old debuted in a home match with Watford and, in truth, it could not have gone any better for the Balham-born frontman.
"All the talk had been about West Ham signing Kerry Dixon for £1million so when I arrived from third-tier Fulham in a £275,000 deal in March 1988, the Hammers supporters thought they were getting a cheaper, second-hand model!" Rosenior recalled, with a smile. "But as I ran out at the Boleyn Ground for my debut against bottom-placed Watford the following day, I was determined to show them that this south London boy was just as good as the Chelsea striker.
"Ironically, I'd been about to sign for Watford – I'd even met their Chairman, Elton John – but they wanted me to live within 12 miles of Vicarage Road, so I turned them down. West Ham were only five points clear of relegation, themselves, having won just one of their last ten matches.
"I soon sent one wide, had a header saved and ripped into the side netting but, on the hour, my old Fulham team-mate – Tony Gale – sent me clear and I shot past their 'keeper, Tony Coton, to give us a 1-0 victory.
"I'd shown controlled aggression and netted the winner for my new club, which got me off to a great start with the West Ham fans, while over at Craven Cottage – where Fulham were playing Bristol City – the crowd cheered when they announced that I'd scored on my debut. It had certainly been a bizarre week!"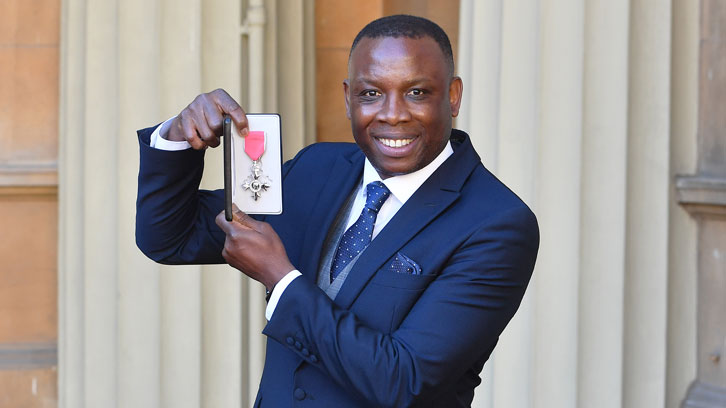 Rosenior went on to score five goals in nine First Division appearances to fire West Ham to the safety of 16th position.
He went on to net 23 times in 67 appearances in Claret and Blue before completing his playing career with Fulham, Charlton Athletic, Bristol City and non-league Fleet Town and Gloucester City.
After managing Gloucester City, Merthyr Tydfil, Torquay United (twice), Brentford and Sierra Leone, Rosenior became a successful broadcaster, and is now a leading anti-racism campaigner for Show Racism the Red Card.
Now 55, he was made an MBE for his work in tackling discrimination in 2018, some 30 years on from his goalscoring debut for West Ham United.