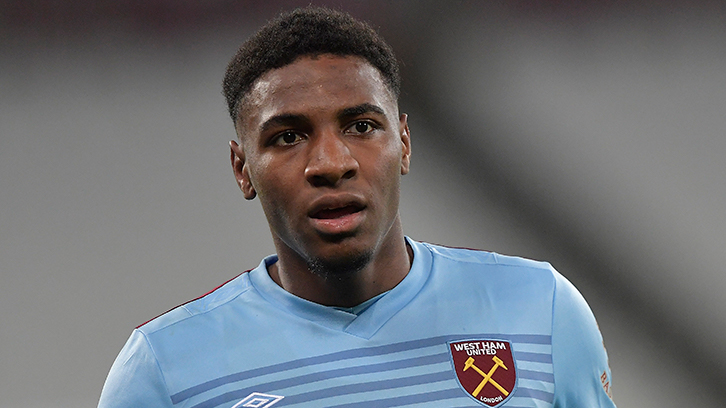 When Oladapo Afolayan picked up Mesaque Dju's Rabona inside the penalty area at Pride Park last week, back to goal, there was only one thing on his mind.
One touch to make the space, a fluid spin, a crisp shot, bottom corner, 2-0 – after only eight minutes played.
"It's always good to score," Afolayan smiled. "We started the game really well, moving the ball well, and when the ball came in the box twice I pounced on it. We built from there as a group really.
"I thought we dominated the game and could have scored loads more, but personally it felt really good the first half, especially getting the two goals."
 
Both strikes came at the end of free-flowing moves which saw Ben Johnson cross from the right - but a first-ever Premier League International Cup quarter-final last week was never going to be that straightforward.
Derby County U23s, flying high in the division above, were enjoying a superb season at academy level, having beaten Middlesbrough in another quarter-final by six goals to nil just three days prior.
Yet, when the going gets tough, Dmitri Halajko's U23s have made a habit of only getting tougher.
They remain unbeaten in Premier League 2 Division 2, having proven their grit time and time again during that run, including memorable late comebacks against Middlesbrough, Swansea and Sunderland.
When Derby answered Afolayan's rapid-fire early brace with a comeback of their own, therefore, and the forward was forced to leave the field through injury at half-time, he remained steadfast in his belief that his teammates would stand strong.
 
We all felt as a squad that we needed to dig in, get that result and prove people wrong. It's not the first time we've done this

Oladapo Afolayan

The Hammers were pegged back a third time in the match after Bernardo Rosa had struck midway through the second half, and played 30 minutes of draining extra-time football a man down after Alfie Lewis' second yellow card just before the final whistle.
Yet even when the match went to penalties – goalkeeper Joseph Anang ultimately making the difference with two stops from the spot  –  Afolayan always retained faith in his side's character.
"Whether I'm on the pitch or off the pitch, I'm just as invested in it as the rest of the boys," Afolayan recalled. "We had to dig in deep at times. Things didn't go our way a lot of the game. 
"We went to Pride Park and put in a great performance as a group of boys. We had to dig in deep, things didn't go our way a lot of the game. I thought we could've won the game comfortably, but a lot of decisions went against us and it dragged it out to penalties.
"With it being a cup game, and especially with the way the game went, we all felt as a squad that we needed to dig in, get that result and prove people wrong. It's not the first time we've done this."
 

That the result was West Ham's second crucial win in this season's Premier League International Cup against Division 1 opposition - they also beat Brighton & Hove Albion in the group stages - served as proof that, as Division 2 leaders, the Hammers' development squad would fare well in the top-flight.
"We felt last year we shouldn't have got relegated," Afolayan admitted. "It was a disappointing season for us, and we've got more than enough quality to be in that top league.
"This season our goal was to win the league and our goal was to win the Cups. If we could win both the league and the Cup, what a season that would be for the group."
As for the semi-final, the prospect of Arsenal U23s awaits.
"It's always nice to play the big teams," Afolayan added. "Another away trip, it's another good test for us against some of the best players at this level. 
"A London derby as well, so there'll be a bit of added spice - especially with the added incentive of a cup final. I can't wait."