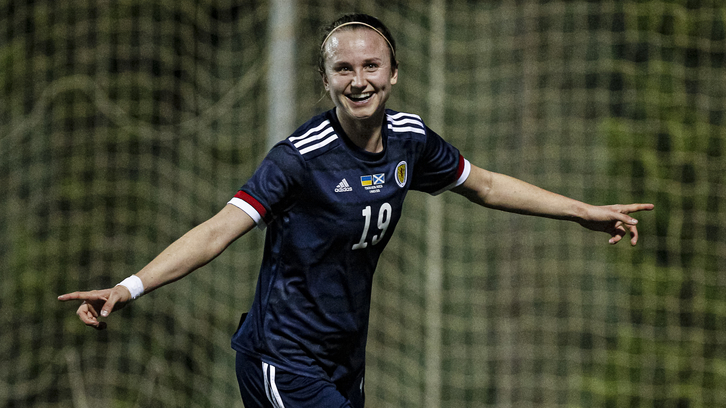 Aside from playing for West Ham United, one would assume that there were not too many obvious links between women's forward Martha Thomas and Club icon Frank McAvennie. 
Yet when Thomas scored on her debut for Scotland last Wednesday, netting in a 3-0 victory over Ukraine, she matched McAvennie in netting for the Scots on a first showing; the former Hammers frontman would score against Australia on his debut in November 1985. 
The 23-year-old's fantastic debut would earn Thomas significant praise from the West Ham legend in the media this past week, a distinction the attacker is not taking lightly.
"It's such an honour for a person of Frank's magnitude to speak that way about you," Thomas said. "It means a lot to hear the nice things he's had to say and I'll have to say thank you to him, should the chance to meet Frank arise."
Thomas has already exceeded McAvennie, though. Two goals on her first Scotland outing puts her ahead of the former Hammer, whose record stands at one finish in five international outings. 
It took the West Ham No9 just 23 minutes to open her Scotland account, capitalising on a defensive error by Ukraine to slot home, before the attacker showed immense composure to slot home her second. 
For most players, scoring twice would be the debut one could only dream of. But Thomas expects more from herself.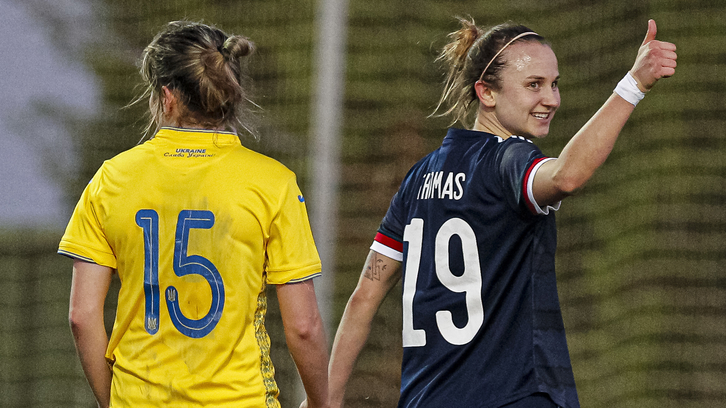 "I don't think I actually had that good of a game in my debut, in terms of my link-up play and my hold-up play," she shrugged. "But I was lucky enough to get into two good goalscoring positions and put them away. Overall, I'll be hard on myself, but I'm pleased with those two goals. 
"Everyone tells me that, playing as a No9, your job is to put the ball in the back of the net, and you did it twice, so no one can say you didn't do your job. I'm personally a bit more critical of myself. But I can't criticise myself too much having scored." 
The West Ham striker played twice in the recent theee-game Pinatar Cup tournament in Spain, helping Scotland claim the trophy. 
The road to the international stage has been tough for Thomas. The excitement of a first call-up, which came last November, was quickly cut short when the West Ham striker picked up an injury, ruling her out of action for the Scots and the Hammers. 
Despite Thomas' frustrations, a reassuring phone call from manager Shelley Kerr helped motivate her to get back to full fitness. 
"When that November call-up came, I was very excited, so for it to then be delayed because of injury was frustrating. I just tried to keep my head down and I knew, if I worked hard, that the opportunity would come and then it would be down to me to take it. 
When Shelley called me about this camp, I was at home in my apartment. I rushed out of bed and answered the phone, trying to talk like I had been awake for hours!

Martha Thomas
"Shelley was really good with me. She reassured me that it was just a little injury, a minor setback, and there was no point in forcing anything and potentially making the injury worse. She told me there would be plenty more opportunities for me and that I needed to just focus on working hard and getting back fit. 
"She told me that, if I was playing well, I'd be involved in the next camp, which was really reassuring at that time. 
"When she called me about this camp, I was at home in my apartment. I think I was still in bed actually, because it was a day off for us. I rushed out of bed and answered the phone, trying to talk like I had been awake for hours!
"She told me that the opportunity was there again, and obviously I was delighted and couldn't wait to meet up with the girls."
With two goals on her debut, the day was made even more special for Thomas by her family – her mum, dad and grandmother – being in attendance for that first match in Scottish colours.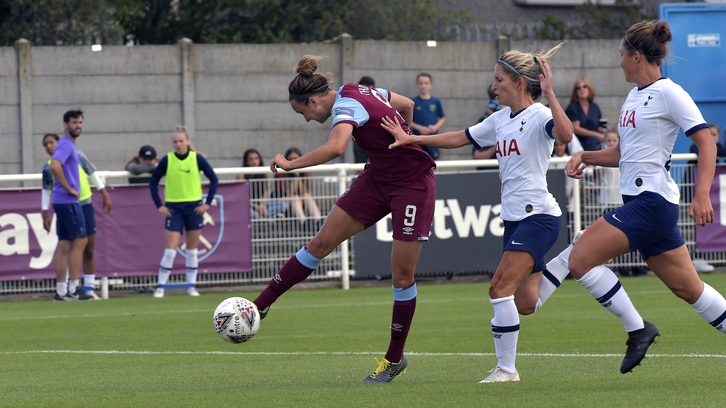 The very first thought that went through Thomas' mind after that first goal was to her family who, by her own admission, the West Ham striker did not think had reached the stadium in time. 
"My first thought, after that goal, was to my parents. I wasn't sure they had made it to the stands by that point of the match. When we were doing the national anthem, at the start, I couldn't see my Mum or Dad sat next to my Gran. Apparently, they had hit bad traffic, so I remember thinking that they would be annoyed that they had missed my debut goal.
"Luckily, they made it on time. They turned up about eight minutes into the game, so they didn't miss much. 
"I was so happy they saw my goals and they got to be there for my debut. Seeing them after the game, sharing it will them and taking photos of the memories was lovely.
"To be honest, all of it has been a bit surreal. I'm not even sure it's hit me yet. It was an amazing moment for me; to have my family there in the crowd, cheering me on. It felt like a long time coming, in terms of making my international debut, so for it to pan out like that makes it all worth it."