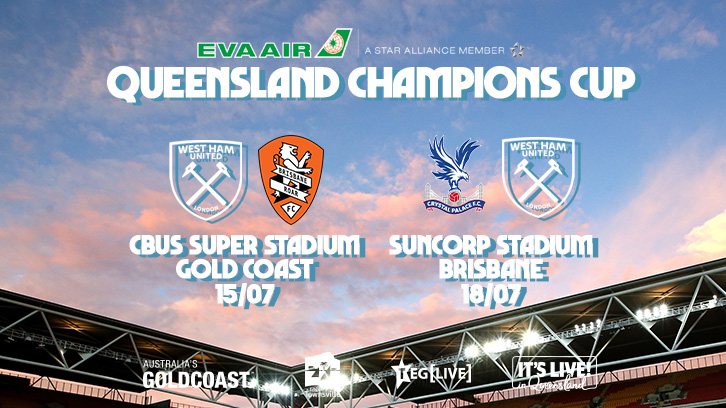 West Ham United can confirm that tickets for the 2020 EVA Air Queens Champions Cup are on sale from 12noon AEST/2am GMT on Wednesday 11 March.
The Hammers will take part in the first-ever EVA Air Queensland Champions Cup alongside fellow Premier League side Crystal Palace and A-League challengers Brisbane Roar this summer.
The Irons, who will be playing in Australia for just the second time in their history after visiting for a four-match tour to mark our centenary in 1995, will take on Robbie Fowler's Roar at Cbus Super Stadium on the Gold Coast on Wednesday 15 July, before tackling Roy Hodgson's Eagles at the 52,500-capacity Suncorp Stadium in Brisbane on Saturday 18 July.
West Ham supporters are able to purchase seats in specially designated areas in both venues, with these sections clearly listed on the respective ticketing websites and stadium maps.
EVA Air Queensland Champions Cup
Brisbane Roar v West Ham United
Cbus Super Stadium, Gold Coast, Wednesday 15 July 2020, 7.30pm AEST (10.30am BST)
Buy Tickets
Crystal Palace v West Ham United
Suncorp Stadium, Brisbane, Saturday 18 July 2020, 7.30pm AEST (10.30am BST)
Buy Tickets
*Ticket purchasers should note that the final coaching and playing talent selected for the 2020 Queensland Champions Cup may not be from the current squad and are subject to change for reasons including player availability and injury.