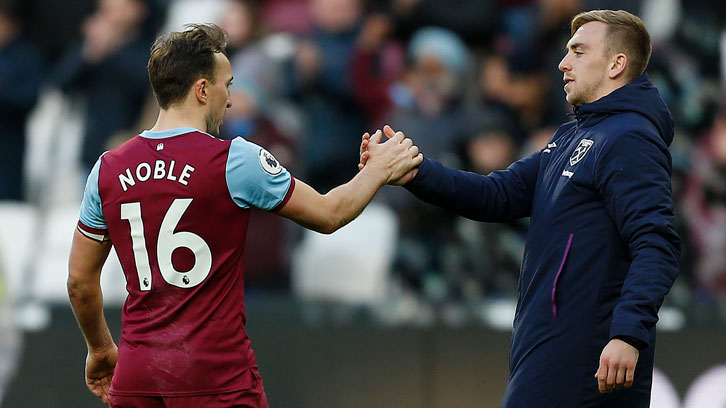 From making tackles to making tea, Mark Noble has been hugely impressed by the impact made by Jarrod Bowen since joining West Ham United.
Now a veteran of 32, Noble is closing in on 500 appearances in Claret and Blue, while 23-year-old Bowen has made just three, including a goalscoring full debut in last weekend's home win over Southampton.
As the pair prepare for Saturday's trip to Arsenal, the captain praised Bowen's willingness to work for his team at both ends of the pitch, both in training and in matches, along with his willingness to make a cuppa for his more senior colleagues at Rush Green!
Jarrod Bowen epitomises the type of player we should be signing at West Ham

Mark Noble
"For a full debut it could hardly have gone better for Jarrod," Noble wrote in his regular column in the London Evening Standard. "If you look at the goal he scored against Southampton, it very similar to the run he made against Liverpool – outside to in – only for his chip to hit Liverpool's 'keeper Allison.
"For me though, I will remember his full debut more for the tackle on Southampton full-back Ryan Bertrand just when he was poised to pull the trigger. It was great to see your winger back in the six-yard box, defending for the team. I wrote in this column, shortly after Jarrod signed, that it was good to see him get after the ball in training and trying to win it back straight away when he lost it, without me having to shout at him and I believe he epitomises the type of player we should be signing at West Ham.
"Jarrod is a quiet boy but – as you can perhaps imagine – myself, Aaron Cresswell and Robert Snodgrass haven't left him alone. That's just part and parcel of being a new boy at this club and it's a test of his character. Clothes, appearance and lifestyle have all come under the spotlight and we've had him serving us with coffees every morning before training.
"It's light-hearted stuff but there is a point to all the banter. I remember Don Hutchison was relentless when I was a young kid, hammering me for this and that. One day, when I was brave enough, I said: 'Hutch, what's your problem? Why are you 'on' me so much?' He replied: 'Mark, it's because I like and respect you. If I had no time for you, I wouldn't do it'.
"That's always stuck with me and I made sure I added that to me repertoire when I became a senior figure."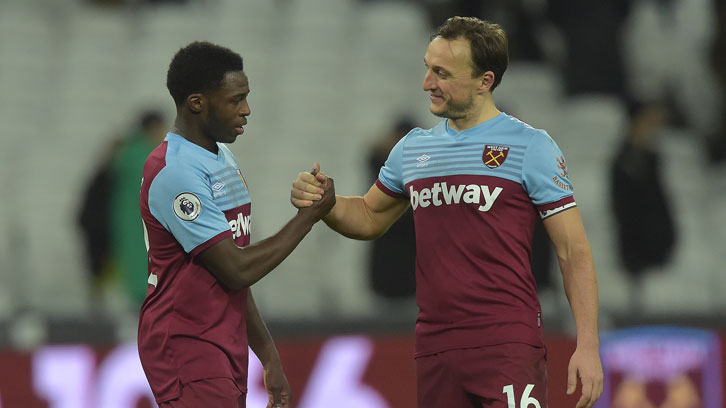 Bowen was not the only newcomer to grab Noble's attention in recent weeks.
Teenage Academy graduate Jeremy Ngakia is also games into his West Ham career, but showed an admirable maturity in the way he tackled Liverpool – twice – and Southampton.
Another quietly-spoken youngster, the skipper says the right-back has a determination and character that will serve him well as he seeks to establish himself at Premier League level.
"I was delighted for young Jeremy Ngakia," Noble confirmed. "Playing Liverpool twice in your first two games is quite a baptism and against opposition of that quality, fear and adrenalin can get you through.
"As we walked off the pitch in that first game, I said to him: 'The toughest times will come now'. What I meant by that is that, having done well in those first couple of games, the expectation is that he will maintain that standard, whenever he plays. That will test his character but – knowing Jeremy – he will pass that test.
"He has a long way to go but he has earned his teammates' respect. We look at him and think: 'Can we trust this player?' So far, the answer is a resounding 'Yes'."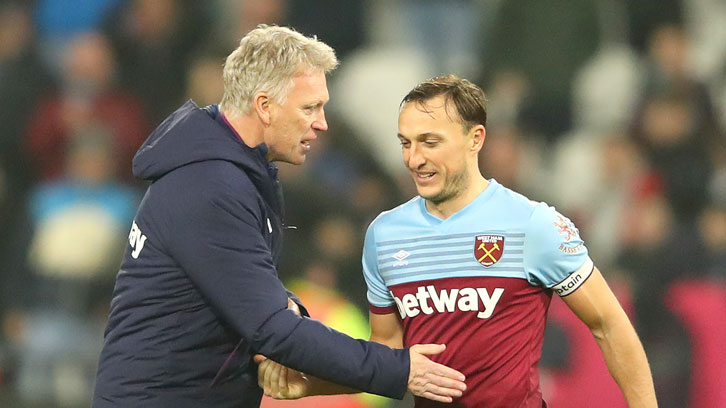 At the other end of the experience scale, Noble had words of support and admiration for manager David Moyes, who masterminded superb performances against Liverpool and Southampton after a challenging eight-week winless period.
The captain makes no secret of his admiration for the Scot's determination to succeed in east London, and called on his teammates to match their manager's work ethic and give everything to keep West Ham in the Premier League.
"He's been back now for a couple of months and they've been difficult months with the fixtures he's faced," the No16 observed. "What he has brought though is a knowledge and a realistic appraisal of what we need. For example, he's brought in Jarrod because he knows that, in modern football, you need your wingers and strikers to track back and launch into some last-ditch tackles when needed because we're in a relegation battle.
"We all know that but when it doesn't happen enough, they are normally the clubs which are in trouble. Has it happened at say, Wolves and Sheffield United? Yes, every week. Has it happened enough at our club? No.
"The manager has laid it on the line. This is where we are and this is what we have to do to get out of this. We need to accept that we are a club who wants and is striving to improve – but in the right way."