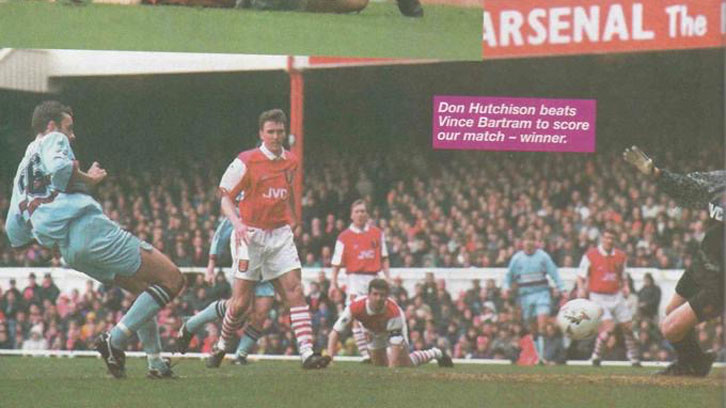 Asking John Moncur for his favourite memory of facing Arsenal, you might expect the midfielder to recall the 1-0 victory he helped West Ham United achieve on this date, 5 March, 25 years ago.
That afternoon, the relegation-threatened Hammers travelled to Highbury sitting in the drop zone, set to face a Gunners side who were themselves struggling and had recently replaced their long-serving manager George Graham with caretaker Stewart Houston.
It was Moncur who supplied the assist for Don Hutchison's match-winner to secure a welcome and much-needed 1-0 victory for Harry Redknapp's side. But when asked for his favourite moment in north London, he revealed it came in the stands, rather than on the pitch!
"It's a funny one and it's a true story!" the 53-year-old smiled. "I remember, after I'd retired, I went with the West Ham fans and I was in the away end when Bobby Zamora scored in our 1-0 win there [in April 2007].
"They realised I was in the crowd and when we came out of the ground, obviously they'd all gone mad because we had won, and they carried me on their shoulders along the road! I was like Bobby Moore at Wembley back in 1966!
"I remember I went to the game with four or five mates, and then afterwards we went out and had a few drinks with all the fans afterwards and had a great night!"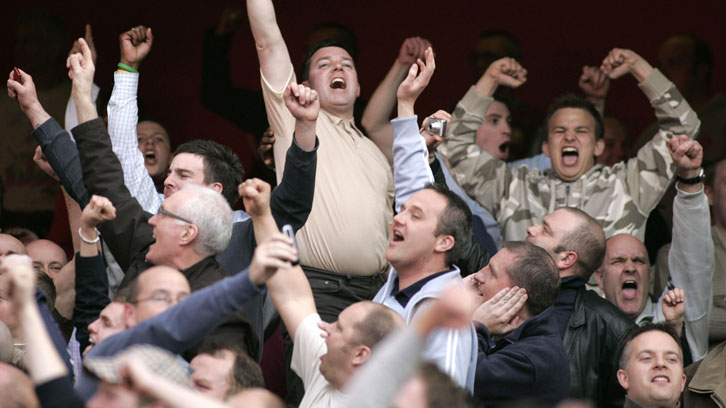 While being carried shoulder-high along Holloway Road might have been Moncur's standout Arsenal away memory, he enjoyed the aforementioned 1995 win, too.
"We had a huddle just before the game and I remember saying to the lads 'We've got enough on this pitch to get a result' and we got it," he recalled. "Looking back, we were in a similar situation to the one we're in now, where we badly needed a result, and hopefully the same will happen on Saturday.
"And I do believe we can get a result, particularly after the Liverpool performance and our win over Southampton."
Moncur sees similarities in Arsenal's situation now to the one they found themselves in back in March 1995.
"They had a period under Graham and another under Wenger when they were the top team in the country, but now I think they can be got at," he observed. "If we perform like we did last week, there are flaws in their defence and we can get a result.
"When you need to go somewhere and badly need a win, I think that's when it brings the best out of West Ham."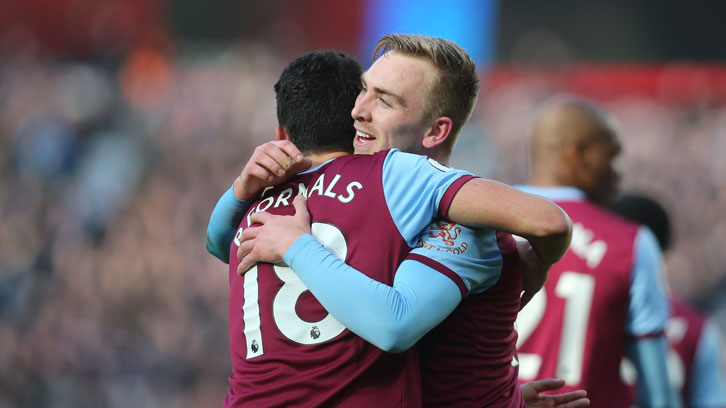 Stepney-born Moncur, who played 203 times for West Ham between 1994 and 2003, the last of which came in a 3-1 defeat at Arsenal, believes David Moyes' current squad has the quality and characteristics to exploit Arsenal.
"I believe we have got players who can change games," he continued. "The likes of Michail Antonio can cause them problems because their centre-halves don't like players running beyond them, so I can see us setting up the same way we did against Southampton, because we need to stretch them.
"I like Jarrod Bowen, too. I have seen a lot of him as my boy George played in the Championship against him for two years and what he is is very direct and another player who doesn't mind getting beyond the back four of the opposition. He's got a great left foot, he comes in off the right and can create problems, and is one of those players who can score a goal if he gets the chance. He's proven.
"I think I'll get myself a seat in the away end, too, but I doubt the fans will carry me up the road again if we win!"