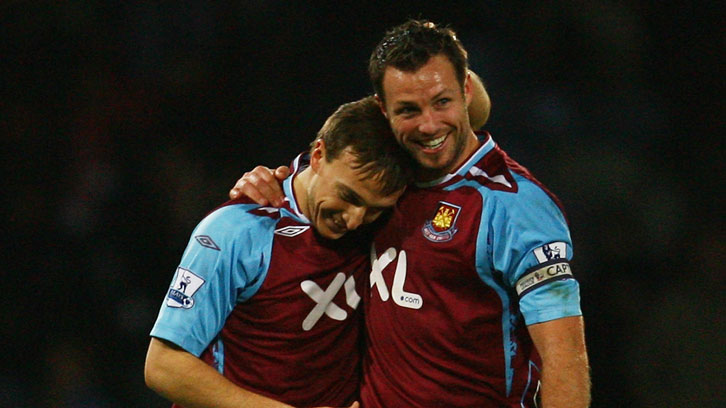 West Ham United have forged strong links with Australia in recent decades, starting with the four-game tour undertaken by Harry Redknapp's squad in May 1995 to celebrate the Club's 100th anniversary.
The trip saw the Hammers travel the breadth of the country, taking on Western Australia in Perth, Victoria in Melbourne, and Australia's Olympic U23 squad in Sydney and Brisbane.
West Ham had ended the 1994/95 season by holding Manchester United to a 1-1 draw that denied them the Premier League title on Sunday 14 May.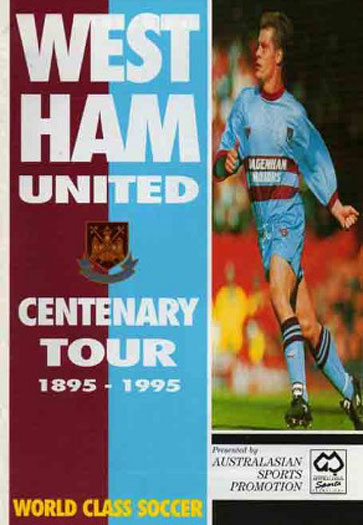 Five days later, a very different-looking Hammers team was in action 9,000 miles away at the famous WACA stadium in the city of Perth.
Tim Breacker, Steve Potts and Don Hutchison all started both games, while Martin Allen and Simon Webster, who had appeared as substitutes against Manchester United, were also in the team to face a Western Australia select XI featuring Socceroos Robert Zabica, Bobby Despotovski and a certain Stan Lazaridis. 
Winger Lazaridis impressed Redknapp so much during a competitive 2-2 draw to such an extent that he joined for a bargain £300,000 a few weeks later!
Just 48 hours later and West Ham were in action again, 2,000 miles to the east, at the Olympic Park in Melbourne. There, young forward Danny Shipp scored in a 1-1 draw against a Victoria representative side including future Premier League players Kevin Muscat and Josip Skoko.
From there, it was onto Sydney, where Scottish forward Malcolm McPherson scored the winner against Australia's U23 Olympic side. The tour ended on 27 May 1995 at Suncorp Stadium in Brisbane, where West Ham will face Crystal Palace this July. There, a team missing Potts, Breaker and Allen was beaten 4-0 by an Olyroos side containing Muscat and future Manchester City player Danny Tiatto.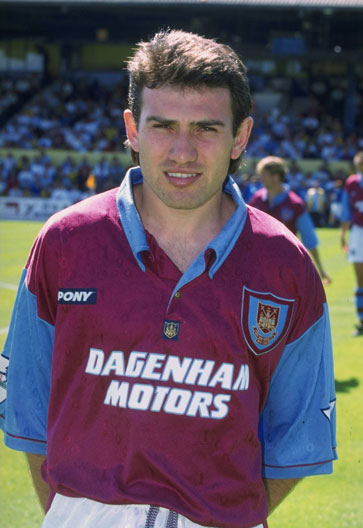 On their return to London, Lazaridis (pictured) was not the only Australian to join them, as midfielder Robbie Slater also arrived from Premier League champions Blackburn Rovers. The following year, 1996, goalkeeper Steve Mautone was signed from Canberra Cosmos and play three times.
Four years later, in 1999, Richard Garcia was part of Tony Carr's record-breaking FA Youth Cup-winning side before going on to make 22 first-team appearances and play in the Premier League with Hull City.
Defender Hayden Foxe made 12 first-team appearances between March 2001 and February 2002 and full-back Trent McClenahan featured three times in 2004/05, making his only start alongside debutant Mark Noble in a League Cup win over Southend United in August 2004
More recently, Lucas Neill captained the Irons during their Great Escape in 2006/07 and spent two-and-a-half seasons in Claret and Blue, while promising striker Dylan Tombides graduated from the Academy of Football and played one first-team game in 2012, before tragically passing away in April 2014 at the age of 20. A charity founded in his memory to raise awareness of male cancers, DT38 Foundation, has a growing profile in Australia, and long-time Socceroos captain Mile Jedinak is its patron.
Last but not least, the Club enjoys support from a number of large and established fan groups in the country, including the Brisbane Hammers, Melbourne Hammers, Sydney Hammers, West Australia Hammers and Gold Coast Hammers, who will turn out in force to welcome their heroes Down Under this summer.