Interviews
Aaron Cresswell: We need to copy our Stamford Bridge performance to beat Chelsea on Wednesday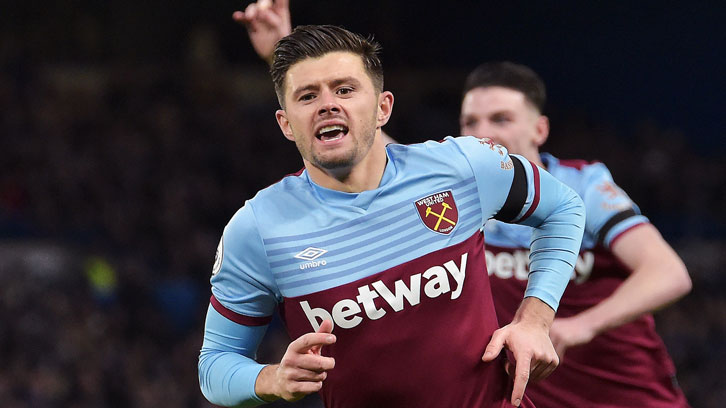 West Ham United were in an almost identical position to now when they travelled to Chelsea at the end of November 2019.
The Hammers sat 17th in the Premier League table and had lost their previous three matches ahead of their visit to Stamford Bridge.
There, though, they produced a stirring performance to defeat Frank Lampard's Blues 1-0, with debutant goalkeeper and lifelong Hammer David Martin stealing the headlines for his emotional performance.
It was Aaron Cresswell who was West Ham's match-winner, though, collecting a pass from Pablo Fornals before curling a shot past Martin's opposite number Kepa Arrizabalaga to secure three unexpected but welcome points.
Ahead of the return fixture, which will be played behind closed doors at London Stadium on Wednesday evening, Cresswell reflected on that memorable afternoon, assessed the Hammers' current situation, and looked ahead to another big London derby.
Aaron, how would you assess West Ham's situation?
"It's a little bit tough at the minute for obvious reasons, as we're down at the bottom of the table. It's not the position we would like with a few games to go and now it's the pressure end of the season and we've got to be focused and ready for our next game.
"It's obvious we need wins. We haven't had any points since the restart, but the results elsewhere have gone our way. We've got a tough game on Wednesday and hopefully we can capitalise and that would put us three points ahead of the bottom three.
"I've said before that there are no easy games in the Premier League, but you look teams in the bottom half of the table and in and around us who we've got coming up in the next few weeks, so that's where we're at, at the minute.
"Hopefully, if we can get a result against Chelsea, that will give us a big boost that we need going into the next few games over the short space of time we're going to be playing."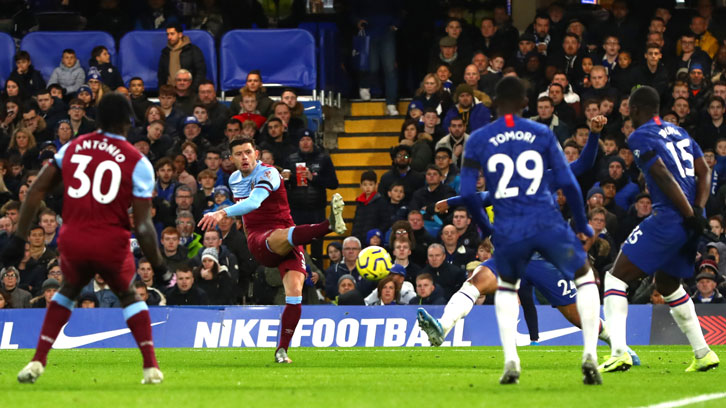 Back in November, of course, you beat Chelsea at Stamford Bridge, and you scored the only goal of the game…
"I remember our goalkeeper Dave Martin was making his debut and that was the standout thing. Although I scored, I was so happy for Dave to keep a clean sheet at the time. It was a special night and hopefully we can copy that and get a result again.
"It was a fantastic moment for me, personally. It's not very often I score with my right foot! At the time, I took an opportunity. I think there was nothing really else on, so I decided to cut inside and it was might right foot swinger and thankfully it went in the bottom corner!
"But, as I said, that night was mainly about the three points and I remember the togetherness and fighting spirit the lads showed at the time and that's where we need to be at now.
"When you're at the bottom of the table and the games are coming thick and fast, you've got to stick together, no matter what happens, and be ready. As I said, that fighting spirit is massive and, in our situation, as long as we show that fighting spirit, I'm sure we'll be OK."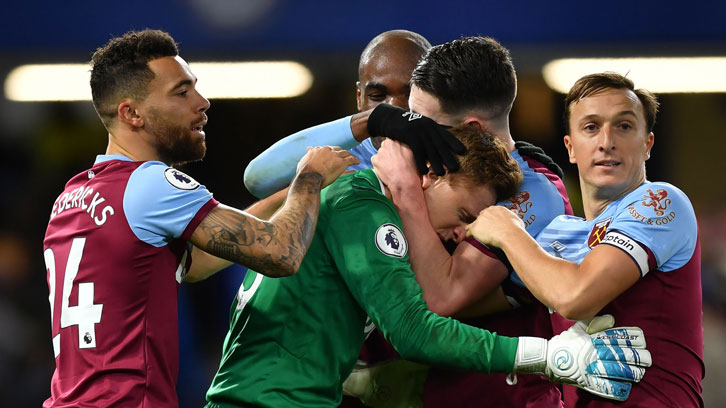 Chelsea have won three out of three since the restart, beating Everton, Manchester City and Leicester City. What have you made of Frank Lampard's side?
"I've watched a couple of their games and they've been pretty good. It's Chelsea and, at the end of the day, and they're a very good team. They've got some world-class players and also some very good players also, so we're fully aware of that so we've got to be fully prepared, but we'll be working hard on our build-up, what we're going to do and how we can help them."
It's West Ham's 125th birthday this week. You've been here for six years, so how do you reflect on your time at the Club?
"We've had some highs and lows, like any football club or player, but when you say it's six years, it's crazy how quick that's gone. I'm the third longest serving at the Club now [behind Mark Noble and Winston Reid]!
"I've loved every minute here and I've still got a few more years in me. My two kids were born here, we love it here and it's a massive Club and I'm proud to be part of it.
"Even before West Ham in my Ipswich and Tranmere days, I've always given everything for the club that I'm at and that's all I can do. Of course, you go through up and down periods of form in your career, but you can stick with it and give it all you've got and that's what I try and do."
What are your ambitions for West Ham going forward?
"First and foremost, we can't look too far ahead. It's all about staying in the Premier League and we've got to be fully focused and ready for that.
"As I mentioned before, that's our task now. We can only go into every game with everything we've got and make sure we get some points on the board."