Fans
'The only religion we have is West Ham' - The Belfast Hammers story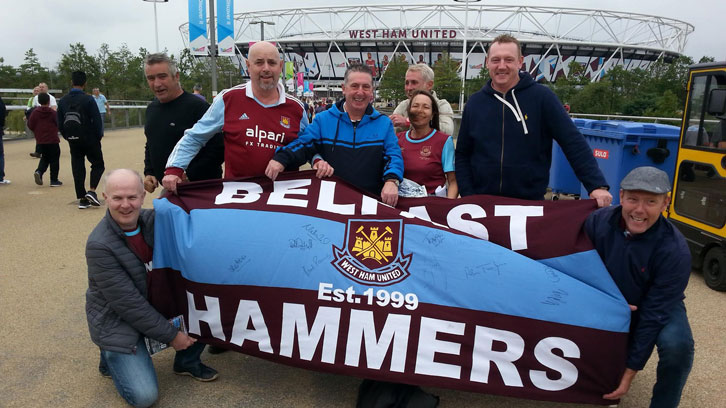 Had 2020 turned out differently, Belfast Hammers would have been at London Stadium on Sunday 17 May, celebrating their 21st anniversary in the company of tens of thousands of fellow West Ham United supporters.
The group, which was founded in Northern Ireland in the glorious UEFA Intertoto Cup-winning year of 1999, had booked flights from Belfast's George Best Airport, and organised a matchday breakfast with West Ham legend Phil Parkes at the Startford Theatre, followed by drinks on the popular Hammers Chat boats on the WaterWorks River, just a short distance from London Stadium.
There, Belfast Hammers were also set to meet more of their heroes, making their special visit even more memorable, only for the COVID-19 pandemic to see the group's plans cancelled.
Instead, founder Peter O'Prey and his fellow members have been watching their team from afar on television, while keeping in touch with one another via Zoom calls and a WhatsApp group.
While they may be on the other side of the Irish Sea, O'Prey said Belfast Hammers feel the disappointment of recent results as keenly as any supporter but retain hope that West Ham can stay in the Premier League.
This club would reflect everyone. 'The only religion we have is West Ham' became the club ethos. Belfast Hammers was born

Peter O'Prey
"It was January 1999," he began. "As a lifelong Hammer I had been going over for years. However, all my Hammers mates were drifting off for a variety of reasons. 
"Northern Ireland was still in conflict. Things had improved but my friends represented Hammers from only one community. Catholic West Belfast. I decided that to continue to travel over and to continue to flag the West Ham flag with like-minded supporters I would have to start my own club. This club would reflect everyone. 'The only religion we have is West Ham' became the club ethos. Belfast Hammers was born."
Since then, the group has grown in number from across the city and Northern Ireland and had a presence at 'most of the major West Ham games' over the last two decades, including Play-Off finals and the final game at the Boleyn Ground.
Back in Belfast, the group found a home to meet and watch matches on television at The Kings Head on Lisburn Road, before moving to the Ulster Sports Club in the city centre.
But it is the regular trips members made to east London that O'Prey says they always most looked forward to.
"We spend a lot of money travelling from Belfast following our passion," he smiled. "True Hammers have embraced our passion and we have made many friends.
"Our routine in became an enjoyable habit. We arranged transfers and lifts to Belfast City or International airports, making a 4.30am start! Despite our name, we have members from Derry. Donegal, Tyrone and elsewhere and often meet up on the other side in London.
"In the Boleyn days we would have breakfast in Ken's Café or Cassettari's. Next stop was the Boleyn Pub and then to the West Ham Social Club, who kindly allowed us to store our bags during the games!
"After the game we would usually go to The Duke of Edinburgh followed by a return to the Social to collect our bags and maybe indulge in a few more pints. We would end up in a variety of East End hotspots and as Irish guys we always had quite a night of it!"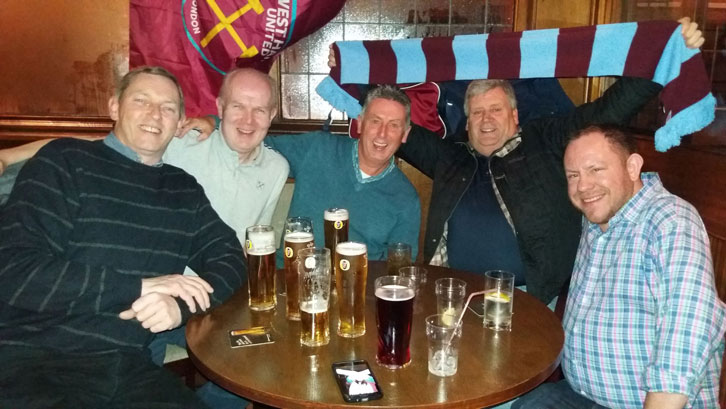 Since the Hammers moved to London Stadium in 2016, Belfast Hammers have adopted a new routine, taking a minibus to their hotel before enjoying pre-match drinks at the Goldengrove in Stratford and on the Hammers Chat boats.
"In true West Ham tradition, it is a such a welcoming atmosphere, then it's off to the match," O'Prey confirmed. "We usually sit in the Sir Trevor Brooking Stand, although some of our members have Season Tickets elsewhere. Normally, we have around 20 members at each match we attend.
"After games, we head to the Queen's Head in Stratford, before making our way home with sore heads the following morning, but home win always softens the blow!"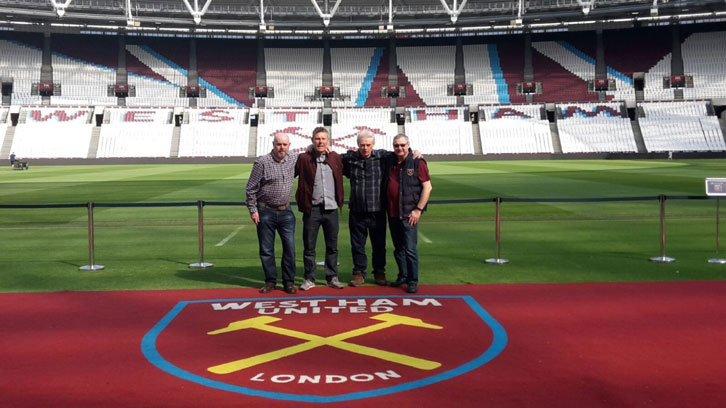 Aside from their matchday activities, Belfast Hammers have enjoyed the privilege of presenting their Player of the Year award to players, welcoming West Ham legends to Belfast and producing their own range of merchandise.
The lockdown may have prevented Belfast Hammers from making their latest trip to London, but O'Prey says they continue to watch on, passionately, from home.
"Sadly, our meetings have been cancelled due to COVID, but members' safety has to take priority and we have held meetings online," he said.
"We are delighted that Premier League football is returning to London Stadium, albeit that the fans can only watch from afar. Although we watch the televised games in Belfast it is nothing compared to our visits in the flesh, of course.
"We have worked hard for our reputation as a friendly and diehard supporters' group who always look for a good time. We are very proud of our small part in the West Ham story and hope that the future will allow all West Ham fans the opportunity to return to the home of our beloved club."