While ultimately, for the two sides in question, Saturday afternoon amounted to another Premier League game, there are few inside London Stadium who had experienced anything quite like it.
West Ham United's late defeat to Wolverhampton Wanderers – their first competitive game in 105 days, following the enforced three-month suspension to the season – offered both sides the same prize of three league points, but an entirely different ambience in which to vie for them.
Played behind closed doors for everyone's safety, with minimal personnel in attendance, the scarce number of attendees presented a new challenge for the Hammers in their east London home.
Yet it is within this 'new normal' that the Irons will need to forge the performances necessary to avoid the drop zone and ascend the Premier League table.
While Saturday's result was ultimately disappointing for forward Michail Antonio, the powerful forward believes the positives from West Ham's display demonstrate a set of players adapting to their new, unique circumstances.
"It's not the start that we wanted," Antonio told Premier League Productions. "It's just one of those things where so many different things happened in the game – no crowds, it's just the way you're prepping the game is quite different – but we've obviously got to get used to it and we'll build on it.
"Because there are so many changes, the feel of the game is different. I've played football for 12 years now, and to walk out on the field and have no fans there… 
"Before the game, there's usually so much noise and music playing, things that make it feel more of a vibe going on, but now, as soon as the whistle goes, it's just complete silence. All you can hear is the boys on the pitch, so it is quite weird, but because we've now played the first game you kind of get used to it. 
"Now that there are no fans to push you, you've got to be professional and drive yourself. As the game goes along, you kind of just get used to the feel of the game. Now we've got that out of the way, we can move forward to face Tottenham."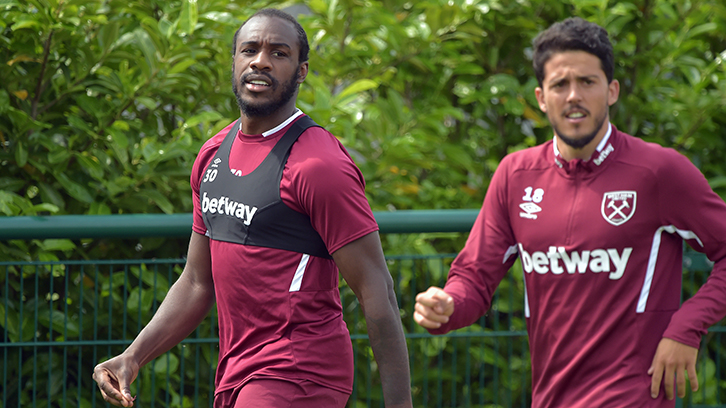 While the defeat to a high-flying Wolves side may have temporarily dampened spirits, Antonio feels that the narrow margin of victory – two fine interventions by substitute Adama Traore tipping the scales in the visitors' favour – means he and his team-mates will not be bowed as they head into a London derby double header.
 
We still believe in ourselves and know we've got the quality and the players to get ourselves out of it, so that's what we're going to do

Michail Antonio

First taking on Tottenham Hotspur away on Tuesday evening, before facing Chelsea at home next week, Antonio is confident that the players have sufficient belief to galvanise themselves for the tests to come and pull themselves clear of relegation.
"Even though we lost the game, Wolves are kind of like a bogey team for us where things have never really gone our way against them," he observed.
"Because we believe we can compete against teams like Tottenham and Chelsea, we aren't disheartened. We believe we can go out and do things over the next couple of games.
"It's never been this close. We're normally manage to pull ourselves out of it, but eight games to go and we're still in and around it. We still believe in ourselves and know we've got the quality and the players to get ourselves out of it, so that's what we're going to do.
"I feel that we'll be able to pull ourselves out of it, especially with the upcoming games. When we play Tottenham, we always have a good game against them, and Chelsea… and then we've got teams in and around us: Watford, Norwich and Aston Villa. We've just got to make sure we get the points."
As for the contest against London rivals Spurs, Antonio has a favourable disposition of scoring against them, with four in six Premier League appearances.
That tally includes the first ever opposition goal, triggering the first ever opposition win, at Tuesday evening's venue, the new Tottenham Hotspur Stadium, where West Ham emerged victorious last season.
"I do get a couple of goals against this team!" Antonio joked. "The first away goal at the new Tottenham Hotspur Stadium, so I put my name in history there. I can't really complain can I?!
"Obviously they have quality players, but we can't worry about what players they have and have back, because the majority of our players are fit now. I feel that we've got enough, and these are the players who are going to go out there and do the job – because we need to do the job.
"Any game against Tottenham where we're involved is massive. Over the few years we've managed to get some decent results against them, so hopefully we can turn everything around and start building from the game."