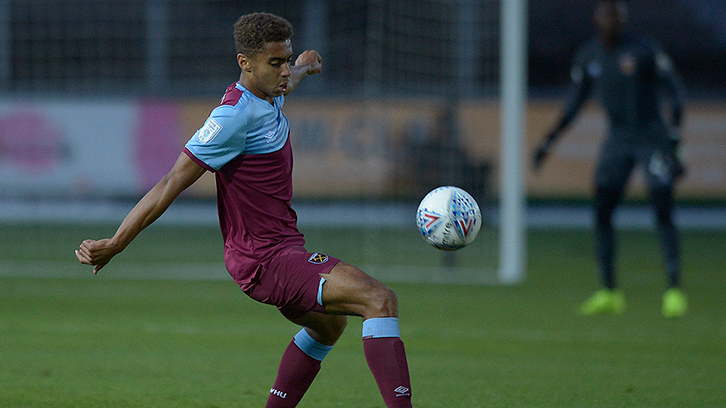 "When I signed my first contract at West Ham, there were two pros there: James Tomkins and Mark Noble – two Academy graduates.
"I've got a picture of me and Mark Noble when I was eight, so hopefully I'll be in the first team soon enough to play with him, which would just be incredible! What he's done to be able to play for so long at the highest level for West Ham… that's what I dream of doing."
Earlier this month, defender Will Greenidge was one of seven Academy of Football scholars to sign their first professional contracts as footballers.
A model of consistency for the Under-18s this season under Lead Coach Kevin Keen, Greenidge has featured in all but one game for the youth side, making 20 appearances in all competitions prior to the campaign's curtailment.
Ever-conscientious, however, the 18-year-old is aware that this first professional contract is just the first chapter in what everyone hopes will be a prosperous career in football.
"It's probably one of the best feelings I've ever had, to be honest," Greenidge told whufc.com, recalling signing his contract. 
"For all of my hard work across the years, it's a good reward, but now I know I have to keep pushing on to get another one in the future.
"The first time I came to Chadwell Heath was when I was five! I signed my first contract at the end of Under-8s, so it's been ten years up to this professional contract. It's been a long journey with a lot of ups and downs, but the reward for all the hard work is this professional contract, and it's paid off really."
As well as citing Keen amongst his influences, Greenidge recognises how much his family and Academy coaches have contributed to that journey.
"It wouldn't have been possible without my family, especially my Grandad who would take me to and from training. There were late nights but he was always there. Even if I would finish at seven 'o clock, he'd get there at five just to make sure he didn't miss anything. He and my Dad were probably the most important.
"Kevin Keen has come in this year and put in a lot of confidence in me and helped my game a lot. Jack Collison at Under-16s level was a real positive coach for me as well. When I was really young I struggled with my confidence, and coaches like Jimmy Hampshire and Dave Hunt really pushed me to trust myself. Ever since then, I've come on leaps and bounds, and have ended up where I am today."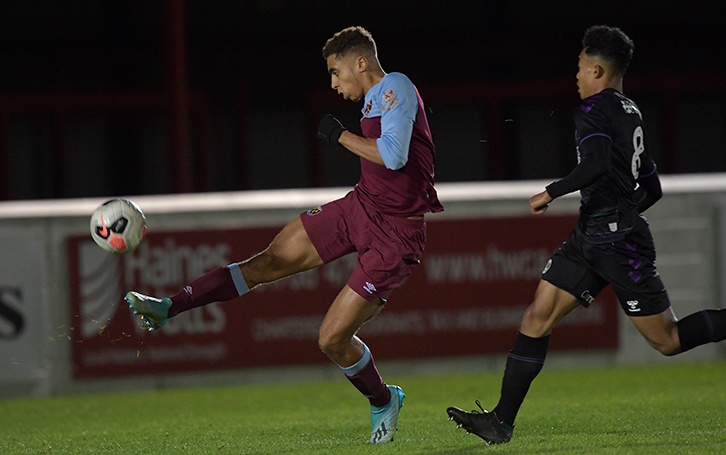 Reflecting on the campaign just gone, Greenidge was pleased to play his part in the U18s' title tilt – before curtailment, they sat second in U18 Premier League South – as well as get his maiden taste of senior football with the U21s in the Leasing.com Trophy.
The full-back recognises that each and every experience is a learning opportunity – and development is the focus of his game at present.
"I think this season has been one of my best," he explained.
"I've been able to stay injury-free and play all but one game, and in those games I feel like I've come a long way. I think Kevin Keen coming in has done a lot for me through the way he coaches, and he's really helped me secure a professional contract.
"Throughout my whole career, I've played left-back and right-back, but I think this year is the first year I've felt fully comfortable on the left as well as the right. I've developed my versatility, being able to affect the game on both flanks."
As for his highlight so far: the kind of occasion Greenidge hopes to make habitual.
"When I was 15, I played in the Under-23s' friendly against Billericay [in 2018] in front of about 5000 fans," he recalled.
"The atmosphere and the crowd and all of that… it was just a surreal moment to be able to play in that game, and against some top pros like Paul Konchesky, as well. It was a good challenge – the best game I'd say I've played in. 
"The crowd were there supporting a first team, and it was a proper game. It just gives you the motivation to say you want to be doing it every week in front of those crowds.
"Next season I would love to be able to fight for a starting place in the Under-23s team, and show [U23s coaches] Dmitri [Halajko] and Steve [Potts] what I can do for the team. I just want to do myself proud and know that I have given everything I can.
"I'd love to be able to finish my career and have played for West Ham for however many years, and for the fans to say 'Will Greenidge – what a player.' Just to be loved by West Ham fans would make my career worth it."